Lawyers Rip Nearly All-White Jury in Ahmaud Arbery Trial as Judge Cites 'Discrimination'
Civil Rrights attorneys and other lawyers slammed the nearly all-white jury selected in the trial of the alleged killers of Ahmaud Arbery, after the judge in the case said there appeared to be "intentional discrimination" at play.
The jury in Glynn County, Georgia was chosen Wednesday after a two and a half-week selection process. It will be composed of 11 white members and just one Black person. The trial the jury will oversee is for white defendants Gregory McMichael, his son Travis McMichael and William "Roddie" Bryan, who are accused of murdering Arbery—a Black unarmed jogger—after allegedly chasing him down in a residential Brunswick neighborhood in February of last year.
The pool of possible jurors for the trial was composed of 36 white and 12 Black individuals. The defense team used 11 of its strikes to remove all but one of the Black juror candidates.
"1 Black juror & 11 white jurors were picked yesterday to decide the fate of three men who murdered Ahmaud Arbery. A jury should reflect its community, but Black jurors were intentionally excluded to help these cold-blooded killers escape justice!" prominent civil rights attorney Ben Crump tweeted on Thursday. Glynn County is about 25 percent Black, while Brunswick is more than 50 percent Black.
"Just 1 Black juror. 11 white. To decide killing of Ahmaud Arbery. Simply jogging. Pursued & shot by a group of white men in a pickup truck last year. Judge found 'intentional discrimination' in jury selection. But hands tied by law. This is not okay," Scott Hechinger, a Civil Rights lawyer and longtime public defender, wrote in a Twitter post.
As Hechinger highlighted, Judge Timothy Walmsley noted the apparent discrimination tactic used by the white defendants' team of lawyers in the jury selection process. However, he still allowed the trial to move forward.
"This court has found that there appears to be intentional discrimination," Walmsley said. But he contended that the defense team had provided "legitimate, nondiscriminatory, clear, reasonably specific and related reason[s]" for removing each Black juror candidate, saying this met the requirements of the law in Georgia.
Rebecca Kavanagh, a criminal defense lawyer and legal analyst, took issue with the judge's decision not to intervene in a lengthy Twitter thread.
"It's not just that only *one* Black juror has been seated in the trial of the three men charged with killing Ahmaud Arbery," Kavanagh tweeted. "It's that the judge acknowledged the defense was using *intentional discrimination* in selecting jurors and did nothing about it." She contended that "you can't use race-neutral reasons as an excuse for exercising intentional discrimination."
In video of Arbery's shooting, the then 25-year-old can be seen running on the street past a white truck when two men in the vehicle confront him. The incident escalates rapidly, with shots fired before Arbery falls to the ground near the vehicle. Arbery's family has said he routinely jogged in the area and have described his death as a "lynching."
Crump, who also serves as an attorney for Arbery's family, told Newsweek in a statement that Brunswick is more than half Black and the jury should reflect that reality. "Brunswick is 55 percent Black, so it's outrageous that Black jurors were intentionally excluded to create such an imbalanced jury in a cynical effort to help these cold-blooded killers escape justice."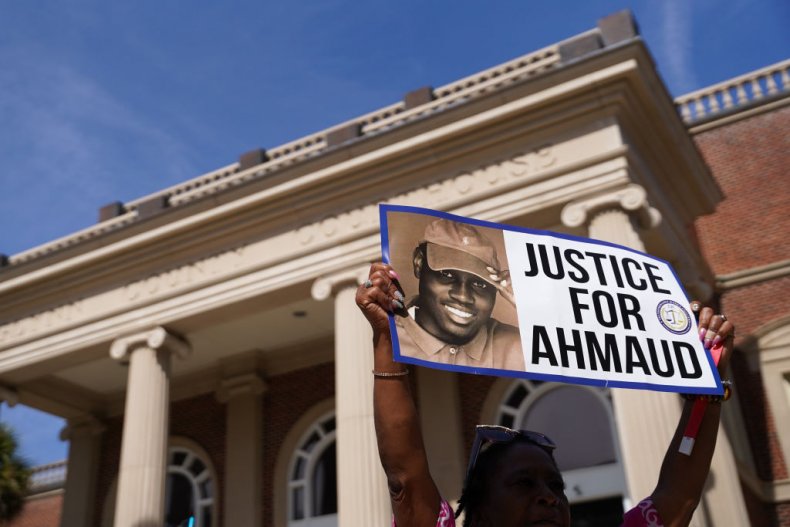 Lee Merritt, another attorney for the deceased jogger's family, told The New York Times that it was "the strangest jury selection process I have ever seen." Wanda Cooper-Jones, Arbery's mother, said she was "shocked" by how the final jury looked.