Lawyers for Trump Rape Accuser Seek President's DNA to Determine Whether It Matches Dress Samples
Attorneys for writer E. Jean Carroll filed notice Thursday requesting a DNA sample from President Donald Trump, according to reporting from The Associated Press. Carroll claims Trump raped her in a New York City department store dressing room in the late 1990s.
Court documents state Trump's DNA is being sought for "analysis and comparison against unidentified male DNA present on the dress that [Carroll] wore during the sexual assault at issue in this action."
Newsweek reached out to the White House for comment but did not receive a response in time for publication.
After the alleged assault, Carroll kept the dress in her closet until wearing it again for a photoshoot in 2019. DNA discovered on the sleeves of the dress potentially came from Carroll herself and "three unknown individuals," according to a lab report attached to the court documents.
Carroll went public with the details of the alleged assault in 2019, writing an article in New York Magazine about the event and appearing on some news programs. In a June 2019 interview with The Hill, Carroll described the assault as a "fight."
"I did not stand there," Carroll said. "I did not freeze, I was not paralyzed which is a reaction I could have had because it's so shocking. No, I fought."
"It was over very quickly," Carroll continued. "It was against my will 100 percent and I ran away."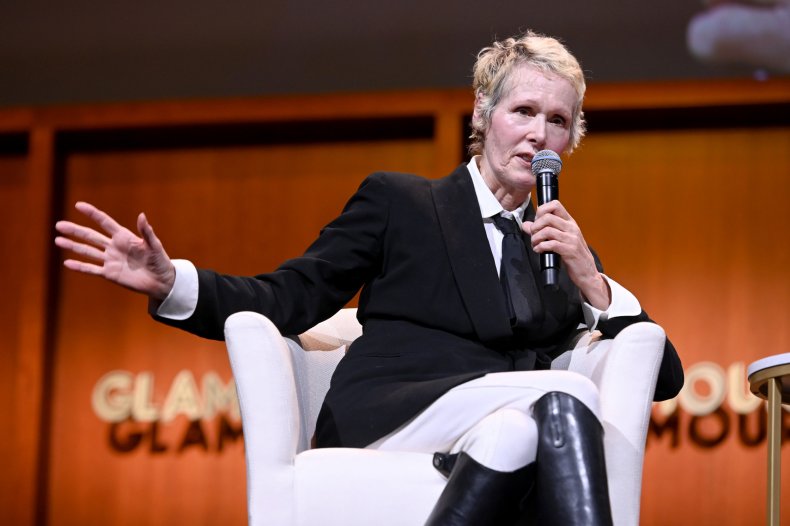 Trump responded to Carroll's accusations by telling reporters Carroll was "totally lying."
"I don't know anything about her," Trump said. "I know nothing about this woman. I know nothing about her. It's just a terrible thing that people can make statements like that."
"I'll say it with great respect," Trump said in a separate June 2019 interview with The Hill. "Number one, she's not my type. Number two, it never happened. It never happened, okay?"
Carroll filed a defamation suit against Trump with the Supreme Court of the State of New York in November 2019, claiming her career had been damaged by his comments. Trump asked that the suit be dismissed, arguing that he could not be sued in New York for comments that he made while in Washington, D.C.
Judge Doris Ling-Cohan refused to dismiss the case by stating that Trump's legal counsel did not offer evidence that Trump could not be tried in New York.
More than 20 women have accused Trump of acts of sexual misconduct before he was elected president, including Miss Teen USA contestants Mariah Billado and Victoria Hughes who said Trump walked into their dressing rooms as they were getting ready. Other pageant contestants have complained about Trump's backstage behavior.
In a 2005 interview with Howard Stern, Trump said he was allowed to enter the dressing rooms.
"I'll go backstage before a show and everyone's getting dressed and ready and everything else," Trump said. "And you know, no men are anywhere. And I'm allowed to go in because I'm the owner of the pageant. You know they're standing there with no clothes and you see these incredible looking women. And so I sort of get away with things like that."
Lawyers for Trump Rape Accuser Seek President's DNA to Determine Whether It Matches Dress Samples | Politics