'Lazy, Careless Ownership': Internet Backs Fast Food Workers Blamed For Labor Shortage
Members of a popular internet forum showed support for former Jimmy John's employees who responded to claims of labor shortages in a fiery front-door sign.
In a photo re-posted in Reddit's popular r/antiwork forum (the photo was initially posted in r/WorkersStrikeBack), two signs posted to the front door of a Jimmy John's location in Florida tell two different stories. Titled, "You can do it, too! If they don't want to pay you fair wages, force them to close!," the Reddit post containing the separate signs has received more than 11,000 upvotes in 14 hours.
The first sign, posted by the sandwich franchise's ownership, explains to disappointed patrons that the restaurant is temporarily closed due to a lack of current and potential employees.
"This location is temporarily closed due to labor shortage," the sign reads. "We are in the process of restaffing to return to normal operations and would like to apologize for the inconvenience."
Despite the apology, the second sign included within the Reddit post details poor work conditions and points blame directly at the franchise's ownership.
"There IS no labor shortage!," the second sign reads. "The owners of this establishment treated their employees like dogs, never once helping us out...All employees (including management) were students and did a great job keeping the store running with no help from the owners."
"The past few months of crappy business have been the result of lazy, careless ownership," it continues.
Since the beginning of the COVID-19 pandemic, Americans have quit their jobs at rates higher than ever recorded, as part of a mass-quitting phenomenon effectively labeled the Great Resignation. (The Bureau of Labor Statistics reported that 4.5 million people quit their jobs last November — the highest number recorded since the bureau began collecting data in 2000.)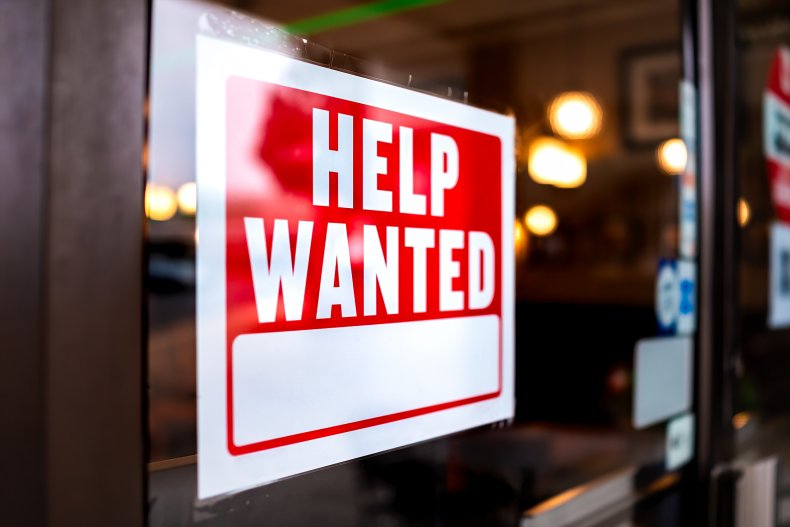 While employers across the country lament over supposed labor shortages and employees who refuse to work long hours for little money, workers have cited low wages, bad or nonexistent benefits and poor work-life balances as reasons for leaving jobs.
In a Forbes article titled, "The Labor Shortage is a Quality Job Shortage," author Don Howard relayed a message similar to the one American workers have tried to express for months: people are willing to work, but expect to be properly compensated for their time and effort.
CEO of The James Irvine Foundation, a nonprofit focused on the economic advancement of low-income workers in California, Howard speculated that employers are struggling to fill jobs at such impressive rates because of their unwillingness to adapt.
"Employers expecting workers to stay on, stay quiet or return to the low-wage, low-opportunity jobs of old are not just mistaken," Howard wrote. "They're missing a once-in-a lifetime opportunity to evolve models to something more sustainable and equitable for our rapidly changing economy."
Commenters responding to both the original and republished Reddit posts echoed those sentiments, and many commenters claiming to have worked for Jimmy John's described their experiences working for the sandwich chain.
In a comment on the original Reddit post, Redditor u/buddhistbulgyo complained about the company's low wages and encouraged current employees to seek employment elsewhere.
"Jimmy John's underpays its employees. People who work there should just keep walking," they wrote.
Responding to u/buddhistbulgyo, Redditor u/xombii_magic said they worked for the franchise for more than five years, but regretted not quitting much earlier than they did.
"Coming from someone who worked at one of their franchises for 5.5 years," they wrote. "I wish I had left right away. But I was naive and hopeful."
"They definitely abused that!" they added.
In a comment left on the republished Reddit post in r/antiwork, Redditor u/c_chan21 described their time working for Jimmy John's in college, and detailed how their opinion on the company has changed over time.
"I had a great time delivering for them in college. $10/hr in cash tips on top of my hourly was great when I was a student," they wrote. "Then years later I see them raise all their prices greatly and add a delivery charge on top."
Although many Redditors' focus remained solely on the sandwich chain, Redditor u/skrshawk explained that the experiences described by commenters are not exclusive to Jimmy John's.
"Franchisees do this all the time. They see a franchise as a passive investment, that if managed properly makes more money than investing the money in some place like the stock market would," they wrote. "Needless to say the line worker is not going to have a good time in a place like this."
Newsweek reached out to Jimmy John's for comment.