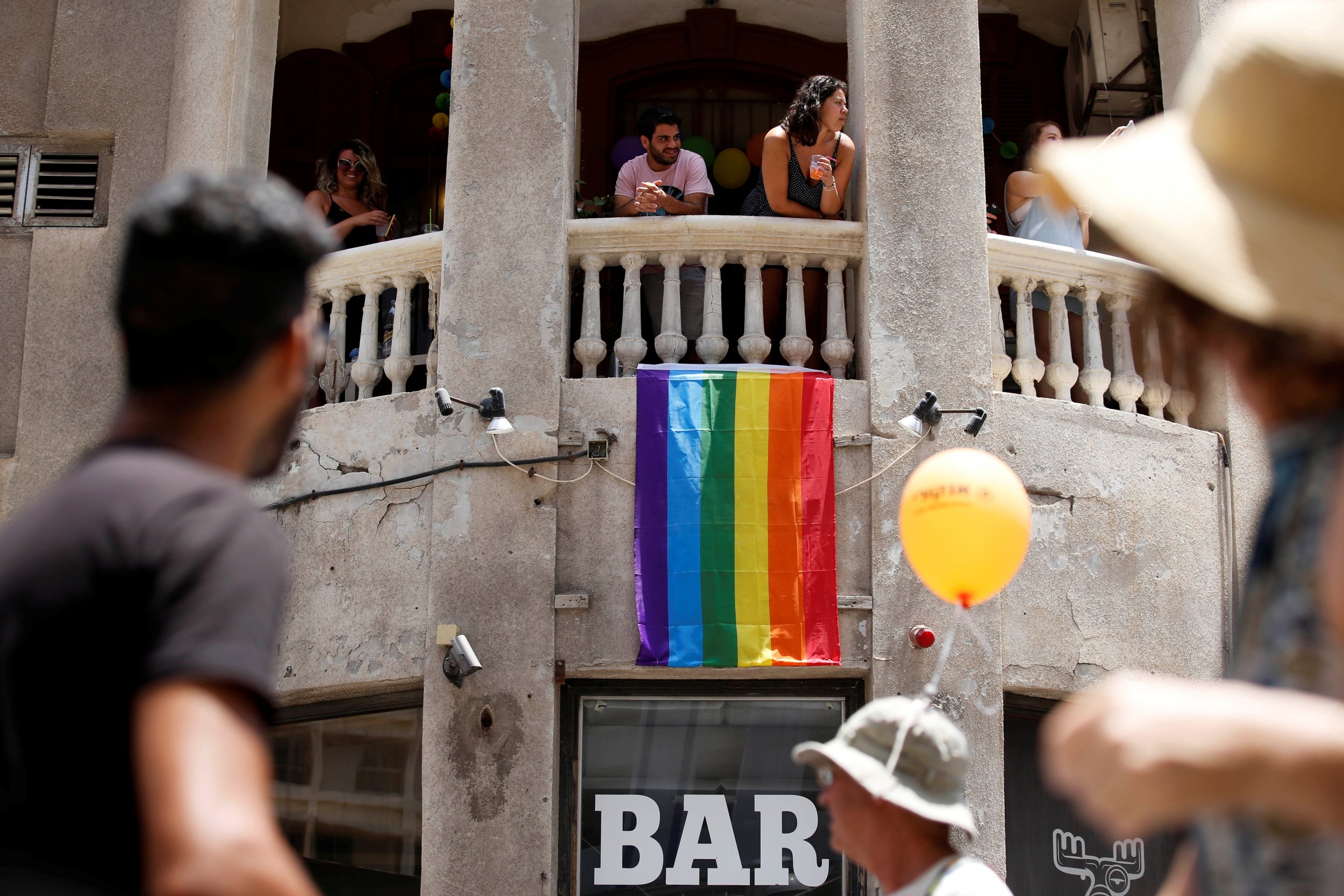 I'm a storyteller. I look for stories wherever I go, ask questions, dig deeper. As a Jew and as a gay man, there's one story I've been eager to learn more about: calls to boycott Tel Aviv Gay Pride and other LGBT events because of the Israeli-Palestinian conflict, and claims that Israel is using its LGBT community to deflect from its treatment of Palestinians in the West Bank and beyond. The shorthand for this is called "pinkwashing."
I spent the last week traveling all over Israel with A Wider Bridge, a U.S. LGBT organization advancing equality in Israel. I talked with LGBT activists on the ground, liberal and conservative members of the Knesset, and leaders from organizations servicing Israel's LGBT community. Additionally, I visited the West Bank, spoke with organizations in Ramallah, heard firsthand the treatment LGBT Palestinians suffer in their country, and saw what life is like in the West Bank and Gaza as best I could. Absorbing this information, while considering the claims of Israeli human rights violations made on many media outlets, including Newsweek, I've come away with one important takeaway: This issue won't be solved by using Israel's LGBT community as a scapegoat for a political argument by a handful of groups demanding a boycott.
Because this issue is so nuanced, it's difficult to converse rationally without passion muddying the waters. So, in an attempt to be transparent, here are my biases:
I'm Jewish and believe Israel has a right to exist as a Jewish state.
I support a two-state solution, as do two-thirds of Israeli citizens.
I do not support Benjamin Netanyahu, and believe his soft stance on settlements is troubling and wrong.
I'm gay and believe that full and equal rights should be granted to all LGBT citizens, Arab and Jewish alike.
The main group opposing Tel Aviv Pride is the Boycott, Divestment and Sanctions (BDS) movement, who claim that Israel is simply "pinkwashing," that Israel's vocal support for the LGBT community, funding for LGBT events and promotion of LGBT tourism is only being used to cover up for human rights violations in occupied territories. They believe the promotion of inclusive equality for Israeli LGBT people is just a ruse, and have been successful in convincing others of this.
A serious conversation needs to be had about Israel's treatment of Palestinians in the occupied territories. Some in the BDS movement advocating for a two-state solution have a worthy goal, but ultimately the movement's methods are misguided and counterproductive.
RELATED: Why we should boycott Gay Pride in Tel Aviv
The claim that Israeli LGBT people are being used as scapegoats in Israel's "pinkwashing" campaign is not only offensive, it's blatant discrimination against Israeli LGBT people with deep roots in homophobia, ignorance, anti-Semitism and political opportunism.
The primary argument behind "pinkwashing" claims is the state funding Israel provides to local LGBT groups to plan events like Gay Pride or gay film festivals. They claim this is part of Israel's "propaganda" campaign, but the reality is a lot less sexy: Israel sets a specific set of guidelines for organizations to receive funding. This is done at the federal and municipal levels. The same set of guidelines applies to organizations who do not support LGBT causes. This is the reality in America, Canada and Europe as well—both by our federal government with social services, and by ministries of tourism in the case of parades and festivals.
Additionally, BDS supporters take issue with Israel's "Brand Israel" tourism campaign, saying the promotion of Israel as a cultural travel hub is just an effort to distract tourists from the Palestinian conflict. This argument also falls flat by a simple Google search of literally any country's tourism board and the commercials they produce to lure travelers, and their money, to their country. (My favorite is the Netherlands use of Trump to attract visitors. If we applied BDS' logic here, then what is the Netherlands hiding in Madurodam, one of the world's largest tiny towns?)
But at the root of this issue is people, not governments. If the BDS movement is correct in saying Israel is using LGBT causes to deflect from human rights violations, then what does that say about the 200,000 mostly LGBT people who showed up at Tel Aviv's Gay Pride this year? Are they just pawns in the government's propaganda campaign, or living, breathing Israelis who want to see more rights for Israeli LGBT people like greater access to adoption, surrogacy and marriage equality? Many of them, both from the people I spoke with and polling data, believe that Palestinians deserve the right to a state, and want peace in the region. But they also want to be recognized not only as LGBT citizens, but also as Israeli citizens.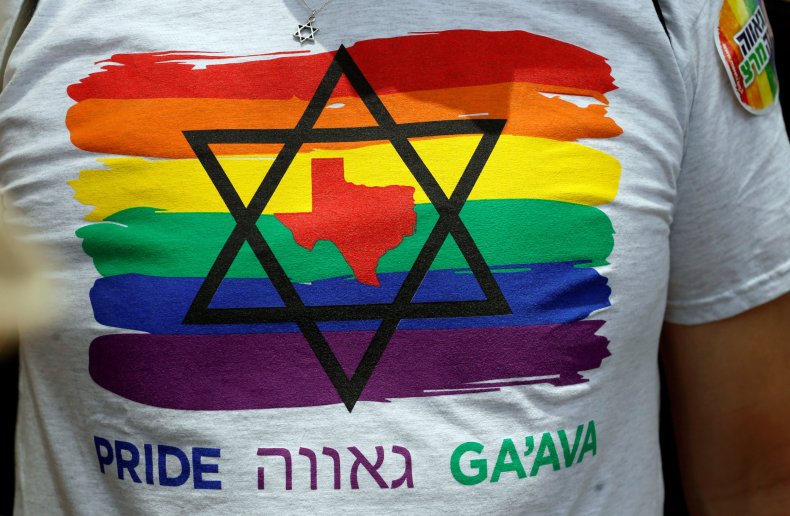 I was able to meet with people on the ground attempting to make peace a reality through communication, not boycotts. Like the Polyphony Conservatory in Nazareth, Israel, which brings Arab and Israeli kids together through music; the Communities' House for Pride and Tolerance, a new LGBT center in Haifa, Israel, with a special focus on Arab outreach and cooperation—including two courses at the University of Haifa: LGBT Jewish Leadership and LGBTQ Arab Activism; I visited with people living in a Ramallah refugee camp, victims of both Israeli occupation and Palestinian ignorance for over 65 years now; and I had the opportunity to visit with a representative from Zimam, a Palestinian organization supported by the OneVoice movement dedicated to fighting extremism in the West Bank and Gaza with a goal of creating a sovereign and democratic Palestinian state.
Boycotting Israeli LGBT events because of the government's treatment of Palestinian people is petty, uninformed and a deflection itself from the core issue at hand: peace. Perhaps that's just it though, the BDS movement doesn't have a grasp on its own problem, so instead lashes out at vulnerable minority groups like LGBT people just to get attention for itself and its own interests.
The path to peace is possible, and LGBT people have a unique opportunity to be leaders in this goal. Just being open about your sexuality, especially in an area like the Middle East, is a political statement. The stabbing murder of 16-year-old Shira Banki at the 2015 Jerusalem Gay Pride Parade is a tragic sign that more still needs to be done to advocate inclusiveness in the region. Boycotting events like pride or using LGBT people in the region as political scapegoats to support one's weak argument isn't part of the solution, it's part of the problem. Instead we should recognize Israel's ever-evolving acceptance of LGBT voices as a sign of progress, but also as an example of Israel recognizing its past failures and changing course. The same is possible for a two-state solution.
H. Alan Scott ( @HAlanScott ) is a writer/comedian based out of Los Angeles. He's a regular contributor to Newsweek, VICE and Fusion. He's the subject of the forthcoming documentary, ' Latter Day Jew ,' to be released in 2018.