LBI Limited adds $1.1 million Hoonitruck to its Ken Block Collection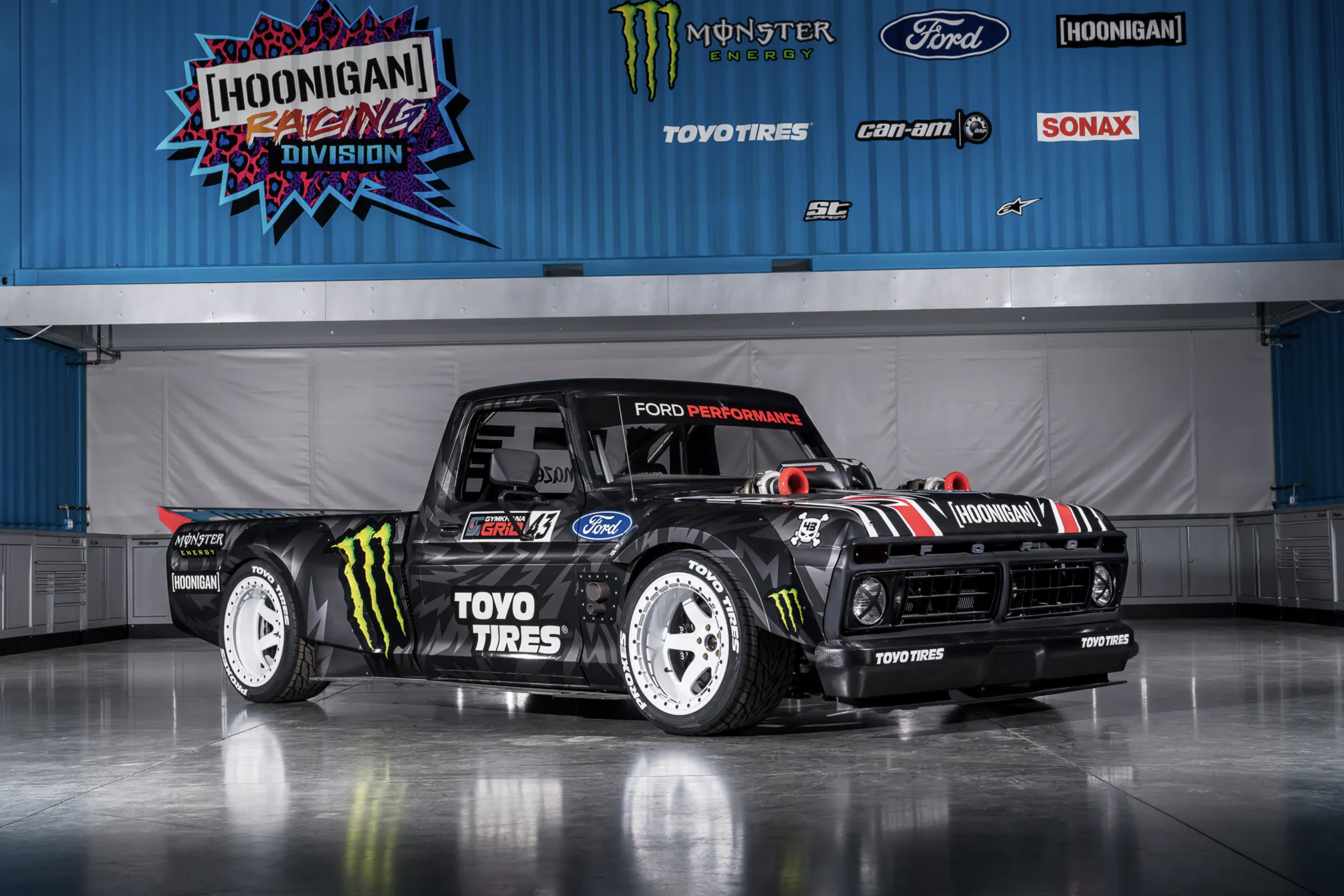 Hoonigan extraordinaire Ken Block is selling his Hoonitruck. The 1977 Ford F-150 has been seen over 75 million times on YouTube drifting through the frames of "Gymkhana Ten" and "Climbkhana Two", and on the Amazon Emmy-nominated series "The Gymkhana Files".
The unicorn, which allegedly cost $1.5 million to build, is a custom blend of old school body styles and modern racing mechanics. It was built by Detroit Speed in Mooresville, North Carolina, with guidance from Block and the Hoonigan team.
Changes to the model from its original form include a stripped cabin, repaired and reinforced structure, and a custom tube-frame chassis. It now wears hand-hammered aluminum bodywork in Block's signature matte black and gray color scheme, which includes the Hoonigan logo up front on the hood.
It now wears an aluminum intake manifold that was 3D-printed by Ford Performance especially for the truck. At the time, the process took 150 hours and it was the largest 3D-printed car part in the world.
It's not just another pretty face, despite having won "Best Dressed" at the 2019 Tokyo Auto Salon. The truck has a beast under the hood. The modified F-150 gets its power from a Ford GT Le Mans Prototype twin-turbocharged 3.5-liter Ford Performance/Roush Yates EcoBoost V6. That engine makes 914 horsepower and 702 pound-feet of torque and is mated to six-speed gearbox that moves power to all the truck's wheels.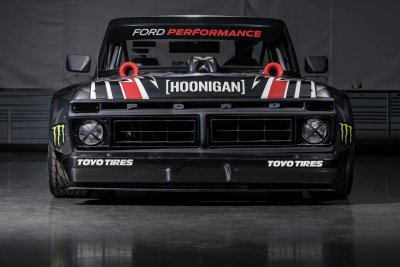 It rides on custom gloss white Fuel Block forged beadlock wheels wrapped in Toyo Tires rubber.
Be forewarned. Some assembly may be required. At 79 inches wide, the truck is too bulky to pull on a traditional 80-inch trailer. The modular nature of it's body means that it can be taken apart and put back together post-transit, when it has reached its destination.
LBI Limited has the listing, pricing the vehicle at $1.1 million.
The Hoonitruck joins three other vehicles that were recently offered by LBI Limited as part of its Ken Block Collection including a 2011 Ford Fiesta GYM3, 2013 Ford Fiesta ST RX43, and 1986 Ford RS200. The 2013 Fiesta and 1986 RS200 have already been purchased.
"We are incredibly honored to offer some of the most influential and recognizable pieces of modern car culture straight from Ken Block's personal collection; pieces that had a hand in creating a movement toward viral video car-acrobatics that hundreds of millions of people have watched," said Adolfo Massari, founder of LBI Limited.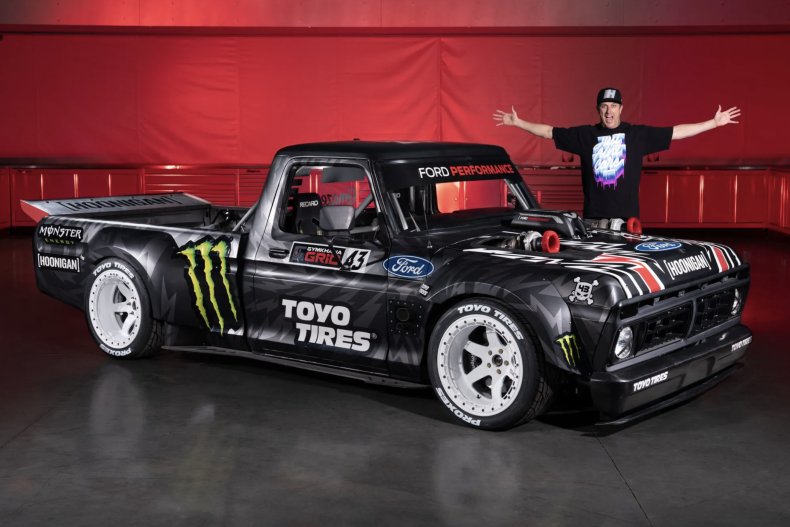 "I remember watching the 'Gymkhana Three' film in college during the early days of building LBI Limited and being floored by the physics-defying stunts and tire-shredding antics. To have this story come full circle in eventually selling the 'Gymkhana Three' car, and many others is a surreal experience for us."
Block recently severed his relationship with Ford Performance, opting to return to the Subaru rally team for the 2021 season. The season, which is currently underway, sees Block teamed up with co-driver Alex Gelsomino. Block was first associated with Subaru in 2005, a relationship that lasted until 2009.