LCD Soundsystem's Never-Ending Dance Party Has Millennial Music Fans Rejoicing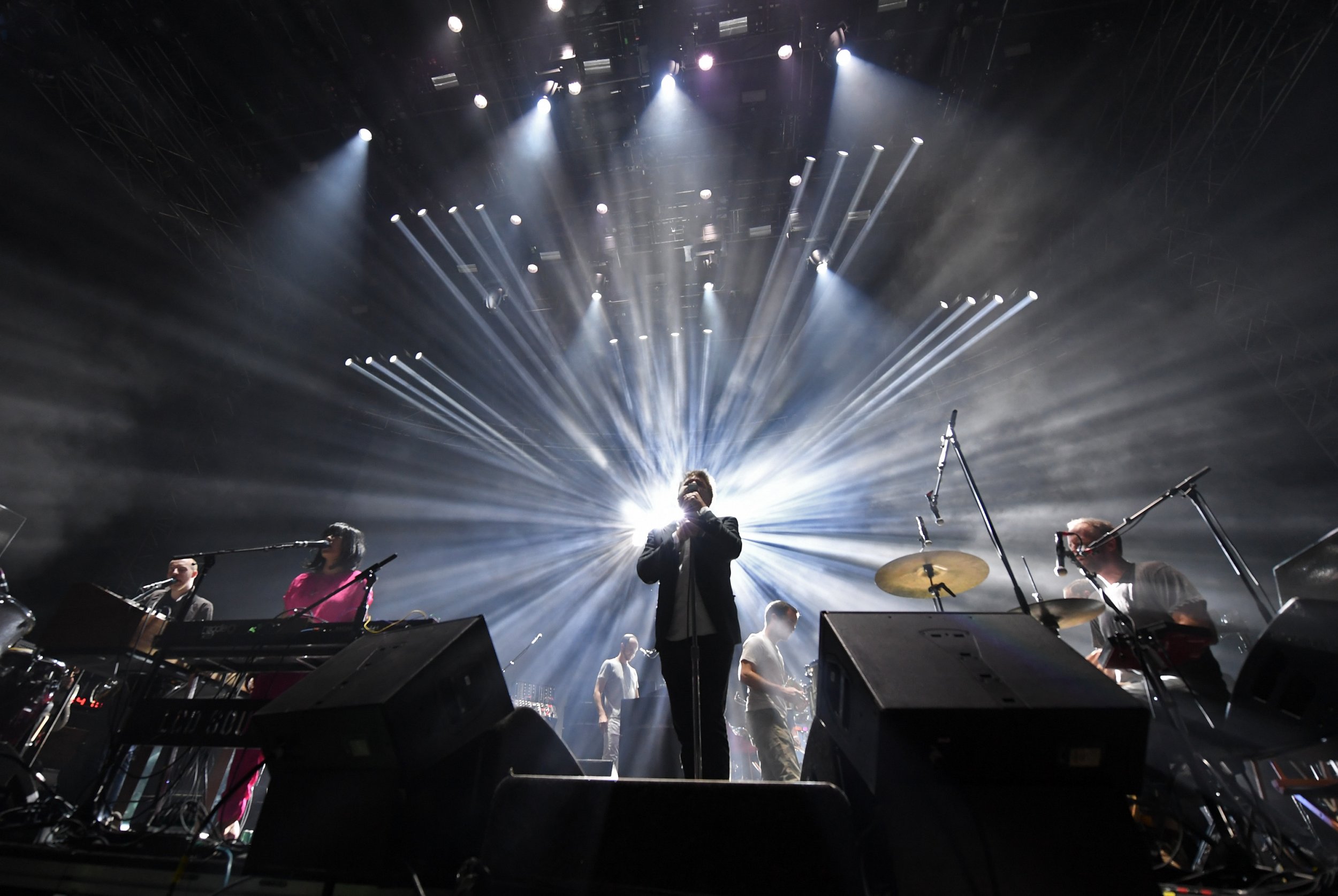 For all the buzz of instant gratification in the digital age, being a millennial music fan often means resignation—there are some heroes you'll just never get to see live. That is why the young crowd at Brooklyn Steel this past Saturday, there to watch LCD Soundsystem perform the last show of its June residency at the venue, felt especially electric.
I know I certainly did. At 21, I am barely older than the span of LCD Soundsystem's career, yet old enough that, when I was introduced to its music near the end of high school, the band had seemingly broken up for good. Yet here we all were last Saturday, in a former warehouse somewhere on the outskirts of Williamsburg, watching nearly a dozen musicians headed by frontman-cum-everyman James Murphy tear through LCD's greatest hits with precise fervor.
Signs plastered across the stage and around the venue urged the crowd, which varied in age but skewed toward late 20s/early 30s, to "Be HERE, enjoy the show" and to not take photos or video; the lack of faith in the audience's ability to stay off of Snapchat for 90 minutes was palpable. But when the band, after the declaratory opener "Yr City's a Sucker," launched into the buzzing one-two-punch synths of "Daft Punk Is Playing at My House," everyone (myself included) simultaneously began to dance as if no one else was in the room, iPhones kept in pockets and out of pumping fists.
The June residency, which consisted of seven shows over nine days, was the second one LCD Soundsystem has done at Brooklyn Steel since returning from the indie rock grave. It's hard to believe that its removal from, and now return to, the spotlight has all happened within the past six years: With three critically acclaimed albums under their belt and at the height of their career, Murphy decided to call it quits in 2011. The sold-out, three-hour farewell show at Madison Square Garden was accompanied by a sprawling live album, The Long Goodbye; a concert doc expertly filmed by Reed Morano, now known for her work on Lemonade and The Handmaid's Tale; guest appearances by celebrities (Arcade Fire, Reggie Watts, Donald Glover) who have maintained their cultural relevance; and a ubiquitous T-shirt design that acts as a kind of lifetime membership card for indie street cred—if you wear it, it's assumed you were there, and if you were there, you might as well have been at Calvary for the crucifixion.
That bubble of gravitas burst for some when, at the beginning of last year, Murphy posted a lengthy explainer announcing the band's return and a new album in the works. It doubled as an apology for fans "who feel very attached to the band, and have put a lot of themselves into their care for us, who feel betrayed by us coming back and playing. [Who] had traveled for or tried to go to the MSG show, and who found it to be an important moment for them, which now to them feels cheapened."
Murphy, now 47, has long been both a champion and a ridiculer of that indefinable artistic quality of "authenticity," along with the struggle to maintain it. LCD's breakout single, "Losing My Edge," mocked the indier-than-thou posturing of the early 2000s New York music scene, but also expressed Murphy's genuine fears of "the kids…coming up from behind" who appeared to have more talent. (Murphy was 30 at the time he wrote the song.)
The band has had its fair share of accusations of hypocrisy; its signature sound—a blend of punk, disco and electro, with Murphy's vocals trading off between Beach Boys melodies, David Byrne yelps and early hip-hop cadences—can come across as a grab-all appropriating of genres. However, as Scott Plagenhoef wrote for Pitchfork in 2011, this eclecticism had a goal in mind: "to reclaim a specific vision of New York City and its musical history, specifically the late 1970s and early '80s, where emerging sounds rubbed up against each other in ways that can only happen in a teeming, struggling metropolis."
Murphy's obvious love for both underground club hits and new wave/post-punk à la Talking Heads reflect this melting pot, both in sound and in optics, and LCD Soundsystem's concerts were said to follow through on this promise of an all-inclusive dance party. In an age where music is by and large categorized strictly by genre for maximum marketable success, and where people's taste is rapidly being shaped by dubious algorithms, it's clear why Murphy felt the need to write a eulogy for the perceived loss of the show's significance.
Still, in the band's absence, the kids have continued to come up from behind and change the game, mainly for the better. The biggest albums in the past year and a half alone—most notably from black musicians like Frank Ocean, Kanye West and the Knowles sisters, but also including Bon Iver's 22, a Million and Lorde's Melodrama—have broken down certain genre barriers and given significance to the album as an art form in a way that hasn't been marketed to mainstream audiences since before digital streaming.
The notion that millennials don't have the attention span to sit through 45 minutes of continuous music by the same artist doesn't ring as true when thousands tuned in to watch Ocean build a staircase—a gimmick, yes, but one based on a very earnest need to immerse oneself totally in a work of art that feels both fleeting in the moment and lasting in its significance.
To be fair, this type of desire is nothing new to concertgoers, and certainly not to the audience at Brooklyn Steel that night. It's very likely that the majority of people in the venue had wanted to see LCD Soundsystem for years, and at some point were sure they'd never get to, right up until the moment they clicked "purchase" for a show that sold out within minutes.
As we waited for two full hours before the band came on, leaning against the barricade in front of the stage and listening to a preshow playlist of EDM that boomed in the cavernous space, my friend Will commented on the "weird concert smoke smell" that percolated from the venue's fog machines. He said it reminded him of the smells of theme park rides—the theatrical pyrotechnics and chemical-filled rivers and waterfalls that greet you just as you get to the front of the queue. At this point, for both of us, the scent had become synonymous with anticipation.
When the club playlist faded from the speakers, giving way to David Essex's "Rock On," a few band members sauntered into view. The jittery crowd chatter turned into prolonged roars of ecstasy, growing louder and louder as each of LCD's core musicians took the stage: guitarist Al Doyle, percussionist Pat Mahoney, keyboardist and most prominent backing vocalist Nancy Whang and, finally, Murphy himself, arriving in a black blazer but shedding it within seconds. To paraphrase his own lyric, he quickly assumed the role of "fat guy in a T-shirt doing all the singing," and every soul in the room was more than happy to accept his title.
All of the songs sounded identical to the studio versions in their mixing, not a single instrument too quiet or too overpowering. But each had the added bonus of being twice as dynamic when played with a live band. The slow, patient build of "You Wanted a Hit" was even more rapturous when the crowd could see the bandmates build upon it before their very eyes, swirling under a giant disco ball that dappled the metallic walls of the venue beautifully.
When the churning punk of "Movement" exploded into its guitar-heavy chorus, it was as though a switch had been flipped, the audience jumping and swaying with entropy but without the aggression to break into a full-on mosh pit. Even when the band played new songs from its upcoming album, which weren't as enveloping simply because the lyrics couldn't be screamed back at them, we all gazed up, dewy-eyed, letting each wave of unfamiliar synths and rhythms wash over us. All the while, Murphy cradled his vintage microphone in his hands like a lifeline, holding it right up to his face for each full-throttled "woo-hoo" and "yeah," delivering each spoken inflection with the right amount of venom, or pattering across the stage to join Mahoney on the drums. He seemed as enraptured by the spirit of the music as everyone else was.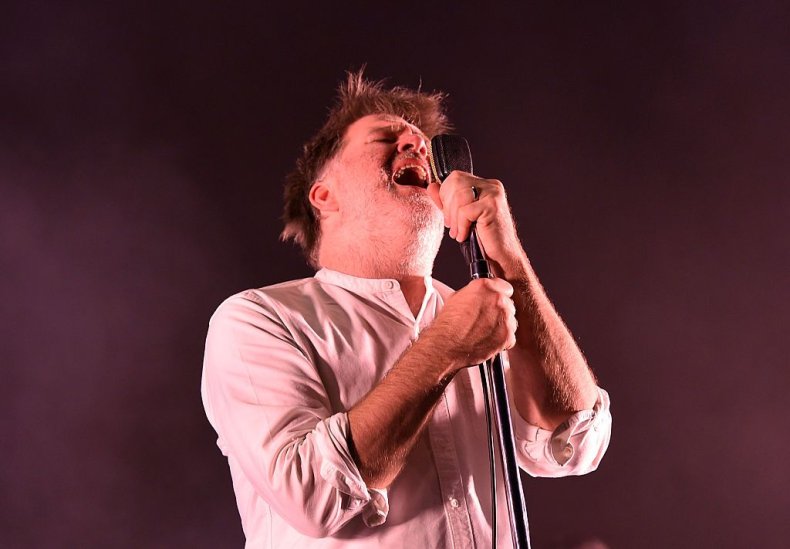 Throughout the show, Murphy would periodically reach out and motion his palm downward, as though swatting a fly to the ground. It was his way of warning phone photographers to put the device down, although no harsher punishments were given. A few brief clips of the concert, with Murphy's back noticeably turned away, even made their way onto Instagram. None of that really mattered in the end, because the vast majority of the crowd made a subconscious agreement to lose themselves in the music—specifically, to lose themselves in a grizzled man approaching 50 singing about youths trying to fake wisdom, aging musicians desperately wanting youth and how New York as an entity has simultaneously blurred and enforced the lines between the two groups, no matter the year.
As strange as it sounds, Murphy works as the perfect conduit for these themes, even if he often downplays his strength as a songwriter. If the New Wave musicians that Murphy idolizes crafted their work out of the bankrupted remains of New York in the 1970s, then LCD Soundsystem drew, and continues to draw from, the ennui of Giuliani/Bloomberg/de Blasio neoliberalism, which in turn acts as a critique about differing values in the young and the old. It's an update on rock's "screw the adults" attitude with a somewhat tragic twist: Murphy's days as a youthful DJ came and went before LCD even got off the ground, yet for all his supposed weariness of newcomers to the scene, LCD's fanbase has continued to consist of young people even as the band has grown older.
So while the show's centerpiece, the slo-mo ballad "New York I Love You, but You're Bringing Me Down," was heart-wrenching as always, it had an added dimension: Most of the concertgoers singing along had never known a New York that was any different from the one Murphy decried: "Our records all show/You were filthy but fine/But they shuttered your stores/When you opened the doors/To the cops who were bored once they'd run out of crime."
It's become almost a running joke in how paradoxically easy and difficult it's become to see LCD Soundsystem live, especially in its hometown. The band whose departure from music was once nearly as infamous as its discography has now played multiple series of shows in Brooklyn, as well as numerous festival headline slots, just within the past year. They'll play a few more shows on the festival circuit this summer, before releasing their album in the fall, embarking on a tour in Europe, and finally returning to Brooklyn Steel in December.
It's no longer quite begging for prestige to say you went to one of their shows (and thank God for that), but there's still more than adequate reason to try and see them in person. Few moments at live shows I've been to have felt as poignant as seeing Murphy, in the middle of the swelling encore number "Dance Yrself Clean," calmly mumble, "Every fucker's getting younger/It's the end of an era, it's true."
The profanity isn't in the studio version, and it seemed to catch the other 20-somethings around me off guard. But there was no time to dwell on it; Murphy wailed, "AND YOU GO!" and the band came back in full force. The dance party wasn't over yet.