What Lea Michele's Co-stars Have Said As 'Glee' Star Is Accused of Making Show a 'Living Hell'
Glee star Lea Michele is being accused of making life on the show a "living hell" as former cast member Samantha Marie Ware has spoken about the "traumatic microaggressions" she experienced.
Saturday night saw Michele, who played Rachel Berry on the show, post a tweet in support of the Black Lives Matter movement in the wake of the death of George Floyd.
She wrote: "George Floyd did not deserve this. This was not an isolated incident and it must end. #BlackLivesMatter."
However, last night, Ware quote tweeted Michele, blasting her for once threatening to "s*** in [her] wig" when she worked on the show.
"LMAO REMEMBER WHEN YOU MADE MY FIRST TELEVISON GIG A LIVING HELL?!?! CAUSE ILL NEVER FORGET," the 28 year old began.
"I BELIEVE YOU TOLD EVERYONE THAT IF TOU HAD THE OPPORTUNITY YOU WOULD 'SHIT IN MY WIG!' AMONGST OTHER TRAUMATIC MICROAGRESSIONS THAT MADE ME QUESTION A CAREER IN HOLLYWOOD..."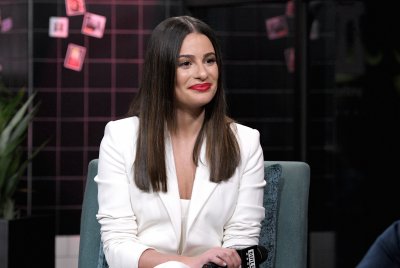 Michele's and Ware's representatives have been contacted for comment.
Ware starred in season six of the Ryan Murphy show in 2015 for an 11 episode run as character Jane Hayward.
Ware's tweets appear to have opened the flood gates with fellow Glee alumni Amber Riley and Alex Newell responding.
Following Ware's tweet, Riley (who played Mercedes Jones) tweeted a loaded GIF of herself sipping tea—which indicates she is acknowledging and agreeing with Ware.
Newell, who starred on the show from 2012 to 2015 as Wade "Unique1"' Adams tweeted the "get her" GIF in response to Ware's tweet and responded with several other telling GIFs to fan tweets.
Meanwhile, RuPaul's Drag Race star Willam, who appeared on an episode in 2012 tweeted: "Lea treated me so subhuman i left the set of Glee. Pass the [popcorm emoji]."
Community star Yvette Nicole Brown responded to Ware's tweet with: "I felt every one of those capital letters."
Dabier Snell, an actor who appeared in one episode of Glee in 2014, also tweeted that Michele wouldn't allow him to sit at a table with the regular cast members on set.
Fellow Glee actress Naya Riviera's name also appeared when fans of the show recalled a passage from the actress's 2016 memoir Sorry Not Sorry: Dreams, Mistakes and Growing Up which reads: "I don't hate Lea, and I never have. I think Rachel—erm, I mean Lea—didn't like sharing the spotlight."
The Santana Lopez actress wrote at the time: "She had a hard time separating work from our outside friendship, whereas it was a lot easier for me ... Lea was a lot more sensitive, though, and sometimes it seemed like she blamed me for anything and everything that went wrong."
Michele has yet to respond to any of the claims.
Needless to say, Twitter is alight with fans basking in the drama as several threads and discussions over Michele's behavior on the set of Glee are ongoing.