Leader of German Anti-Islam Marches Pictured Posing as Hitler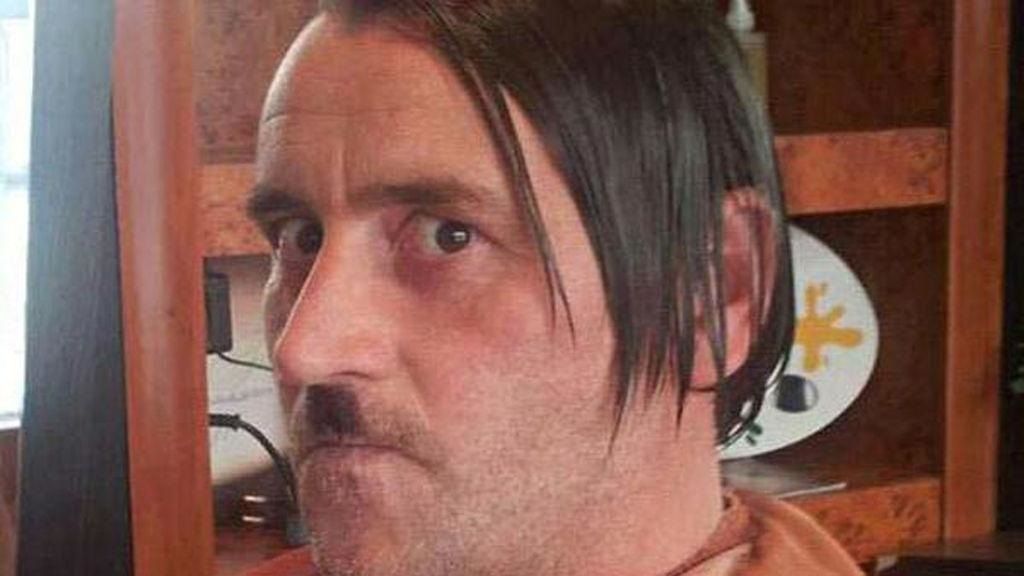 Lutz Bachmann, co-founder and public face of the anti-immigrant populist movement, PEGIDA, has been castigated for posing as Hitler on Facebook. The picture in question shows Lutz Bachmann with a short moustache and parted hair, clearly emulating the fascist dictator. Bachmann deleted his profile picture after the German press contacted him and told them that the photo was a joke for a new satirical novel on Hitler's return to contemporary Germany, entitled 'He Is Back'.
A PEGIDA spokesperson also dismissed the remark as a joke to International Business Times. Bachmann, however has a history of making offensive jokes over social media. The Dresden Morgenpost, claims to show items from Bachmann's Facebook profile including a picture of a Ku Klux Klan member captioned "three Ks a day keep the minorities away".
In an interview with The Financial Times, Bachmann insisted the group was moderate, saying that "right-wing madmen" made up a small minority of PEGIDA.
However, sociologist Dieter Rucht, who has conducted a study of people attending PEGIDA demonstrations, suggests otherwise. "From the physical outlook you could say there are more than just a few right-wingers and the local people can identify some right-wingers who have records of being aggressive," says Rucht.
Speaking ahead of the publication of his findings, Rucht added that 80% of the demonstrators were male and there were very few people below the age of 25 in attendance. The survey was carried out at a PEGIDA march on 12th January and used a sample of 123 people, which Rucht admits should not be taken as entirely representative.
He also said that the front of the march was too aggressive for his researchers to gain information. "We couldn't access the hardcore of the [demonstration]" who were "were very closed or very aggressive", he says, but further back, attendees were more receptive. He added 89% of those questioned intended to vote for the Alternative fur Deutschland (AfD), an insurgent new eurosceptic party in Germany.
Anti-PEGIDA protests have attracted tens of thousands of demonstrators in their hometown of Dresden alone and Angela Merkel has criticised the group for attempting to agitate anti-immigrant sentiment in the country, calling them racists "with hatred in their hearts".
Last week, Dresden police cancelled a PEGIDA rally, citing threats from militant Islamic groups, the Telegraph reports. Dresden Police said there had been calls for "assassins to mingle among the protesters… and to murder an individual member of the organising team of the PEGIDA demonstrations." They would likely target Lutz Bachmann, PEGIDA's incendiary co-founder, reports the German press agency, Deutsche Presse- Agentur.
While only drawing 350 participants for their first protest in October last year, in only a couple of months, a reported 25,000 people attended the 12th January protest in Dresden.
"There is not a tradition of civil society adhering to liberal democratic values" in Dresden, says Rucht, and while this is likely only a minority view, PEGIDA has exploited its potential in Dresden.
Perhaps ironically however, immigrants do not make up a large part of Dresden's demographic. It's a strange phenomenon, says Rucht: "These people hardly know any migrants because there are so few. There is this empty space where they can project their stereotypes. It cannot be corrected by personal experience because they have no experience."
Another feature of the demonstrations is a deep mistrust of the orthodox political establishment and its institutions. The term lügen-presse, or 'liar press', is a slogan adopted by overwhelming numbers of the movement. "It has been promoted in the early phase of the demonstrations in October, and then it became a kind of common wisdom," says Rucht.