Leader of Militia Group That Allegedly Detained Hundreds of Immigrants at U.S.-Mexico Border Arrested by FBI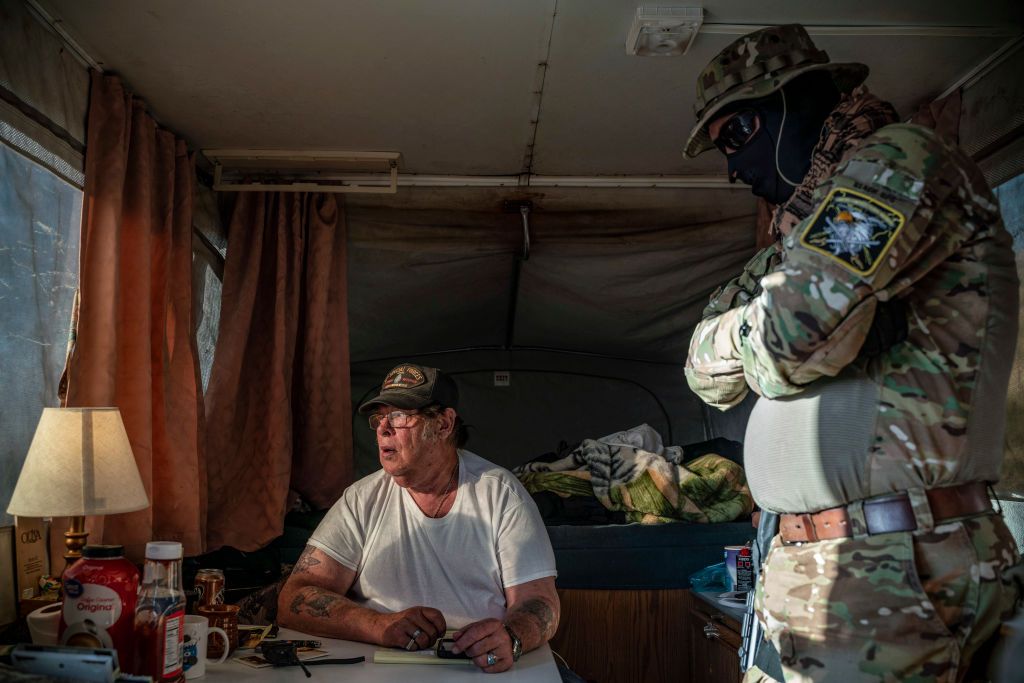 A militia group who ignited controversy about the treatment of immigrants along the U.S.-Mexico border are back in the headlines following the arrest of the group's leader.
United Constitutional Patriots (UCP) founder Larry Mitchell Hopkins was taken into custody by FBI agents on Saturday for being a convicted felon in possession of firearms and ammunition, The Daily Beast reported.
Hopkins, who also goes by the name "John Horton Jr.," was convicted of impersonating a police officer in 2006, The Daily Beast said.
"This is a dangerous felon who should not have weapons around children and families. Today's arrest by the FBI indicates clearly that the rule of law should be in the hands of trained law enforcement officials, not armed vigilantes," New Mexico's Attorney General Hector Balderas said in a statement.
Hopkins and UCP came under fire this week after a video was posted to Facebook where members of the group detained over 200 migrants who had crossed the U.S.-Mexico border near the militia's camp in Sunland Park, New Mexico. In a separate video, also recently filmed, the group members were holding semiautomatic weapons near children.
Speaking to BuzzFeed News, group member Mark Cheney said the UCP would be "fools" not to be armed when interacting with immigrants. He also acknowledged that some group members wore badges similar to those worn by Border Patrol agents.
"If [immigrants] can't tell the difference, that's their problem," Cheney told BuzzFeed.
Some viewers of the videos said UCP members had falsely represented themselves as members of Border Patrol, prompting several warnings to be issued by various law enforcement agencies.
Peter Simonson, executive director for the ACLU of New Mexico, told BuzzFeed that the militia did not have grounds to make a citizen's arrest, as one can only be made when a felony crime is committed. Illegal entry into the United States is a misdemeanor.
Like others, Simonson expressed concern that the UCP might be impersonating law enforcement, saying, "That's one crime that is a federal felony. I also suspect the militias could be guilty of false imprisonment and maybe even kidnapping, and that's just the tip of the iceberg."
The group claimed they were working with the permission of U.S. Border Patrol Agents, but the agency has denied such claims.
"We work with other federal agencies. Private groups like these we typically don't reach out to," Border Patrol Agent Jose Romero told KVIA-TV in a March interview. Romero added that the group was allowed to remain on private land and observe, "as long as they don't interact with and try to get involved in the midst of the immigration process, or enforcing the laws on the border. That's our job," he said.
Group members told KVIA they were aware they were not allowed to detain anyone. However, Jim, a spokesperson for UCP, told The Daily Beast that the group has worked with Border Patrol on many occasions.
"There's no question about whether or not we work with Border Patrol. That's all documented, and not just once. It's documented hundreds and hundreds of times over in the videos that I post," he said.
The group frequently shares videos to social media of their interaction with migrants along the border, some of which show Border Patrol agents in the area.
Hopkins' arrest is the latest blow to the group, which has seen its accounts with PayPal and GoFundMe frozen, preventing their efforts to fundraise in order to remain at the border. UCP set up camp in February 2019 and has pledged to remain in the area until President Donald Trump's border wall was constructed.
"They killed us," Cheney told BuzzFeed. "I have to find some other way for people to donate. ...As the commander, it's my responsibility to find some way for people to donate."
Hopkins is expected to make an appearance at the U.S. District Court in Las Cruces, New Mexico, on April 22.