Leader of North Carolina Protests Against Stay-at-Home Arrested Outside Governor's Mansion
A leader from a group demanding that North Carolina eliminate preventative measures and allow businesses to reopen amid the COVID-19 pandemic has been arrested after refusing police orders on Tuesday.
Ashley Smith is one of the administrators of Facebook group ReOpen NC. A different leader of the group recently made headlines after it was revealed that she had tested positive for the virus.
Smith and others from the group were arrested and charged with resisting arrest and violating Governor Roy Cooper's stay-at-home order banning large gatherings, according to local news outlet WNCN. They were arrested after being told to not conduct their protest on the governor's mansion property and allegedly refusing to oblige.
"We'll all go to church, we'll open our businesses and we'll buy what we want," Smith told the crowd before she was arrested, according to The News & Observer. "We will not go down gently. ... If you feel the need to stay home, it is your God-given right to do so. But we want to live!"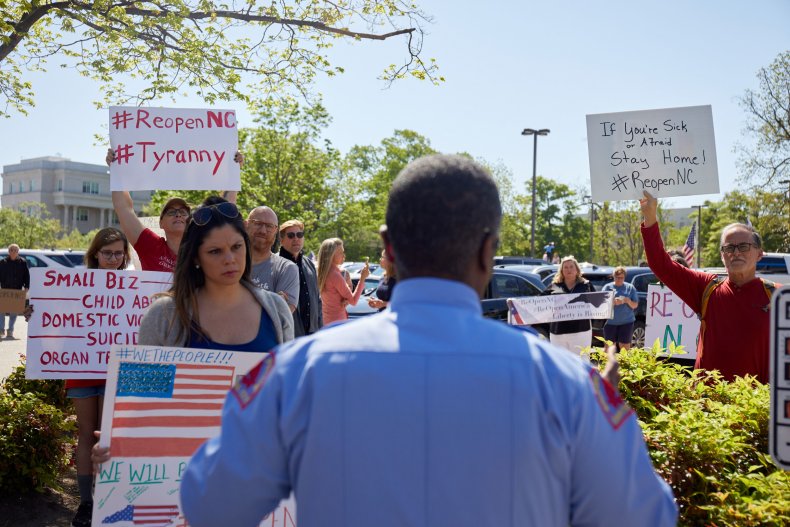 Video from later on in the event shows a handcuffed Smith being taken away by police as she refers to the officers as "pigs" and claims "I did not resist." Her husband Adam Smith also reportedly called the police "little piggies" and claimed that "this is how Nazi Germany started" after his wife was arrested.
Most of the hundreds of protesters did not wear masks or other protective equipment. They were demanded Cooper rescind his stay-at-home order despite the advice of public health experts, citing damage done to the economy.
Some compared their inability to buy services or products during the pandemic to slavery. One of the protesters could be seen shouting "Pharaoh Cooper! Let my barber go!" according to The News & Observer.
The group has claimed to be nonpartisan, but Smith spoke near a large campaign sign for President Donald Trump and insisted that Cooper, a Democrat, "has to go" in the November election. Many attendees were also seen displaying partisan signs and some were said to be offering pro-Trump items for sale.
A group of counter-protesters was also present, consisting of health care workers concerned that lifting restrictions too early could lead to a spike in cases of the virus. Some of the ReOpen NC protesters accused the workers of being fake, shouting at them and telling them to leave.
Newsweek reached out to Smith for comment but did not receive a response in time for publication.
Audrey Whitlock, another of the group's leaders, described herself as an "asymptomatic Covid-19 patient" while claiming that being told to maintain quarantine was a violation of her religious rights in a Facebook post on Sunday. Whitlock did not attend the group's previous two protests. It is unclear whether she attended Tuesday's event.
"The reality is that modern society has not been able to eradicate contagious viruses. A typical public health quarantine would occur in a medical facility," Whitlock wrote in the since-deleted post, according to WNCN. "I have been told not to participate in public or private accommodations as requested by the government, and therefore denied my 1st amendment right of freedom of religion."