Leaders of Christian Colleges Discuss Image and 'Diversity as Discipleship' at Annual Conference
Correction 10/9/2019: An earlier version of this article mistakenly read that the Council for Christian Colleges and Universities (CCCU) has only one member institution with a non-white president. In actuality, the CCCU includes 30 international institutions from 18 countries besides the United States, many of which have non-white presidents, according to CCCU Director of Communications and Public Affairs Greta Hays.
Leaders from Christian-affiliated universities and colleges all over the country converged in Oregon last week to discuss diversity and inclusion on their campuses.
According to the Religious News Service, about 300 people—Christian university presidents, faculty and administrators—attended the conference, held from October 4 to October 5 at George Fox University in Newberg, Oregon. It was the third annual Diversity Conference of the Council for Christian Colleges and Universities (CCCU), an evangelical association made up of more than 180 member schools.
Institutions of higher learning affiliated with churches remain predominantly white, according to The Christian Post, but an ongoing movement to diversify student bodies has made some headway in the past two decades. In 1999, 82.2 percent of all students who attended schools in the CCCU were white. By 2018, that number had dropped to 62.2 percent. Similar to nationwide demographics, the fastest-growing student group in the CCCU is Hispanic or Latinx people.
Yet many still see lower proportions of non-white students, faculty and administration members as a problem. Of the nearly 140 CCCU institutions in the U.S., only one university has a president who is non-white.
"It's a condemnation," CCCU president Shirley V. Hoogstra said of this fact. "It stings."
At the conference, Hoogstra moderated a panel of five Christian college presidents to discuss encouraging racial and ethnic diversity on their campuses—and all of the panelists were white.
The conference "addressed providing outreach to undocumented students, offering support for first-generation students, and hiring more faculty of color," the Religious News Service reported.
This year's event was the "highest attended Diversity Conference to date, following previous conferences in 2015 and 2016, at North Park University (Chicago, Illinois) and Nyack College (New York City, New York)," according to the CCCU website.
Brenda Salter McNeil, an associate professor at Seattle Pacific University, was a speaker at the event. She addressed what she saw as the misconception among some students at Christian universities that concentrated efforts to make those spaces more inclusive and diverse was part of a liberal agenda that has nothing to do with their faith.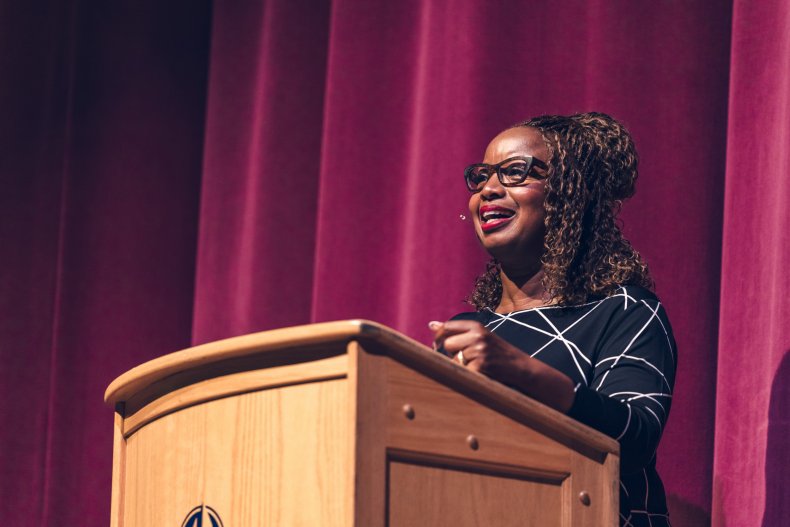 "It raises the question of what type of disciples we're forming, and what kingdom we're educating them to be obedient to," Salter McNeil said.
She said the way to combat this sort of thinking was a philosophy called "diversity as discipleship."
Rebecca Hernandez, chief diversity officer for George Fox University and one of the people who headed the conference, said that Christian colleges should not shy away from themes of social justice, since so much of Christ's message focused on such themes.
"Jesus was about diversity," Hernandez said. "We all can point to different stories in biblical text where Jesus did the opposite of what the people at the time did."
"He crossed gender boundaries," Hernandez went on. "He crossed cultural boundaries. He crossed racial boundaries. He crossed alliance boundaries to meet people and to build relationship with them and to then set a standard."
"We have crafted a conference with purposeful, thoughtful spaces that give us room to lament and learn, to share successes and struggles, and to cast a new vision for the future," Hoogstra said of the conference.