Leading Democrats Break with Biden Over $50k Student Loan Cancelation: 'We Will Keep Fighting'
President Joe Biden has rejected the idea of unilaterally eliminating $50,000 of student loan debt, despite mounting pressure from Democratic lawmakers to do so.
In his first public event since being sworn into office last month, Biden was told by an audience member at a CNN town hall in Wisconsin that student debt is "crushing" her family, friends and fellow Americans.
"We need student loan forgiveness beyond the potential $10,000 your administration has proposed," she said. "We need at least a $50,000 minimum. What will you do to make that happen?"
"I will not make that happen," Biden responded. The president said he understood the impact of debt, but didn't believe he had the authority to wipe out $50,000 without congressional action. He also stated he doesn't want to forgive debts of borrowers from elite schools such as Harvard University, and that the federal funds would be better spent on early childhood education.
His answer prompted swift push back from leading Democrats in Congress, including Senate Majority Leader Chuck Schumer (D-N.Y) and Senator Elizabeth Warren (D-Mass.)—who, along with other lawmakers, introduced a resolution in early February calling on Biden to use executive action to wipe out student loan debt. White House press secretary Jen Psaki said at the time that Biden was "reviewing whether there are any steps he can take" to do so.
"Presidents Obama and Trump used their executive authority to cancel student loan debt," Schumer and Warren said in a joint statement on Wednesday. "The Biden administration has said it is reviewing options for cancelling up to $50,000 in student debt by executive action, and we are confident they will agree with the standards Obama and Trump used as well as leading legal experts who have concluded that the administration has broad authority to immediately deliver much-needed relief to millions of Americans."
They added, "It's time to act. We will keep fighting."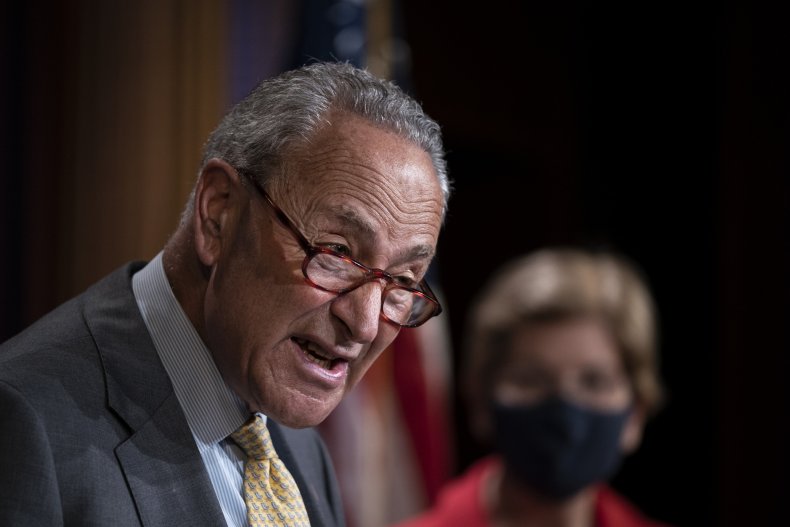 Representative Ayanna Pressley (D-Mass.) also tweeted Tuesday night that Biden does have the authority to cancel student loan debt "with the stroke of a pen" and that he must use it.
"The people deserve nothing less," she wrote.
Representative Alexandria Ocasio-Cortez (D-N.Y.) also clashed with Biden over the issue, writing on Twitter on Wednesday morning that "the case against student loan forgiveness is looking shakier by the day" and that arguments against it "just don't hold water on close inspection."
"We can and should do it. Keep pushing!" she added.
In one of his first presidential acts, Biden extended the pause on student loan payments and interest amid the ongoing coronavirus pandemic. Federal student loan borrowers will not have to make payments until October 1 at the earliest.
Biden has also pledged to eventually forgive $10,000 in student loan debt per person.
"I understand the impact of debt and it can be debilitating," Biden said on Tuesday night. "But I do think that, in this moment of economic pain and strain, that we should be eliminating interest on the debts that are accumulated, number one. And number two, I'm prepared to write off a $10,000 debt, but not $50,000. Because I don't think I have the authority to do it by signing the pen."
Newsweek has reached out to the White House for comment on the statement by Senators Schumer and Warren.