In Leadup to Election, More Women, Young People Say They Won't Vote: Poll
An increasing number of women and young people say they do not plan to vote as November's election quickly approaches, according to a new poll.
The Hill/HarrisX poll released Friday found that 6 percent of voters aged 18 to 34 said they would not vote, compared to 4 percent in the same poll from one week earlier. The number of women who said they did not plan on voting was 5 percent, moving from 3 percent the previous week.
Although a large majority of younger voters taking part in the poll said they would vote in the election, they were still the least likely of all age groups to indicate they would participate on both weeks of polling. An even number of women and men, 3 percent, said they would not vote in last week's poll.
This week's poll was conducted online among 2,841 registered voters between October 3 and October 6. The previous poll was conducted online between September 30 and October 1, with 928 registered voters taking part. While the newer poll had a margin of error of 1.84 percent, the difference between the two polls falls well within the previous week's 3.22 percent margin of error.
The percentage of those who said they would not participate was low compared to some other recent polls. A poll of registered voters released by The Economist/YouGov on Wednesday found that 10 percent of both men and women will "probably" or "definitely" not vote in the presidential election, while 15 percent of those aged 18-29 said the same.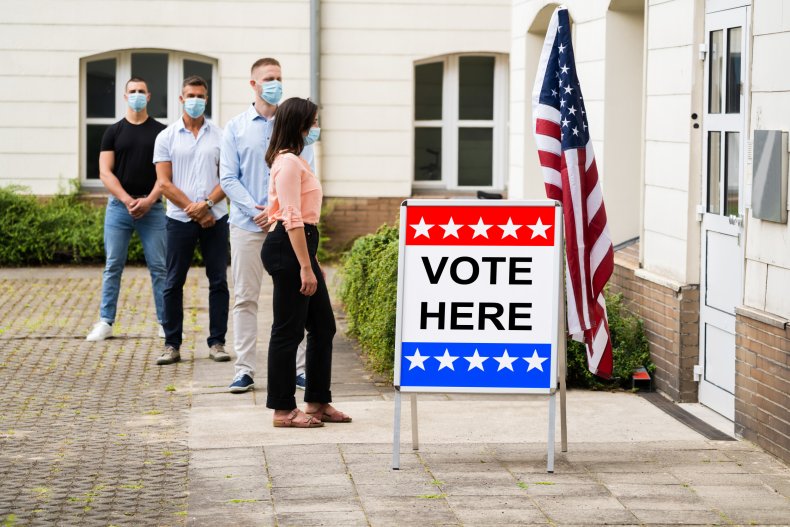 High voter turnout typically benefits Democrats over Republicans. Women and younger voters are among the demographic groups that most favor Democrats, with polling in the current election repeatedly showing that clear majorities of both groups are more likely to vote for Democratic presidential nominee Joe Biden than President Donald Trump.
Friday's Hill/HarrisX poll found that women who plan on voting in the election favored Biden over Trump by 47 to 32 percent. A slightly smaller 9 percent Biden advantage, 45 to 36 percent, was seen among women who said they would vote in the poll from The Economist/YouGov.
Among those aged 18 to 34 who said they would vote in the Hill/HarrisX poll, 49 percent preferred Biden, while 31 percent favored Trump. A 55 percent share of voters aged 18 to 29 in The Economist/YouGov poll said they would vote for Biden, dwarfing the 22 percent for Trump.
Overall participation in the election is expected to be high despite concerns caused by the COVID-19 pandemic. More than 8.3 million ballots have already been cast in early voting, over 19 times the number of votes reported at the same point in 2016, according to the United States Elections Project.
A poll released last month by the Institute of Politics at Harvard Kennedy School also suggested younger voter turnout may increase, with 63 percent of those aged 18 to 29 saying they will "definitely" vote in the election, up from 47 percent in the 2016 election. A 60 percent share said they intend to vote for Biden, while 49 percent supported former Secretary of State Hillary Clinton in 2016.
Newsweek reached out to the Trump and Biden campaigns for comment.