The latest TikTok trend may look like fun, but it caught a toddler boy surprise. In the hilarious video viewed more than 4 million times on the platform, the "leaf pile challenge" ended with a boy lost in a leaf pile while his mom frantically tried to unbury him.
"I got the idea @j.barber5 but apparently stuff like this only works for dads. 🤣 #leafpilechallenge #leafpilejump #roborockrun #toddlersoftiktok," Carley Anderson — who goes by @notcarl4444 on the platform — captioned the viral video.
The slow-motion clip showed Anderson's toddler going down a slide feet-first into a big pile of autumn leaves. The height and depth were so big, Anderson lost her son in the swath of foliage. She quickly searched for him as he cried for help.
According to SmokyMountains.com's 2021 fall foliage map, "NOAA precipitation forecasts, average daylight exposure, and temperature" use "forecasts to make predictions about peak foliage times."
Timing for peak leaf season varies with the Rocky Mountains beginning in late September through mid-October. The East coast gets the stream of colors mid to late October (through the end of October), the Midwest happens around the same, and the Gulf and West Coast get their share in early November.
That said, just about everywhere hit leaf season by now, as shown in the viral trend.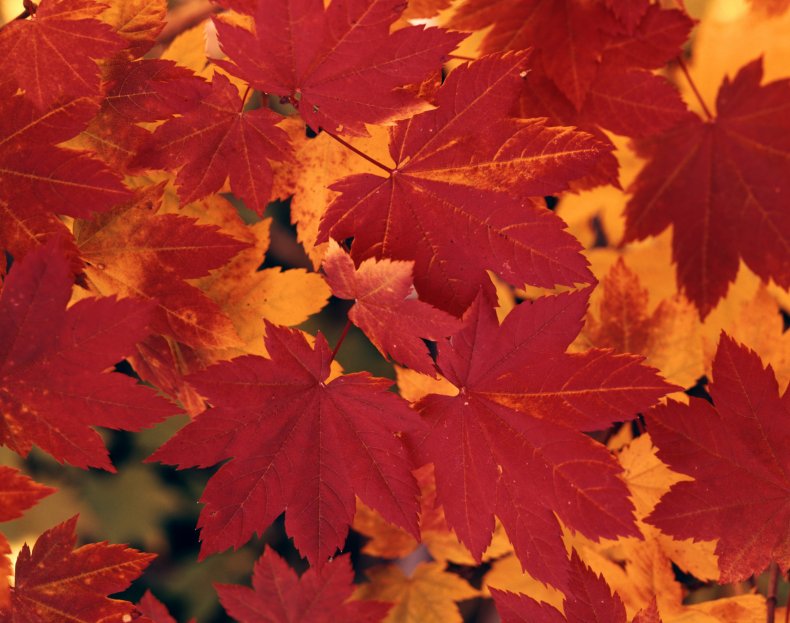 "This is his villain origin story," @maggie.benn commented on the post. It has over 400,000 likes.
"Parents be doing whatever with their kid," @Dtx_lady wrote with the laughing face emoji. "Just inflicting all kinds of necessary trauma."
@latoyamacinko said, "Therapy in 15 years *idk man for some reason autumn triggers my anxiety*."
"This is the epitome of every mom trying to make cool memories with their kids and it always backfiring," @rescuecooper added.
It's not the only post making the rounds. The TikTok hashtag #leafpilechallenge has over 24 million views in total with dozens of others partaking in the autumn event. Anderson's clip got so much traction in its 24 hours online, she created a follow-up video from what would be her toddler's perspective.
In the follow-up, viewers see Anderson go down the same slide her son did, into the same pile of leaves. The screen then transitions to a dog moving like a rocket out in space with spliced scenes from Interstellar pasted in between.
While the #challenge might not have gone exactly as planned, it's clear by the millions of views, the video did its job on the TikTok front.