'League of Legends' 10-Year Anniversary Live Stream Recap - Senna, Wild Rift and So Much More
To celebrate their 10 year anniversary,Riot Games just announced a massive amount of content coming to League of Legends and a few new games that are in the works. Prior to the official live stream, the folks at Riot Games shared what's going down over the next few years and how they are finally earning the "s" in their company name.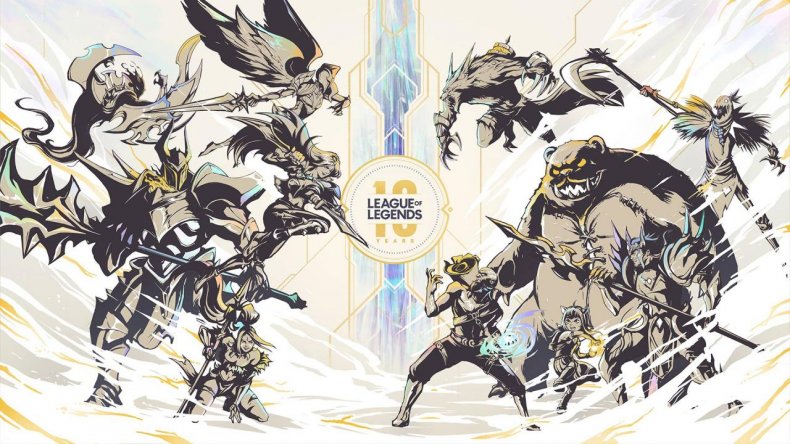 "We are looking at the next 10 years of Riot Games," a Riot Games representative told Newsweek. "We are finally reaching a point where we are hyper conscious of what players want and we think we got it right."
Here's everything that was revealed during the 10-year anniversary live stream.
League of Legends Senna
Lucian's wife has been stuck in Thresh's lantern, and it's finally time for her to escape. Coming to the PBE on October 22nd and live servers on November 10th, she will be the first hybrid support champion that has a marksmen playstyle. Pictures of her were leaked a few months back, but she has finally received her official reveal and her potential revenge on the chain warden that captured her soul.
Players will also receive an in-game item each day they log into the game starting on October 17th.
Teamfight Tactics
The latest Auto Chess game mode will be getting more major updates to keep it fresh. A mobile version of the mode will hit smartphones in the first quarter of 2020 with pre-registration beginning today. Every three to four months, a major update will come to the game, adding new champions and abilities to keep you entertained. The second set will be "Rise of the Elements" and feature new Elementalists to add to the mix.
League of Legends Wild Rift
For the first time ever, League of Legends will be coming to smartphones and consoles. Using two joysticks to control and aim your champion, this is a new game with matches intending to last between 15 and 18 minutes won't carry over, though rewards for players are planned to enforce cross-pollination.
'MOBAs are a niche audience, with mobile versions being even smaller," the representative. "Mobile technology has reached a point where you can finally have an authentic experience."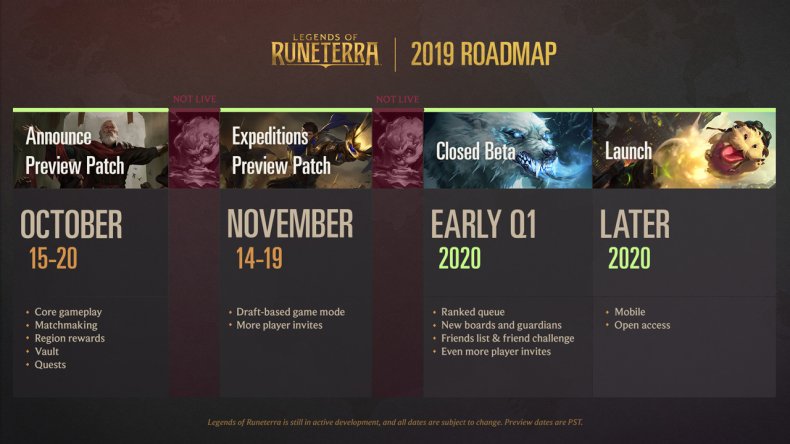 Legends of Runeterra
League is getting a card game starring Runeterra's star champions. Players will be able to get cards through in-game progression or by paying real money. Riot is aware of the backlash other card games based on MOBAs (remember Artifact) have received from the community, which is why they revealed it with this bundle.
"Humbleness in our approach and not going the Diablo Immortal route of announcing a mobile game on the Blizzcon stage," the representative said. "We hope players will give us a shot. We are all card game players here and know the problems that a League card game can face."
Arcane
A League of Legends inspired television show created and developed by Riot Games is in the works. "League fans will get to see their favorite characters and stories," the representative said. "We want to get all of our lore straight and catch up to where the current world is." Set in Piltover and Zaun, it follows two champions trying to save their world.
Project A- One of the most interesting reveals of the stream is a new M-rated, character-based tactical shooter set on earth and outside the world of Runeterra. As to why Riot Games is creating an entirely new IP and not setting it in the skin universes of Project or Mecha, the representative said that it "wouldn't feel right to the characters or in the tactical shooter genre."
This game is still not very far along in development and concepts like toxicity moderation and balance are still being worked on.
Project L
Riot Games is also developing a fighting game with League characters. At EVO 2018, Tom Cannon announced that his acquired studio, Radiant Entertainment, has been working behind the scenes to get the game up and running. The game is still very early in development and no release date has been planned.
Project F
The earliest game in development will allow players to "traverse the world of Runeterra with their friends" according to the press release.