'League of Legends' Volibear Live Stream: Where and How to Watch
The official announcement of League of Legends' Volibear and his massive reveal is finally coming. After months of teasers and fan theories about the thunder ursine, Riot Games is finally showing him off to the player base. Voli was voted by the fans as the next champion rework and visual update after Fiddlesticks and has been in development over the past few months. With Riot Games developers in quarantine and having to work from home, some fans were worried that his update would be delayed, which doesn't look to be the case.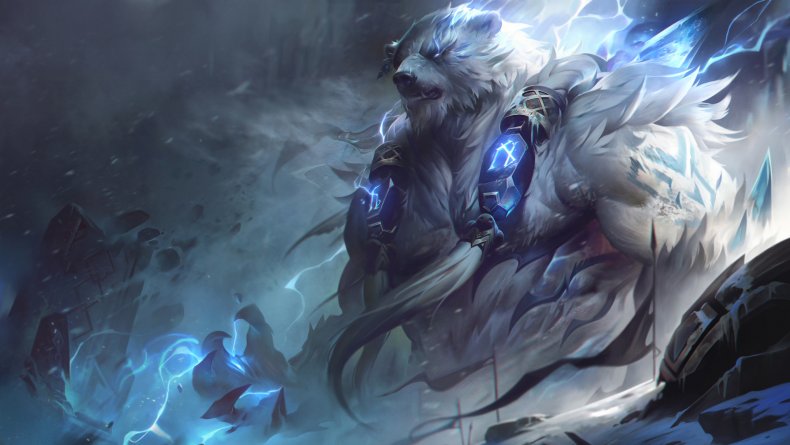 Volibear was first released in 2011 and has been the MOBA's main champion for those that love the jungle and to chase down enemies. Going down on all fours and galloping through the river for a gank only to chomp down on the enemy with your jaws of true damage has been a core of his identity for nearly a decade. Though the game play loop can be rewarding and powerful, the champion has struggled to thrive in a game where newer champions receive multiple passives and forms of crowd control. This rework attempts to bring him more in line with the game's 147 other champions.
How to Watch League of Legends Volibear Live Stream
The initial reveal tweet teases the Howling Abyss with a giant Volibear looming in the distance. To find out what exactly that means, you'll have to tune into a rare Riot Games live stream at 11:00 p.m. EST. on May 8. What we will see is still being kept under wraps, but expect to know more about the beast and why he's hovering over the ARAM map.
You can catch the stream on the League of Legends YouTube page and expect it to last around 30 minutes.
Volibear's splash art is a gorgeous painting that gives the ancient bear king a bit of a majestic aura around him. With braids full of ancient thunder stones and a glare that could melt even the darkest of Void monsters, Volibear's rework will give players who want something hairy a great thrill. Tune into the live stream and learn as much as you can before he gets released sometime in the near future.
What are you expecting Volibear to offer once he's released? Tell us in the comments.