Where is the 'League of Legends' World Championship Theme Song?
The League of Legends World Championship, one of the most talked about esports events of the year, starts today. 24 of the best teams from around the globe will compete in a rigorous gauntlet to decide which team is worthy enough to be the Season 9 champion. Each momentous year of the tournament is remembered for its epic plays, crowds and top-tier athletes for years to come. But there's one non-gameplay element that captures the hearts of fans in equal measure: the event's theme song.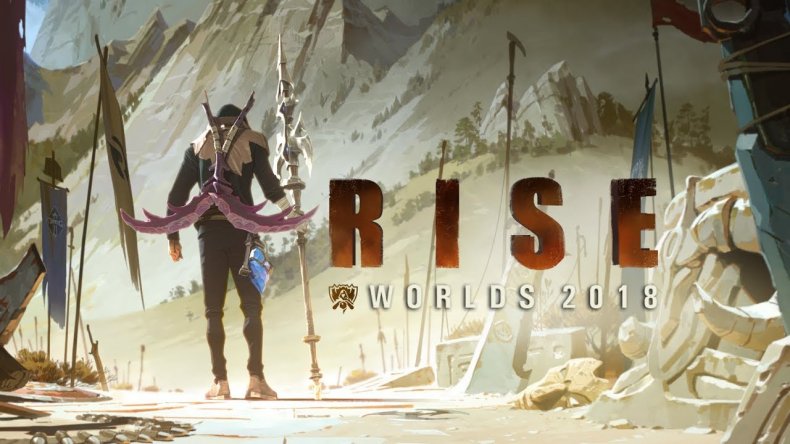 Starting in 2014 with Imagine Dragons' "Warriors," the annual theme song has become a crucial part of the Worlds hype machine. Usually released a few weeks before the tournament begins with an expensive music video, these songs garner millions of streams on YouTube, Spotify and other streaming services. Riot Games routinely asks top talent to record these tracks, capturing the sounds of superstars like Zedd and Madison Beer, to chronicle these achievements.
But in 2019 the situation's been a little different because we still don't have a Worlds theme song. With that in mind, fans online have begun questioning what might be keeping the hyped anthem from entering our ear drums. The League of Legends EU Twitter account recently responded to one fan, teasing that the song "was not ready yet"
Last year's "POP STARS" song sung by the fictional K/DA k-pop group broke multiple records for the company when it became a viral success. With over 260 million views on YouTube and hundreds of thousands more plays on other streaming services, the fictional band sparked a bona fide sensation. At Worlds 2018, Newsweek spoke with the voices behind K/DA who said that they had been working on the choreography and melody of the tune months before the championship began.
"They had me come in, write some stuff, do some melodies, lay some stuff down for ideas of what the song was going to be. I left to do a couple of shows and they had sent me the finished song,"K/DA member Jaira Burns said.
This year, Riot Games is going to have to one-up that performance and give the fans an even catchier tune to hum along with.
Even if you aren't a League of Legends fan, the World Championship is something to take note of. With the fiery story lines and epic bangers, there's more than enough to keep you entertained even if you aren't sure why that dragon is trying to destroy a spartan, scarecrow and a yeti on a river.
When do you think the Worlds theme will release? Tell us in the comments.
Where is the 'League of Legends' World Championship Theme Song? | Newsgeek