Southern Nationalist Group Creates Russian Language Website Page To Foster Relationship Between the 'Two Natural Allies'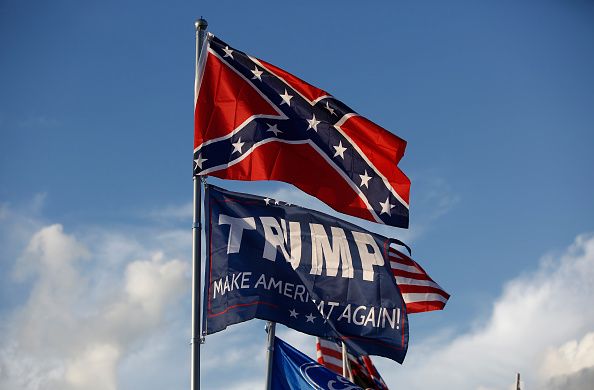 The League of The South, an organization described by analysts as a neo-confederate hate group, has launched a Russian language page on their website to explore shared ideas on "Southern nationalism."
"We understand that the Russian people and Southerners are natural allies in blood, culture, and religion," Michael Hill, the league's president, wrote in a letter addressed to "our Russian friends." The note was published online on July 17 - a day after President Donald Trump met with, and praised, Russian leader Vladimir Putin in Helsinki, Finland.
The Alabama-based group defines itself as a "Southern nationalist organization", with chapters in 16 states, committed to preserving white, Christian culture. But it has been called a hate group by the Southern Poverty Law Center, which tracks white nationalists and other domestic threats.
The letter posted by the group says that the South and Russia are "two natural allies" against threats of globalism and mass migration. "As fellow Whites of northern European extraction, we come from the same general gene pool. As inheritors of the European cultural tradition, we share similar values, customs, and ways of life. And as Christians, we worship the same Lord and Savior, Jesus Christ, and our common faith binds us as brothers and sisters," Hill wrote.
Hill encourages the two groups to "take advantage of the climate of increasing trust and friendship between us" and believes that the creation of a Russian language page is the first step in that direction.
The organization's announcement arrived shortly after President Trump controversially boasted of a warm relationship with Russian President Vladimir Putin, despite nearly-universally accepted evidence that Russia, at Putin's behest, interfered in the 2016 U.S. presidential election.
At a one-on-one meeting in Helsinki, Finland, last week Trump said he sided with Putin over the assessment of interference made by his own intelligence agencies. He said that he didn't see "any reason why it would be" Russia, and that Putin was "extremely strong and powerful in his denial." He later said that he had meant the opposite, but had mis-spoken.
Shortly after the summit with Putin in Finland, Trump tweeted that he looked forward to their next meeting and has told his administration to formally invite the Russian leader to Washington later this year.
Analysts say that there is a growing alliance between Russia, white nationalists, and the movement that propelled President Trump to power.
"The current Russian government, which is a very important government, cites figures who are unambiguously fascist and Nazi," historian Timothy Snyder said in a recent interview with Public Books.
"This is an extreme example of a general trend: Steve Bannon cites Julius Evola," Snyder said, speaking of an Italian writer linked to fascism, "Donald Trump speaks of "America First," and so on. There's been a kind of renaissance of the 1930s which has crept up on us."