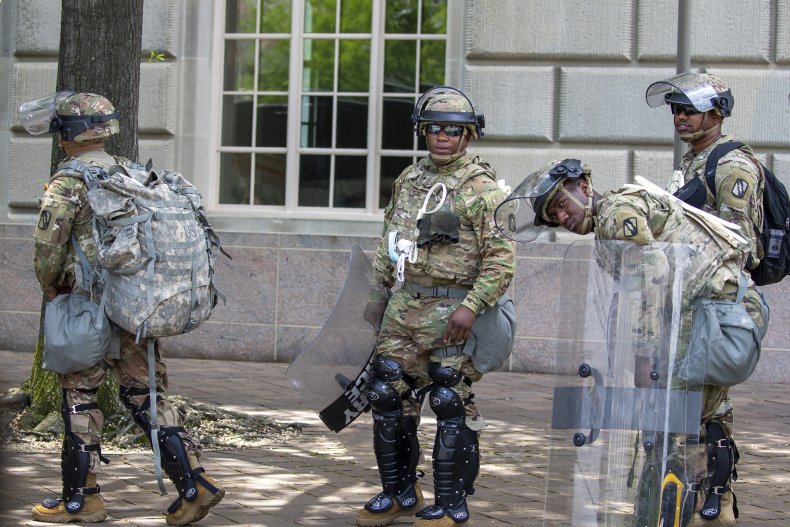 Elite SWAT teams and sniper-trained units are among at least a dozen federal officers sent to Washington, D.C., in the past week amid protests outside the White House against police brutality, according to a Department of Homeland Security document leaked to Yahoo News.
Homeland Security spokesperson Alexei Woltornist wouldn't confirm the authenticity of the document.
"DHS does not comment on leaked documents, especially ones that are alleged to contain information that puts our front line workers in danger," Woltornist told Newsweek.
Thousands have been demonstrating in the streets of D.C. following the death of George Floyd, an unarmed black man who died after a police officer pinned him to the road via a knee on Floyd's neck.
Yahoo News reported that the special force patrolling outside the White House includes U.S. Secret Service, National Guard, Park Police and Customs and Border Protection, based on the DHS report dated June 4.
The large military and law enforcement presence in the nation's capital sparked pushback from D.C. Mayor Muriel Bowser and lawmakers, including House Speaker Nancy Pelosi, while the Trump administration provided few details about the scale of the operation or officers involved.
Bowser sent a letter to the White House this week seeking the withdrawal of additional federal forces that had been deployed to the protests.
Per the document, protest levels were expected to hold steady at least for the "next 24 hours" so DHS support would remain the same. Secret Service has also upped its staffing at the White House Complex.
"After nine days of civil disturbances, DHS Components continue to support national law enforcement efforts and provide federal property protection across the country," the document's executive summary reads. "While many demonstrations have remained peaceful, numerous U.S. cities have experienced incidents of violence, looting and other criminal activity."
According to the document, eight members of the Coast Guard were deputized by the Department of Justice upon arrival in D.C. and are on "standby" to assist DOJ.
Meanwhile, Customs and Border Protection provided 400 officers to support DOJ efforts by providing video surveillance from helicopters and armed officers to support Park Patrol, Secret Service and National Guardsmen on the ground.
Homeland Security Investigations' Division deployed 158 law enforcement officers to the FBI in Northwest D.C., where many of the protests took place within a two-mile radius of the White House, to "provide deterrrence against potential looters or other individuals engaged in criminal activity during curfew." According to the document, Homeland Security Investigations reported no arrests, no rioting and no looting or property damage in their sector.
Yahoo News reported that some air marshals deployed to Washington D.C. said they ended up in a tug of war with TSA lawyers over concerns about them being deployed for the protests.
"Our VIPR teams were called up, some actually sent to D.C. then ordered to stand down and return back to their offices," an unnamed air marshal told Yahoo News. "TSA regulatory lawyers were concerned even though our [Federal Air Marshals] were sworn in as U.S. Marshals."