Leaked Documents Suggest Astroworld's Crowd Was Out of Control 12 Hours Before Show Ended
Leaked logs from Houston firefighters suggest that the crowd at last week's deadly Astroworld concert was spiraling out of control 12 hours before rapper Travis Scott eventually ended the show.
The documents, obtained by USA Today, showed that firefighters arrived to NPG Park just before 7 a.m. last Friday to meet with police ahead of the event.
By 10:02 a.m., firefighters reported damaged fences at the venue and "no control of participants."
The 11-pages showed that in the initial rush of the gates, four concertgoers had already been injured. The crowd would continue to rush at the gates, at least nine other times according to fire officials' count.
Twelve hours later, when Scott's set would finally come to an end, eight people had died in the crowd. Another girl, 22-year-old Bharti Shahani, was pronounced dead several days later after suffering serious brain trauma.
Throughout the day, firefighters tended to injured concertgoers.
At 11:33 a.m., officials requested help for a woman having a seizure. As the afternoon progressed, several more people were taken to the hospital. By 8 p.m., a Houston police officer was reportedly suffering a hand injury.
Over the 12 hours, the venue's private medical provider, ParaDocs Worldwide, would treat hundreds of people.
The logs showed that concertgoers began dismantling barricades as early as 11 a.m.
Hours later, concert crashers would be caught using bolt cutters to enter one of the lots. Ten minutes after the bolt cutters were reported, a different group was reportedly scaling the fence of a different lot.
"HPD reports dangerous crowd conditions," the log read.
One entry estimated that as many as 5,000 people had crashed the venue without scanned entry.
By 9 p.m., when Scott began his performance, the Houston crowd had grown to 55,000 and would continue to grow as people continued to jump over the fences.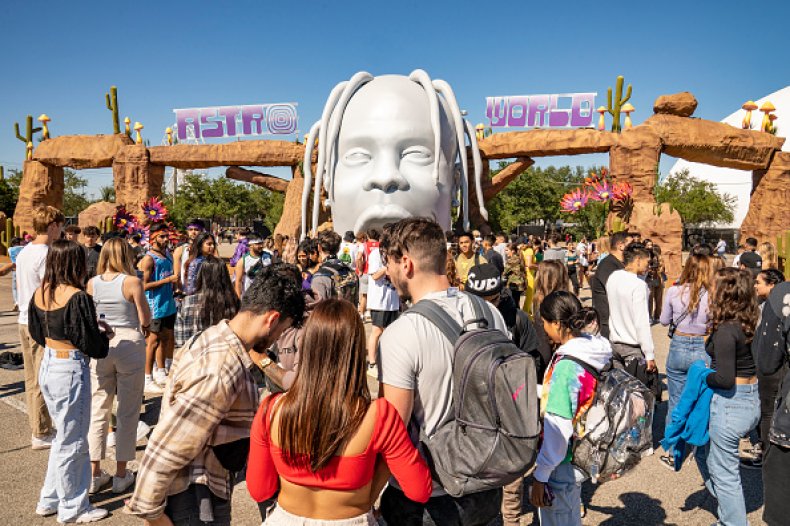 The most serious sign of danger appeared 15 minutes into Scott's show, as firefighters spotted the first "individual with crush injury, breathing difficulty."
Another 15 minutes later, fire officials noted that "multiple" people had been trampled. Two minutes later, an unconscious female was reported in the middle of the crowd. By the next minute, officials received at least five emergency calls related to unconscious concertgoers.
Scott briefly stopped his performance at 9:42 p.m. when he noticed someone unconscious in the crowd. It is unclear if he knew the severity of the sinkholes of people that were occurring throughout the crowd.
Ten minutes later—at 9:52 p.m.—the firefighters declared a mass casualty incident. Scott would perform until at least 10:15 p.m.
In the 37-minute gap, the first cardiac arrest patient was reported.
By 10:24 p.m., the disaster was escalated to Level 2 and nearly an hour later, 11 patients had been taken to nearby hospitals.
The final entry came at 11:38 p.m.: "17 total transports."