Is Louis C.K. On Twitter? Fake Account Tweets After Comedian's Leaked Audio About Parkland Shooting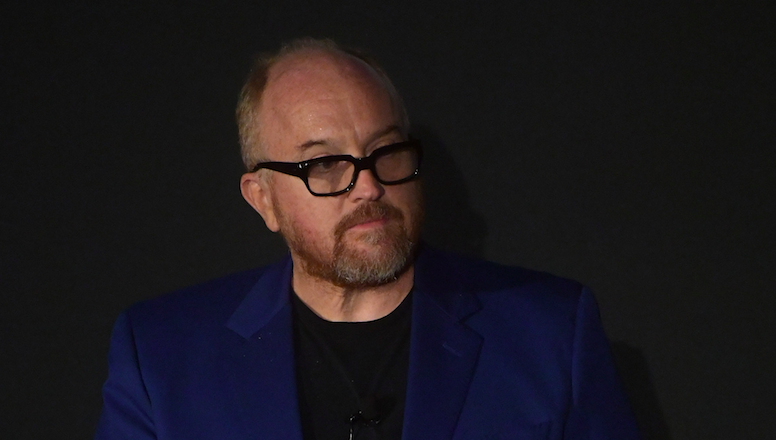 fA Twitter account that at first glance might seem to belong to embattled comedian Louis C.K. has been tweeting offensive messages since Friday. The account has more than 226,000 followers but it's likely not being controlled by Louis C.K. That's because the entertainer announced he quit Twitter in 2016.
"It didn't make me feel good," the comic said during an interview with SiriusXM's Opie Radio. "It made me feel bad instead. So I stopped doing it."
"It's too instant, I don't think the speed helps dialogue," C.K. continued. "I think it's why everything is kind of fucked up and polarizing because people are going too fast, they're trying to react too quickly."
It wasn't netizens who made Louis C.K. feel bad. Instead, it was what he wrote that he didn't like. "Any time I tweeted anything I was like, 'Ugh don't like the way that came out.' And then four and a half million people saw it! It was the worst things I ever said, heard and seen by the most people. It's the worst possible scenario," he said.
Still, an account with the handle "Louis CK" has managed to seemingly fool more than 226,000 people. "My name should be 'Dick' since you can't seem to get it out of your mouth," a message Saturday night read. "Don't count me out just yet."
The day before, the account tweeted messages that might have tried to imply it was referring to Louis C.K.'s scandal. "I don't regret anything I said," the account wrote in one message. "I feel like I've made new enemies" and "I don't care what you think" were other cryptic messages.
On Sunday, the already disgraced comedian mocked the teenage survivors of the Parkland shooting after audio of his December 16 standup leaked online. It soon went viral after TMZ got a hold of it. Louis C.K. was heard poking fun at the Marjory Stoneman Douglas High School students, many of whom became advocates for gun control after 17 were killed February 14, 2018, in Parkland, Florida.
"I don't know. They testified in front of Congress, these kids," Louis C.K. says. "Like, what the f***. What are you doing? You're young. You should be crazy. You should be unhinged, not in a suit saying, 'I'm here to tell'… f*** you. You're not interesting cause you went to a high school where kids got shot. Why does that mean I have to listen to you? How does that make you interesting? You didn't get shot. You pushed some fat kid in the way and now I got to listen to you talk?"
He also made fun of gender identity. "'You should address me,'" the comic says, referring to non-binary people. "They're like royalty. They tell you what to call them. 'You should address me as they/them,'" he ridicules, "'because I identify as gender neutral.' You should address me as there because I identify as a location and the location is your mother's c***." He adds, "It doesn't have to be that nasty but it can be."
Louis C.K. has not issued an official statement since receiving backlash for his leaked standup. In November 2017, he admitted he was guilty of sexual misconduct after being accused by five women.