Leaked Tapes Reveal Trump Among the 'Special People' at His Golf Club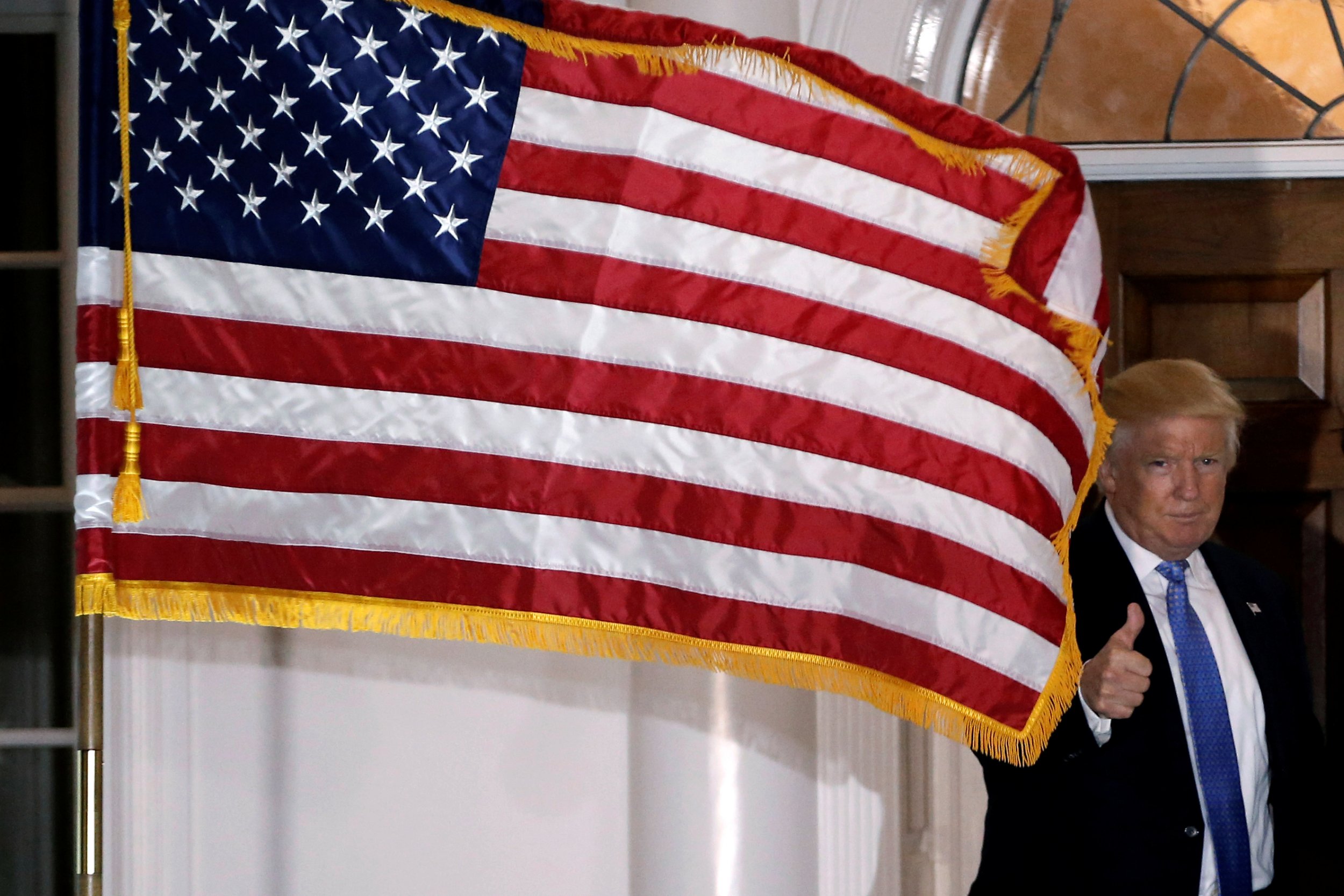 As Donald Trump spends his third straight weekend at his Mar-a-Lago resort in Florida, leaked audio has emerged that shows the chummy atmosphere the president enjoys at his own getaways.
Politico released more than 13 minutes of audio Saturday that contains comments from Trump, Chief of Staff Reince Priebus, daughter Ivanka Trump and her husband, and Trump adviser, Jared Kushner, at a cocktail reception November 18 at his Trump National Golf Club in tony Bedminster, N.J. The newly elected president is relaxed and humorous among people he regards as friends, although the bombast that most associate with him is present—as are digs at the press and the Clintons.
RELATED: Trump's press conference nearly defies description
"I'll tell you what. You are special people. This is a special place. And this is just the beginning," Trump tells longtime members and staff of the club.
The comments are largely delivered in the free-form, stream of consciousness style of speaking that he employed on the campaign trail and brought this week to a bizarre press conference in which he insulted the media and defended his administration. Although Trump was the freshly minted president-elect, the president largely chose to speak about golf—including labeling someone in the audience a "shitty golfer"—and club championships over politics. Most of his remarks are delivered to raucous laughter.
That weekend, Trump was meeting with Mitt Romney, Michelle Rhee, Betsy Devos, Wilbur Ross, Chris Christie and more, Politico reported. Trump made light of his busy schedule, telling the audience, "We're doing a lot of interviews tomorrow. Generals, dictators...we have everything."
The president invites the reception attendees to join in on the "fun" of interviewing prospective cabinet members. "We're going to be interviewing everybody...Treasury, we're going to be interviewing Secretary of State," he said. "We have everybody coming in. If you want to come around, it's going to be unbelievable…so you might want to come along.
"You'll see the press in their glory," he said to laughs, after earlier joking about former President Bill Clinton's ability to rattle on about golf at length.
The comments by Priebus, Ivanka Trump and Kushner were much more modest and focused on giving thanks to supporters of the Trump campaign, and all earned praise from Trump. The "legendary" Priebus is called to the stage with a tip from Trump that "these members are loaded, Reince...He will work the room for campaign contributions."
The chief of staff tells the crowd that in "20 years, in 50 years," Americans will "look back on this and say that Donald Trump was the best president of the United States."
Trump's ego also shines in the leaked comments. When introducing Priebus, the president notes that "he just got named by Fox and everybody else the power player of the month. I said, what about me, I won the election." Later, Trump welcomes his son-in-law, "the new superstar" Kushner, while claiming that "Jared is becoming more famous than me."
Kushner, often cited as a moderating influence on the president, is deferential and thankful in response. "It really has been an incredible journey...We're all very proud of him. All of these people are friends who have been with him for such a long time and believed in him. When things got tough along the way, you were all here giving us support and really love," he says.
Last weekend, Trump was heavily criticized when photographs emerged of the president and key advisers huddled with Japanese Prime Minister Shinzo Abe at his Mar-a-Lago resort in full view of diners as they discussed the news of a North Korean missile test.
The president is spending this weekend at Mar-a-Lago, with a brief trip scheduled Saturday to Melbourne, Fla., to hold a "Make America Great Again" rally at the Orlando Melbourne International Airport at 5:20 p.m.