Leaky LSU Defense Gets Return of Divinity For Championship Stretch
LSU (10-0), ranked No. 1 in the latest College Football Playoff rankings, allowed 614 total yards in a 58-37 win over Ole Miss (4-7) on Saturday, including 402 rushing yards to a freshman quarterback. This created disappointment in the LSU locker room that prides itself on perennially having one of the nation's best defenses.
LSU head coach Ed Orgeron told the press this week he shoulders the blame for his Tigers allowing so many points and yards the last two weeks. The other was a 46-41 win over then-No. 3 Alabama.
"I want to make sure that, as the leaders of the program, we're giving them the right thing at the right time to do," Orgeron told Fox 8 from New Orleans. "We're going to give them that today, and we're going to put them in great position. Obviously, they're going to have to make the plays. I think it's a combination of both. But I'm never going to put it on the players. I'm going to put it on me first."
When chatter began of the Tigers losing leadership on the field after the departure of junior linebacker Michael Divinity prior to the Alabama game, Orgeron quickly pointed toward a handful of players who have provided that leadership.
"We're getting good leadership from K'Lavon Chaisson and Rashard Lawrence," Orgeron said. "Besides last game, I thought Patrick Queen, I'm not saying he didn't play well last game, but he's been playing pretty good. Him and Jacob, we've been pleased with those guys."
Divinity left the program before the Alabama game for personal reasons. Then on Monday afternoon, two weeks after he left, he was spotted practicing in full participation with the Tigers for the upcoming week of preparation for the Arkansas Razorbacks.
"Michael Divinity is back practicing with #LSU. The linebacker left the team for "personal reasons" before the Alabama game," according to the Baton Rouge Advocate.
When Divinity left the team, Orgeron said at the time he wouldn't "close the door" on the return of his star linebacker.
After Divinity walked away from the team before the Alabama game for "personal reasons," he also hinted he hoped to return in an Instagram post that read:
"My goal is to get myself back 100% in time to graduate in December and be back on the field fighting with my brothers soon," Divinity posted. "This is an incredibly difficult time for me, and it means so much to me that so many people have reached out — knowing you all have my back will make the next short while a lot easier. Thank you all."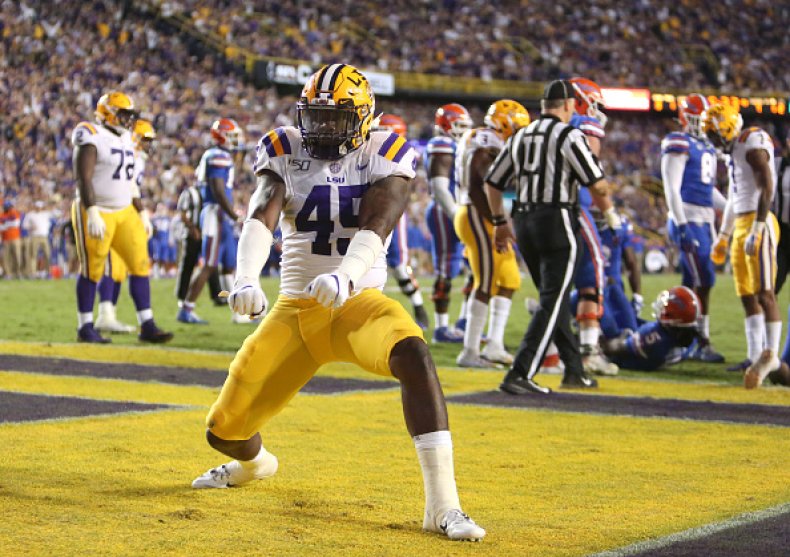 Divinity still leads the team with three sacks despite missing the last two games. He returns as LSU plays its final two games at home, with Arkansas this Saturday and Texas A&M the following Saturday. Both games will be at 7 p.m. ET on ESPN.
LSU needs just one win to clinch a spot in the SEC championship game, but aspirations are much higher in Baton Rouge. Should the Tigers win their next three games, they will be assured a spot in the four-team playoff, most likely as the top seed.
LSU quarterback Joe Burrow is the leader among Heisman Trophy hopefuls. The senior quarterback has completed 78.6 percent of his passes for 3,687 yards and 38 touchdowns with just six interceptions.