The Leaning Tower of Pisa Didn't Fall, Despite What TikTok Might Say
The Leaning Tower of Pisa is still standing, even though a viral TikTok trend wants you to think it's fallen. Over 7.7 million videos on the video app have used the hashtag #leaningtowerofpisa, most recently to trick friends and family into believing the landmark in Pisa, Italy, has crumbled.
The videos all have a similar script. The person filming reacts in shock to a recent "news" story. Some videos went so far as to falsely cite CNN as the source that the Leaning Tower of Pisa had fallen. Invariably, the reactions of each unsuspecting subject are full of shock, disbelief and sympathy.
You can browse through a compilation of the videos below.
It's difficult to trace the viral videos to their source, and the person who first posted this prank could not be immediately verified by Newsweek. But the reaction videos are picking up steam, and they are beloved by viewers. Many of the videos have 50,000 likes or more.
This may be because prank videos are widely liked on the app. It's not abnormal for TikTok users to stretch the truth in order to get a hilarious result. Other trends on the app include showing users lie to their significant others. Some pranks go to extremes, with one partner pretending to cheat on the other just to film their reaction.
The Leaning Tower of Pisa trend is arguably one of the biggest false-information trends when it comes to having potential international consequences. While the viral TikToks can't make the tower fall, they very well may cause a spread of misinformation on a global level.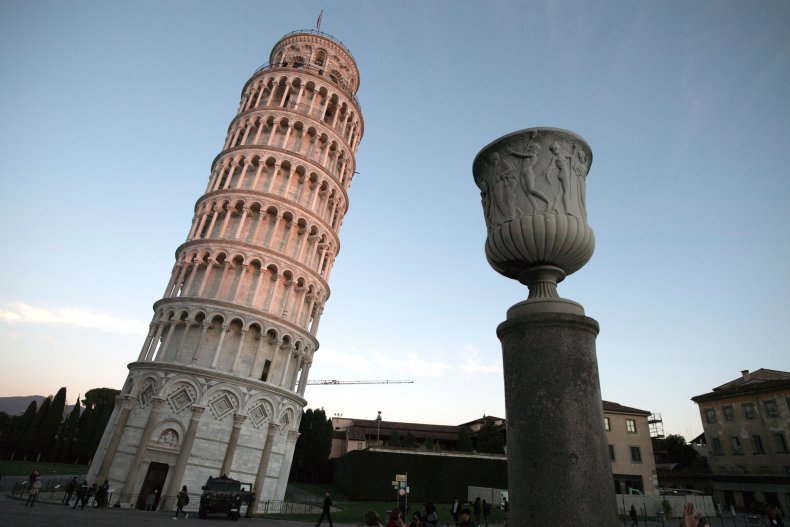 The fact is, the Leaning Tower of Pisa isn't expected to fall anytime soon. It's weathered a lot so far: earthquakes, storms and a generally odd infrastructure that makes the structure look like it's fighting with gravity.
In the 1990s, the tower came close to falling when its center of gravity shifted. But emergency engineering techniques saved the iconic tower from a grim fate. It was no small fix, either. The place was closed to tourists for 10 years. Since the restoration, experts have even more confidence in the tower's firm center of gravity, which allows it to stand erect despite its ever-present lean.
So, next time you get a suspicious FaceTime from a friend with breaking news, you may want to check if they're filming your reaction. The #leaningtowerofpisa trend doesn't seem to be slowing down, so keep your eyes peeled for this fabricated factoid next time you hop on TikTok.