Leap Day Birthday: Deals and Freebies for Those Born on February 29
For some Americans, February 29 marks a special type of celebration—a day when they can mark their "true" birthday. To help them make the most of this four-yearly occurrence, brands across the country have launched deals and freebies.
The Earth only has one year for every four with 366 days—this is because the planet actually takes 365 days, 5 hours, 48 minutes and 45 seconds to move around the sun. However, to align with the Georgian calendar, we recognize the length of each year differently.
It is for this reason that some Americans only celebrate their "true" birthday every four years instead of annually. For the other three, they either celebrate on February 28 or March 1.
How to score freebies if you were born on February 29
To help leaplings make the most of their day, Hotels.com is awarding 29 special discount codes worth $290 each, to use on a stay at a hotel if you were born on February 29. All Leap Year babies have to do is tweet at @hotelsdotcom on their birthday (February 29) to share the "biggest struggle" of being born on Leap Day.
From those tweets, Hotels.com will pick the 29 best answers based on creativity and level of struggle, and reward the winners.
For New Yorkers, Moxy Hotels is giving leaplings a free night on their birthday and a bottle of prosecco. The Conrad is also getting involved—the New York Downtown location is offering Leap Year babies a complimentary sojourn on their birthday if they stay two nights (February 29 and March 1). They can also enjoy a complimentary bottle of house wine in the Atrio Wine Bar & Restaurant.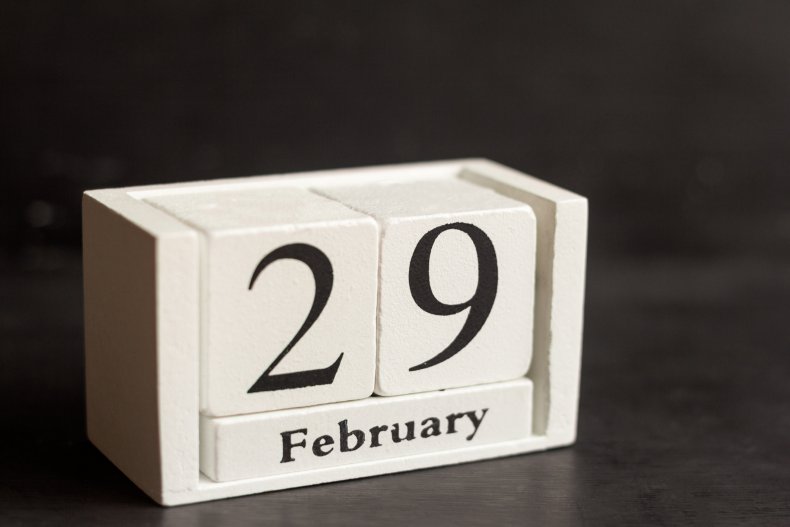 For free food, leaplings are in luck. Participating Farmer Boys locations will gift a free Big Cheese cheeseburger to anyone born on February 29. Chips brand Lay's is offering leaplings the chance to win a free bag of Lay's potato chips. All they have to do is comment on the brand's leap day post on February 28. Olive Garden is giving away four free dolcini desserts if your birthday falls on February 29.
If that's not enough, iFLY Indoor Skydiving, the sports and recreation company, is inviting American leaplings to fly for free during Leap Year Week (February 24 to Sunday, March 1).
For all these offers, please take formal identification that shows your birth date is February 29. Some locations might be excluded from the offers, so check ahead of time whether the local store is doing the promotion.
Newsweek has affiliate partnerships, so if you make a purchase using our links we may earn a share of the sale