'Leap of Faith': Dem Senate Candidate Jumps Out of Airplane to Promote Grassroots Campaign
The Democratic nominee seeking to replace retiring Tennessee U.S. Senator Lamar Alexander jumped out of an airplane, hoping it will inspire voters to take a "leap of faith" on her candidacy in the upcoming election.
Marquita Bradshaw took to the skies in a small airplane on Tuesday, before exiting the plane while perched approximately 11,000 feet over Northeast Tennessee, according to multiple local reports.
She appealed for support from voters and insisted that she was not worried about her safety after praying before taking the tandem jump.
"We have to take a leap of faith and we have to fight for our hard-working families," Bradshaw told WCYB.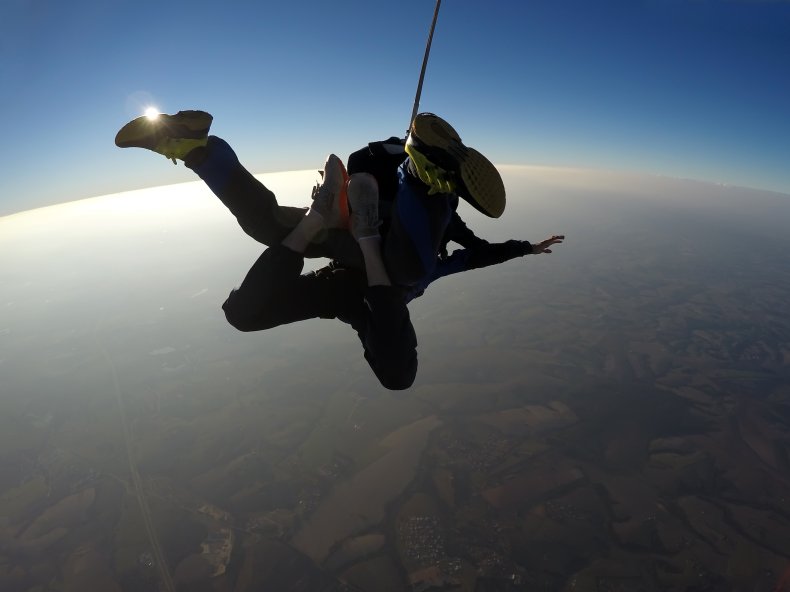 Bradshaw said that she decided to take her physical leap of faith after being asked to try skydiving by the owners of a local skydiving school.
"I met Angela Alley and Mikeal Stevens, who co-own JumpTN in Greene County, while visiting all 95 counties as part of my #TransitionTN Tour," Bradshaw told WDEF. "They are world-renowned skydivers.... So when they asked would I go skydiving to support their business, I couldn't say no."
The candidate made history on August 6 by becoming the first Black woman to win the nomination of a major political party for a Tennessee U.S. Senate seat.
Her grassroots campaign used a tiny budget to pull off an upset primary victory over James Mackler, an Army veteran whose well-funded campaign was backed by the Democratic Senatorial Campaign Committee.
She will likely face long odds in her quest to defeat her Republican opponent Bill Hagerty, who is endorsed by President Donald Trump. The last Democrat to win a U.S. Senate election in Tennessee was former Vice President Al Gore, who held his seat in 1990.
Although no polls of the Bradshaw-Hagerty race have been released, Hagerty had a 22 percent lead over Mackler in a poll released in early February.
"I'm not a rich white man. And so I don't use the same tools that rich white men use. I know people. I work with hard-working families all across this state," Bradshaw told WJHL.
"Right now, working families across Tennessee, they want a voice and they need a voice," she added. "And Marquita Bradshaw is their voice. We're about to make history together."
Prior to become a candidate, Bradshaw worked as an advocate for environmental justice with groups including the Sierra Club. She says her family became active in the cause due to their South Memphis neighborhood being used as a chemical dumping site for military waste.
Bradshaw's progressive political platform includes support for the New Green Deal, Medicare for All, criminal justice reform and a $15 per hour minimum wage. She also supports automatic voter registration, banning gerrymandering and making Election Day a national holiday.
Newsweek reached out to the Bradshaw campaign for comment.