Learning Comedy, NYC and Rebuilding a Life: Season 2 of Pete Holmes' 'Crashing' on HBO
Television is currently flooded with stand-up comedy, from Amazon's The Marvelous Mrs. Maisel to Showtime's I'm Dying Up Here to Netflix's seemingly-endless stream of specials. HBO's Crashing is part of that torrent. But what sets the show apart is that it's not about comedy so much as belief—religious belief and a faith that countless hours of effort will eventually lead to the life you've yearned for.
"Most shows, most movies, anything that deals with a creative person, they're struggling in the first act and then the second two acts they're succeeding," the show's star, Pete Holmes, told Newsweek. "We're trying to have a show that's almost exclusively about the struggle, with small achievements along the way."
Crashing, which debuted in February 2017 and returned for its second season on Sunday, is largely based on Holmes' personal experiences. (The show is executive produced by Judd Apatow, has creative input as well.) In the show, we follow Pete as he transforms from a naive stand-up—a guy whose suburban life is built around his church clique—into someone swept into New York City's raunchy comedy world. It's an arc that blurs the lines between Holmes' reality and that of his character (also named Pete Holmes).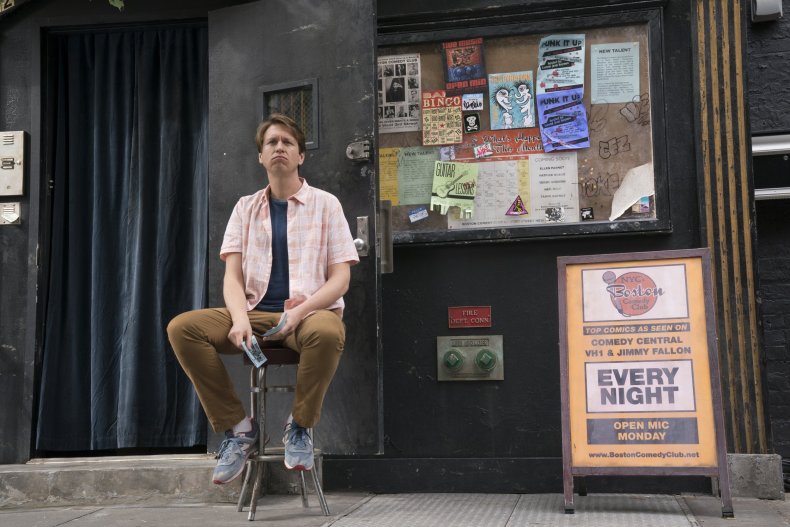 The catalyst for Season 1 was his wife's infidelity. It propelled Holmes out of the suburbs and into New York, where he couch-surfed his way across the city. The further he became involved in the comedy world, the more his life fell apart. Season 2 is the beginning of a rebuild.
"I think Pete is owning his life," Holmes said. "He's down the rabbit hole. He lives in New York now. He's a comedian, and he has to try and make that work. The goal in the first season was get back home. The second season is: Make New York my home."
There's also masturbation—lots and lots of masturbation. The second season opens with the puritanical Pete sloppily eating take out while Googling photos that are just sexy enough. It's a scene reminiscent of FX's Louie, but in Crashing the moment was inspired by Holmes' real-life heartbreak. "Divorce, especially when your wife leaves you, is Chinese food in the dark looking at pornography," Holmes said. "It's treated like a car accident: It happens and then it's over. But, really, it slowly unfolds, and I think it's really funny to show what it's actually like."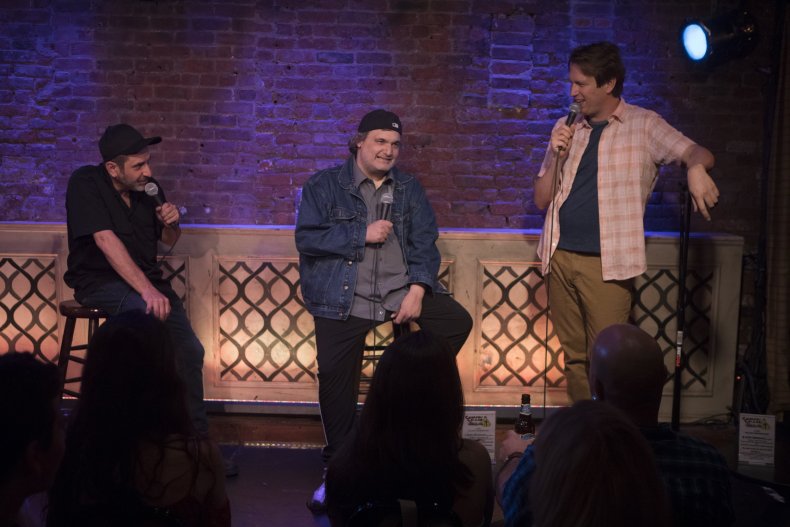 Comedians routinely mine their experiences for material. (Holmes has drawn big audiences for his podcast You Made It Weird, which involves a lot of personal revelations.) What sets Crashing apart is the raw honesty with which it handles the biggest overlap between Holmes the character and Holmes the man—their Christianity.
Throughout the second season, Pete's view of religion evolves. In the first episode, he has a series-worth of faith-shaking moments, some involving his new roommate, Leif (George Basil), an art teacher/massage therapist/free spirit who cuckolded him. Later, magician Penn Jillette (the speaking member of Penn and Teller) delivers a treatise on atheism at a comedy club. "I'm not sure there's no God, but I don't know," Jillette says. "The most important revolution in history—more important that agriculture, more important than writing—is the scientific revolution. It came down to three words: I don't know. And no institution, no church, no king, no power structure had ever said in history: 'I. Don't. Know.'"
From there, Pete finds beauty and wonder in things he previously wrote off as crass or impossible: binge-drinking at a sex show, smoking weed, shooting bull on stage and, somehow, successfully wooing Ali (Jamie Lee), a comedian he's crushing on.
This is the first half-hour in an eight-episode season, so the transformation will happen slowly. Holmes will change—sometimes imperceptibly—and discover where he belongs, geographically and spiritually.
The character (as hilarious as the real guy) is a long way from becoming the seasoned stand-up Holmes is in 2018. But what's at the center of Crashing is embracing the belief that, despite the odds and what the universe may seem to be telling you, things can work if you just stick with it. "One of the mantras of the show," Holmes said, "is, 'If it stinks, that's how you know you're doing it correctly.'"