Learning From the Government's COVID Testing Debacle | Opinion
Angry Americans deserve to know why they aren't getting the COVID-19 tests they paid for and were promised. As they wait in long lines to get tested or drive from pharmacy to pharmacy in desperate search of a scarce at-home test, they should use some of that time to ponder the wisdom of addressing other health care problems by giving the government even more control.
Make no mistake; the testing debacle is a government creation. It began in early 2020 when Food and Drug Administration officials rebuffed a request by Washington state researchers to use coronavirus tests they developed. The FDA insisted tests could be done using only Centers for Disease Control kits, which proved unreliable due to contamination. The screw-up cost America five precious weeks, during which time the virus spread unobserved and unchecked.
We have known about the need for rapid antigen testing since mid-2020. Rapid testing at home, work and school was viewed as a key to getting our lives back to normal and shortening the pandemic by breaking transmission chains and freeing up scarce medical resources.
But it was also clear from the pandemic's early days that the FDA was not a fan of rapid antigen testing. The agency approved just one such test during all of 2020. And because the FDA required a doctor's prescription to get an antigen test, people could not realistically access one unless they were showing symptoms. Just two other nonprescription at-home rapid antigen tests were approved by the FDA before the fourth quarter of 2021. And they were expensive, around $50 per test.
When the Biden administration came into office it promised to "aggressively speed up our COVID-19 response, especially on vaccines and testing." Soon Congress passed and the president signed the $1.9 trillion COVID-19 relief bill. That law and previous ones dedicated some $83 billion specifically for testing.
However, it is clear the administration, its rhetoric notwithstanding, chose to focus on vaccines while ignoring testing—an attitude best exemplified by White House press secretary Jen Psaki's sarcastic answer to a question about why we don't have widespread at-home testing: "Should we just send one to every American?"
It wasn't until the Omicron variant started ripping through the country that the administration finally decided to pay attention. By late 2021, the FDA had come under pressure from an increasingly alarmed White House, whose vaccine strategy was clearly failing, to approve more at-home rapid tests, if only to help bring down their price. The FDA complied, approving nine more rapid at-home antigen tests on top of the two it had already approved, for a total of 11. The president even got around to finally nominating an FDA chief in November—10 months after taking office amid a pandemic!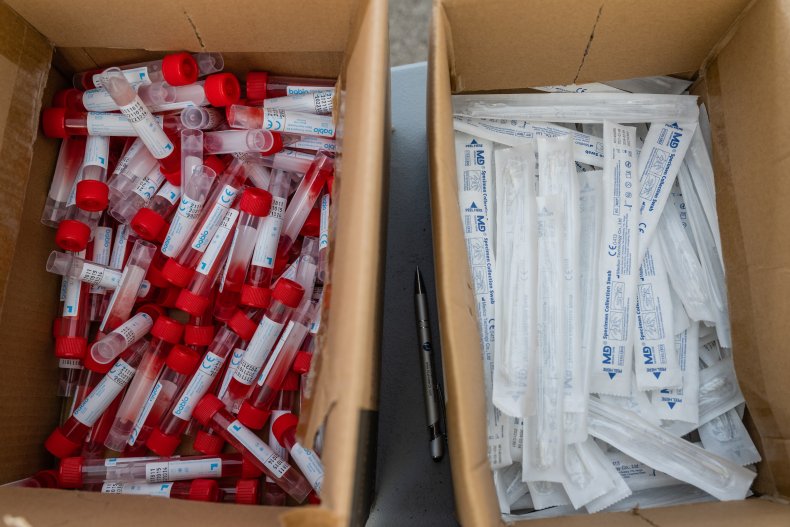 Now playing catch up, President Joe Biden recently announced several proposals to address the shortage. His administration is purchasing 500 million rapid tests that officials claim will be available sometime in January. But the administration only signed its first contract on Friday, so it is hard to see it hitting its January target.
Even assuming success in this effort, there are other issues. First, by the time the Biden administration gets all the tests, the Omicron wave might be over. Second, while 500 million tests sounds like a lot, it's only a little more than one for every American—a drop in the bucket.
The federal government also breathlessly announced it will spend $137 million to help life science company Millipore Sigma produce nitrocellulose membranes, a key ingredient in rapid antigen tests that will support 85 million additional tests a month. The only problem is Millipore Sigma must first build a facility, and it won't be operational until late 2024!
We put government in charge of COVID-19 testing and it failed miserably. What makes anyone think putting government in charge of other aspects of health care would work out any better?
Take the drug pricing provisions in the House-passed version of the Build Back Better Act. A recent analysis by economist Tomas Philipson of the University of Chicago found the plan would lead to 135 fewer new drugs and, most disturbingly, "a loss of 331.5 million life years in the U.S., 31 times as large as the 10.7 million life years lost from COVID-19 in the U.S. to date."
Given all that has gone wrong with government control of COVID testing, how much confidence should Americans have that cures for other maladies would still be developed with drug price controls? When the politicians say, "trust us, those cures will still happen," should we believe them?
Americans have dodged a bullet with the apparent demise of the health care provisions in Build Back Better. But if rumors are true, its proposed drug pricing controls may come back as a stand-alone bill. Americans should be prepared to push back hard.
Politico reports that health officials now see the Biden administration COVID-19 strategy as "hold on and hope the worst is over soon." Does that sound like a government ready to deliver the health care Americans need every day? If the pandemic has taught us anything, it is that we would be foolish to give the government more control of our health care.
Dean Clancy is senior health policy fellow at Americans for Prosperity.
The views expressed in this article are the writer's own.