At Least 1 Dead From Hurricane Isaias-Fueled Tornado, North Carolina Governor Confirms
At least one person was killed during a tornado in North Carolina, but Governor Roy Cooper said preparations the state made prevented damage from being as bad as it could have been.
Cooper confirmed the fatality during a Tuesday morning Good Morning America interview. Hurricane Isaias, which made landfall in North Carolina late Monday night, caused a "number of tornadoes," storm surge flooding and left about 355,000 people without power, according to the governor.
Along with the death of at least one person, multiple people were injured in Bertie County when a tornado ripped through a mobile home park. Officials dispatched a search and rescue team to the area.
"But all in all, this storm got in, got out pretty quickly and that's a good sign for potential river flooding which we hope will not be serious," Cooper told Good Morning America. "We're of course saddened by the one fatality that we know we at least have but we know overall that this storm moving quickly that the damage was not anyways as great as it could have been."
North Carolina's no stranger to hurricanes and the governor said the state prepared for the possibility of a storm slightly differently this year because of the new coronavirus pandemic. Masks and social distancing were put in place and officials screened people for COVID-19 symptoms and distributed personal protective equipment in the 24 shelters that were set up for people evacuating from the storm.
Newsweek reached out to Governor Roy Cooper for comment but did not receive a response in time for publication.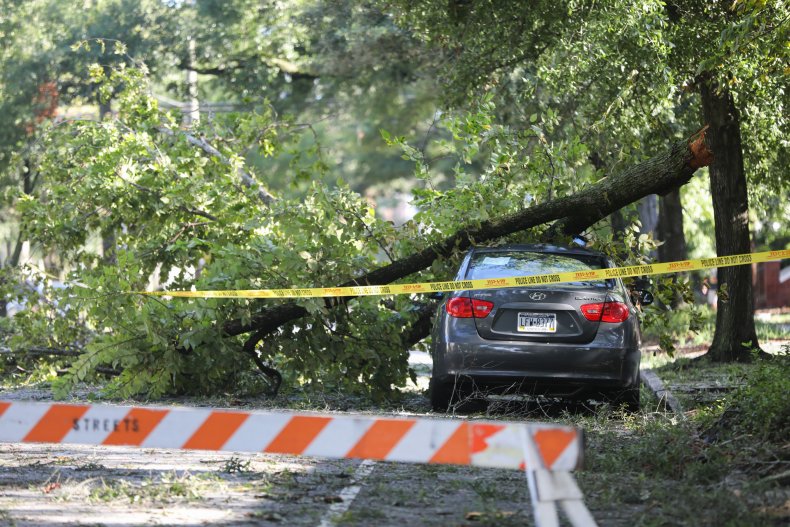 Volunteer Red Cross workers were helping those who had their properties damaged and crews were working to clean up fallen trees. President Donald Trump issued a national disaster declaration for North Carolina on Sunday and at this point, Cooper told Good Morning America he felt the state could "handle" the aftermath.
"We're about as ready as any state can be for these kinds of storms and disasters," Cooper said. "Let's just hope and pray we don't have another storm during this, this pandemic is hard enough to deal with.
When Isaias made landfall near Ocean Isle Beach in southern North Carolina, it had maximum sustained winds of about 85 miles per hour, according to the National Hurricane Center (NHC). At this speed, the storm is classified as a Category 1 hurricane, but about four hours later, around 3 a.m., the system weakened to a tropical storm.
Isaias brought heavy winds and strong rainfall across North Carolina until about 5 a.m. when it moved into southeastern Virginia, which also experienced tornadoes. Potentially life-threatening urban flooding was possible in Washington, D.C., Baltimore and other areas along the I-95 corridor, the NHC reported.
The storm was expected to continue moving up along the East Coast on Tuesday and the National Weather Service (NWS) issued tornado warnings for parts of Pennsylvania, New Jersey, Maryland, Delaware, New Hampshire, New York and Massachusetts. An interaction with a strong jet stream is likely to cause a slower-than-typical weakening rate, according to the NHC, but it's expected to weaken more quickly as it moves into eastern Canada on Tuesday night.