A bloody weekend of shootouts in Chicago was followed by an incident Tuesday where at least 14 people were shot at a funeral home. Chicago Fire Department officials said their conditions range from serious to critical. No information is available on them at this time.
The gun violence continues as President Donald Trump has threatened to deploy federal troops to cities across the country that have increasing violence, including Chicago, much to Chicago Mayor Lori Lightfoot's discontent.
The gunshots and subsequent scene Tuesday night jarred local residents, including Arnita Geder, who had been inside her home watching TV, according to the Chicago Sun-Times.
"We went out in the street and all we saw was bodies just laying everywhere," Geder said. "We thought it was a war out here. It's ridiculous all the shooting that's going on out here, it really has to stop."
Tom Ahern, a spokesperson for the Chicago Police Department, said the shooting happened in the 1000 block of West 79th Street. Rhodes Funeral Services is just one of a few businesses located on that short block in the city's Auburn Gresham neighborhood.
Chicago PD held a press conference Tuesday evening and said they had no information on the condition of the victims. Police said the car from which the gunfire originated turned north from W. 79th Street onto Carpenter Street, and continued firing at the funeral, before the car crashed midway down Carpenter Street. One person of interest is in custody, police said.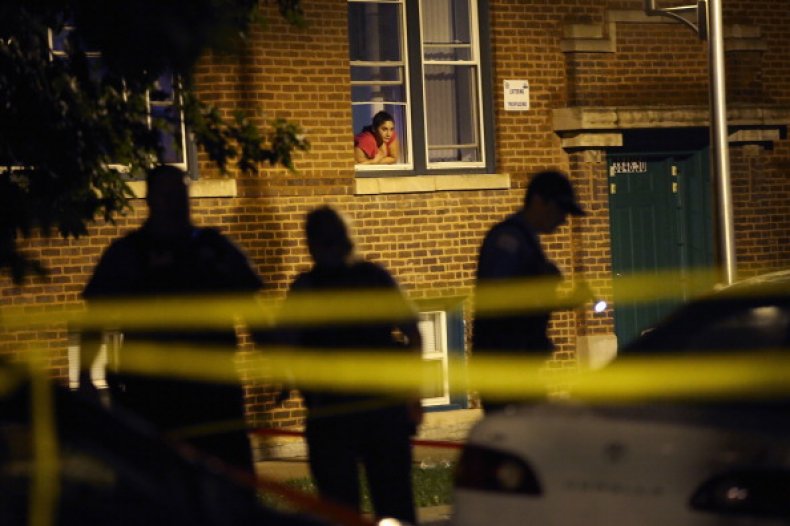 Police went on to say they don't know how many total shooters were involved, whether all the victims were attending the funeral or if anyone in the car was shot. They also said there were about 60 shell casings found near the scene.
Neither the ages nor genders of the victims were revealed to the public.
The incident reportedly began around 6:30 p.m. ET on Tuesday when a black car drove past the funeral home and fired gunshots into the funeral home. Those at the funeral returned gunfire.
Tuesday night's event follows a weekend in which nearly 50 people were shot, including eight fatalities, in the Windy City. At least 48 people were shot between Friday and Sunday, and many of them were under the age of 18.
The recent rash of shootings continues a trend over the last few months. Violent crimes are up in the city over this same period last year, according to statistics released by the city's police department. The number of shootings has nearly tripled in the same time frame as last year, but there have been fewer robberies, sexual assaults and thefts in 2020.
President Trump over the last few years has publicly stated his displeasure with so much violence in major cities, particularly Chicago. On Sunday, he told Fox News' Chris Wallace that Democrat-led cities that have violence like Chicago are "stupidly run."
"I explain it very simply by saying that they're Democrat-run cities, they are liberally run. They are stupidly run," Trump said.
Trump has threatened to deploy more federal police to cities where violence has seen an uptick, which includes Chicago. The Democratic mayors of these cities—from New York City to Chicago, Philadelphia, Detroit, Baltimore, Portland and Oakland—have openly said they do not want the "secret police" in their streets.
Mayor Lightfoot said Trump's White House should "unite us and collaborate" instead of creating "conflict and division."
Deploying "secret, federal agents who arrest, and detain residents without any cause" and depriving "those residents of due process is clearly unconstitutional," Lightfoot said. "It is a bad idea and I urge you not to do it."