At Least 20 Police Chiefs Have Resigned Since Protests Began in May
Following the abrupt resignation of Dallas Police Chief Reneé Hall Tuesday, the total number of police chiefs across the country that have resigned directly due to Black Lives Matter protests and systemic racism reached at least 20 since May.
After a tumultuous few months that have uncovered cases of extreme police violence against Black people and forced intense scrutiny of law enforcement, a wave of police chief resignations have hit multiple cities across the U.S. In states like New York, Georgia, Washington and Virginia, police chiefs were called to resign by their respective communities for their handling of protests, as well as for incidents involving police brutality and systemic racism.
Hall, the latest to resign, was the first African American and the first woman to serve as police chief of the Dallas Police Department. However, her leadership during widespread protests following the death of George Floyd at the hands of Minneapolis police and the harsh measures employed by the Dallas PD against protesters in the city were intensely critiqued by City Council members.
In August, the Dallas Police Department released a report indicating that the department struggled with operational plans, communication and maintaining centralized command structures during the protests.
Chief La'Ron D. Singletary of Rochester, New York also stepped down this week, along with two deputy chiefs employed with the Rochester Police Department, following protests sparked by the death of Daniel Prude, a Black man who died a week after he was taken into custody by Rochester police offices. The officers placed a spit bag over Prude's head and pinned him to the ground, an autopsy conducted by the Monroe County Medical Examiner's Office said he died from asphyxia "in the setting of physical restraint."
On March 23, the night of Prude's arrest, his brother Joe called 911 to request help as Daniel was having from a mental health crisis.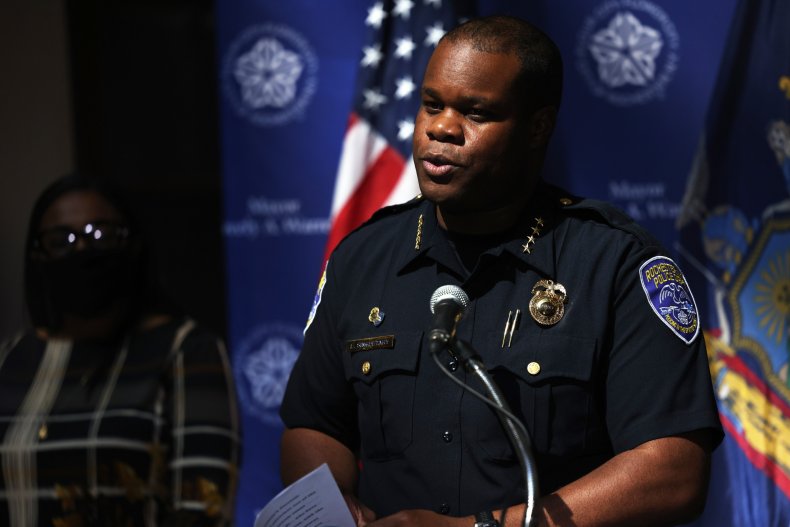 Last week, an open records request by Prude's family prompted the release of officers' body camera footage showing the disturbing incident. Prude's family said officials covered up his death in order to protect the police officers involved.
Seven officers have been suspended as a result of the incident and New York Attorney General Letitia James said she will impanel a grand jury to investigate Prude's death. However, Singletary said he believed the events of the past week are an attempt to diminish his reputation.
"As a man of integrity, I will not sit idly by while outside entities attempt to destroy my character," the police chief said in his prepared statement. "The mischaracterization and the politicization of the actions that I took after being informed of Mr. Prude's death is not based on facts, and is not what I stand for."
Atlanta Police Chief Erika Shields resigned from her position in June just hours following the death of Rayshard Brooks, a Black man who was shot and killed by police at a Wendy's drive-thru after allegedly pointing a taser at an officer. In Seattle, Police Chief Carmen Best resigned after authorizing the use of tear gas on protesters that lead to budget cuts to the department, while a surfaced video of a fatal shooting in 2002 caused Richmond Police Chief William "Jody" Blackwell to step down in late June, just two weeks after former Richmond Police Chief William Smith was forced out due to his handling of widespread protests in the city.
Louisville Metro Police Chief Steve Conrad was fired in early June after stating he planned to retire at the end of the month. The Louisville Police Department is currently the subject of an investigation following the death of Breonna Taylor. Taylor was killed in March after police officers entered her home via a no-knock warrant while searching for a suspect. At the time, Taylor's boyfriend said he thought someone had broken into their home and he fired shots in self-defense. When officers returned fire, they hit Taylor seven times.
Amid the current climate calling for systemic change, several police chiefs were also forced to step down due to offensive or racially insensitive posts on social media in reference to Black Lives Matter causes. Earlier this month, Bethlehem Police Chief Mark DiLuzio in Pennsylvania retired after he shared a racially insensitive meme about the NBA boycotts on his private Facebook page, while Chief Jason Carroll of Jefferson, Texas similarly resigned after a series of racist Facebook posts.
Chief Robert Vice of Duenweg, Missouri announced his resignation in July after intense backlash over a racist Facebook comment on a video of a Black man stopped by police. In the comment, Vice wrote: "That monkey need to be put down like the wild animal he is."
Communities have called for further resignations of police chiefs and law enforcement officers, including that of Chief James Craig of Detroit after a police vehicle accelerated into a crowd of protesters in June, and Tuscon Police Chief Chris Magnus, who received a great deal of backlash for not making the police-involved death of Carlos Ingram-Lopez public when the incident occurred on April 21.
Tuscon City Manager Michael Ortega announced in June that he will not accept Magnus' resignation because his leadership "is exactly what we need in these difficult times."