At Least 23 Killed by Two Tornadoes In Alabama, Damage in Georgia and Florida in Severe Weather Outbreak
At least 23 people were killed in Alabama on Sunday after two tornadoes struck in one county.
The tornadoes were part of a larger severe weather outbreak that damaged towns in Georgia, Florida and South Carolina, though no fatalities were reported from those storms.
"I cannot recall, at least in the last 50 years, maybe even longer than that, a situation where we have had this loss of life that we experienced today," Lee County Sheriff Jay Jones told WRBL-TV.
According to the National Weather Service, two separate tornadoes hit Lee County on Sunday afternoon. At least one of the tornadoes, a large wedge-shaped funnel, was at least a half-mile wide and believed to be rated an EF-3. Tornadoes with that rating carry wind speeds between 136 and 165 miles per hour.
A spokesperson for the Lee County Emergency Management Agency told The Associated Press that multiple homes in the town of Beauregard, Alabama had been destroyed by the tornadoes. Search and rescue efforts were still ongoing.
Lee County coroner Bill Harris told AL.com he expected the death toll to rise.
"We've still got people being pulled out of rubble," Harris said. "We're going to be here all night."
Harris told the AP his office had to call the state for help, as there were more bodies than the four-person coroner's team could handle.
Governor Kay Ivey of Alabama and President Donald Trump both tweeted their condolences to the victims on Sunday evening. Ivey also declared a state of emergency for Alabama.
"Our hearts go out to those who lost their lives in the storms that hit Lee County today. Praying for their families & everyone whose homes or businesses were affected. Officials from @AlabamaEma & other agencies are quickly working to provide assistance," Ivey said.
"To the great people of Alabama and surrounding areas: Please be careful and safe. Tornadoes and storms were truly violent and more could be coming. To the families and friends of the victims, and to the injured, God bless you all!," Trump tweeted.
Other counties in southwestern Alabama also sustained damage from the storms, though no fatalities were reported.
In Talbotton, Georgia, at least six people were injured by a storm that produced either a tornado or straight-line winds.
"The last check I had was between six and eight injuries," Leigh Ann Erenheim, director of the Talbot County Emergency Management Agency, told the AP in a phone interview. "From what I understand it was minor injuries, though one fellow did say his leg might be broken."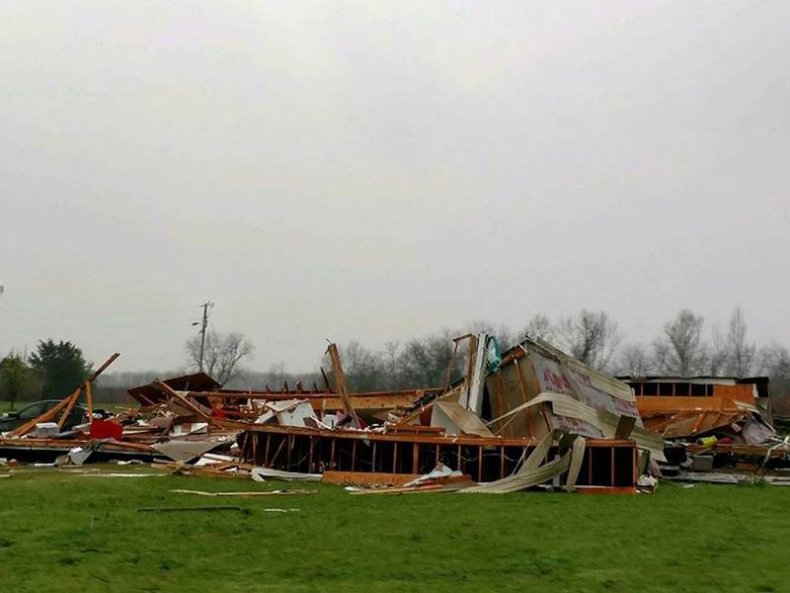 Other tornadoes were reported to have touched down in Macon and Cairo, Georgia, as well as in Walton County, Florida.
"It's pretty bad," Mayor Booker Gainor of Cairo told the Tallahassee Democrat. "We have a lot of trees down, debris and power lines. We have trees completely through houses. You would think a hurricane came after this, the way it looks."
The storms in Lee County marked the deadliest day for tornadoes in Alabama since May 2011, when tornadoes killed 64 people in Tuscaloosa and Birmingham.