At Least 4 Russian-Installed Officials Killed in a Day: Reports
A Russian-installed prosecutor and his deputy were killed in an office explosion on Friday, according to the leader of a Russian-backed separatist region in Ukraine's Luhansk Oblast.
If true, the deaths of the prosecutor general and deputy could mean that at least four Russian-installed officials in Ukraine were killed on Friday alone. In the port city of Berdiansk in Ukraine's Zaporizhzhia region, the Russian-appointed deputy head of administration, Oleg Boyko and his wife, Lyudmilla Boyko, were killed overnight in their garage, Reuters reported, citing the city administration. The couple reportedly headed a city commission organizing a referendum to join Russia.
Newsweek was not able to independently verify the reports on the four deaths. Russia's Foreign Ministry was contacted for comment on the losses.
There have been several instances of Russian-installed officials being killed in Ukraine since the start of the war on February 24. Earlier this month, the Russian-appointed "commandant" of Berdiansk, Artem Bardin, died when his car was blown up. He was at least the third Russian-installed official to die in bombings in a two-week period. The independent project WarTranslated, which translates materials about the war in Ukraine into English, has compiled a list of 19 pro-Russian politicians who were either killed or survived instances that could have left them dead, such as explosions, in occupied parts of the Eastern European country.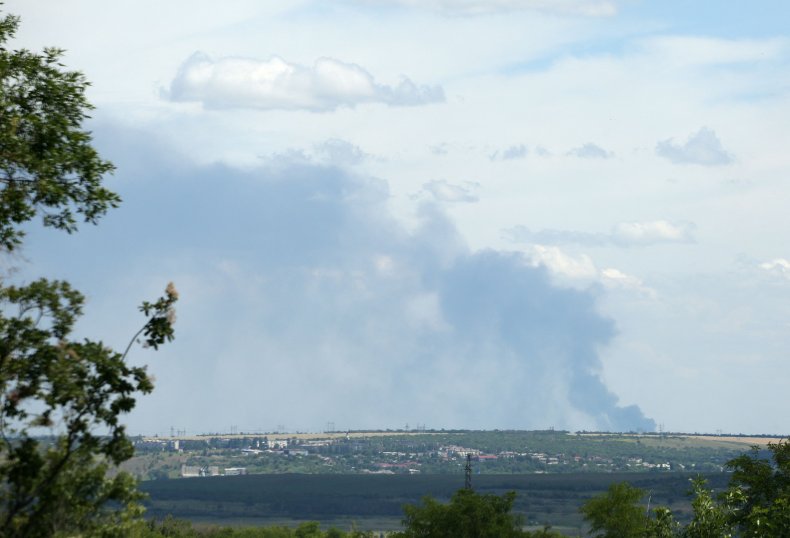 The list was posted on August 31, so it may not reflect any additional deaths or near-deaths since then.
Leonid Pasechnik, who heads the self-proclaimed Luhansk People's Republic (LNR) in Eastern Ukraine, announced the deaths of the Russian-installed Prosecutor General Sergei Gorenko and deputy Yekaterina Steglenko in a Telegram post on Friday. He wrote that the explosion occurred in the general prosecutor's office for the separatist state, calling it a "terrorist act" and accused Ukraine of being behind their deaths.
"Today's incident once again confirms that Ukraine, under its current leadership, is a terrorist state," he wrote. "Authorized law enforcement agencies organized a search for persons involved in the commission of this crime. The situation in the republic is under control. We, the inhabitants of the LPR, should not give in to panic, since this is precisely what the terrorists' actions are aimed at."
Adviser to Ukrainian President Volodymyr Zelensky, Mykhailo Podolyak, noted the deaths on Twitter on Friday, writing: "Elimination of so-called 'LNR prosecutor general' and his deputy should be considered as showdowns of local organized criminal groups that could not share looted property before a large-scale escape. Or as RF's purge of witnesses to war crimes. Investigation will show..."
In his tweet, "RF" was an apparent reference to the Russian Federation.
Ukraine was also reportedly accused of being involved in the other two deaths in Berdiansk on Friday. Yevgeny Balitsky, who leads the Russian-installed administration in occupied areas of the Zaporizhzia region, said in a statement aimed at Ukraine that those responsible were "vile cowards with the blood of innocent people on your hands," Reuters reported.
The country has not claimed responsibility for any of the deaths, according to The Moscow Times.
Newsweek contacted Ukraine's Foreign Ministry for comment on the allegations that it was involved.