At least 403 people who died from COVID-19 were secretly buried by local authorities in a massive, unmarked grave site in Peru, family members of the victims said, according to an investigation.
The victims were buried in a field in Iquitos, a city located in the heart of the Peruvian Amazon in Loreto state, the Associated Press reported in its investigative story. Local authorities approved of the secret burials but never told the victims' families, the AP said.
Instead, the families believed their loved ones were buried in a local cemetery and only found out about the clandestine site after a local newspaper, La Region, reported on it in June.
Months later, family members are demanding an explanation from the government, but local authorities have remained quiet.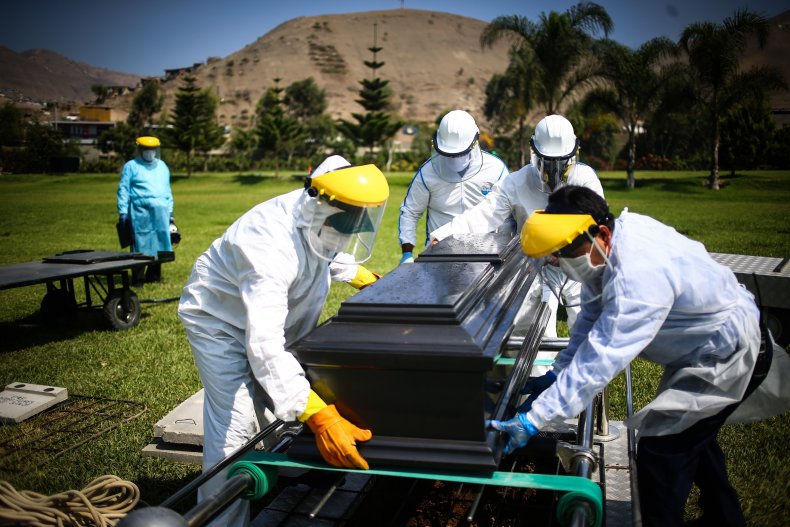 For more reporting from the Associated Press, see below:
Ten days after La Region published its story, Loreto Governor Elisban Ochoa signed a document promising to exhume the bodies. Nine months later, nothing has happened.
Ochoa told some lawmakers that it wasn't a mass grave, but a new "COVID cemetery" arranged because "overnight there was a violent increase of the dead." He said there was a list of the locations where each body had been placed, and that the authorities intended to give the information to the families.
But he didn't explain why that hadn't happened. The AP left messages in his office, but he didn't reply.
The burial ground is larger than four soccer fields; when it was first revealed, it had been flattened, leaving no signs that there were bodies below.
For weeks, people came to place crosses where they thought their loved ones were buried.
Joaquín García, a 32-year-old accountant, said his father is there, somewhere. He was told first that his father was in a spot marked as D24, although days later they said the correct location was D22.
"I mean, have the dead walked?" he asked.
Families sued the local and state governments to force them to recover the remains, but a judge ruled last year in favor of the authorities, saying the law establishes that the remains can only be exhumed a year and a day after burial.
The families are appealing the ruling. But in the meantime, the graves of Herman Wong, a camera repairman who died of COVID-19 in April, and so many others, are unmarked.
When Adriana Wong went to the field the first time, she brought a pink backpack containing dozens of letters she had written to the father she had lost.
"I miss the virtual homework a lot, everything of what you taught me," she read from one of the sheets she ripped from her notebook. "Where are you? I want to see you and give you a hug."