Nineteen years after America suffered the worst attack on U.S. soil, it faces another challenge in the form of a virus that's hospitalized and claimed the lives of both survivors and first responders who were at Manhattan's ground zero.
As of September 4, 1,185 first responders and 287 survivors were confirmed to have tested positive for the coronavirus, the World Trade Center Health Program told Newsweek. Being at ground zero when two planes hit the World Trade Center's North and South Towers puts members of the program at a higher risk for developing serious complications if they contract the virus, and 197 people have been hospitalized.
Of those hospitalizations, 154 were first responders and 43 were survivors. Forty-four people—24 first responders and 20 survivors—are believed to have died from COVID-19.
However, the exact number is unknown because the program's data only includes people who went to a Clinical Center of Excellence or Nationwide Provider Network location. The program's data on deaths is based on people who either had a positive diagnosis for COVID-19 or were considered presumptive positive, based on symptoms at the time of their death. But the program hasn't been able to confirm if COVID-19 was the cause of their death.
"Almost two decades later, many responders and survivors still suffer the long-term health effects, both physically and mentally," Dr. John Howard, WTC Health Program administrator, said in a statement. "Their resolve and health are now being further tested by the COVID-19 pandemic."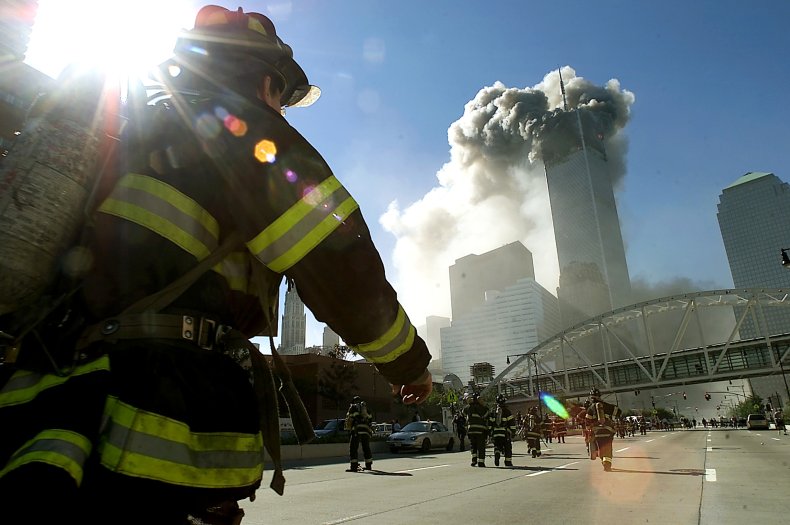 No one is immune from the new coronavirus, and anyone who contracts it is at risk of developing serious disease or even dying from it. However, the virus is known to take a greater toll on those with comorbidities or compromised immune systems.
An estimated 40,000 people who were at ground zero after the planes hit the towers have developed health conditions in the years after 9/11, Dr. Michael Crane, medical director of the WTC Health Program at Mount Sinai's Icahn School of Medicine in Manhattan, told People in 2019. One of the most common health problems responders face is asthma. That condition alone could put them at an increased risk of a severe illness from the virus.
At least 10,000 people have developed cancers related to being exposed to toxins at ground zero, according to Crane, and he estimated many more will be diagnosed in the future. Regardless of age, people with cancer are at a higher risk of dying from COVID-19 because cancer and its treatments can weaken their immune systems.
The pandemic is a "challenging time for all, but especially for 9/11 responders and survivors. Almost 19 years later, the effects of that day are still felt. Challenges like COVID-19 can add to that burden," Howard said in a statement in May.