More Than 6 Companies With Ties to Congress Took Millions in Stimulus Loans
More than half a dozen small businesses with ties to members of Congress received millions of dollars in coronavirus pandemic relief, including GOP members who voted against greater transparency for who was receiving the loans, new data released Monday by the Small Business Administration showed.
The forgivable loans from the Paycheck Protection Program, which were approved by Congress to cover payroll costs and save jobs, went to companies associated with—directly and indirectly—at least seven Republican lawmakers, one Democrat and three congressional groups, two of which are connected to Democrats.
It is neither against the law nor does it violate congressional ethics rules for lawmakers or their families to receive the federal assistance. But the acts have raised questions in the past among taxpayer watchdog groups and others about potential conflicts of interest.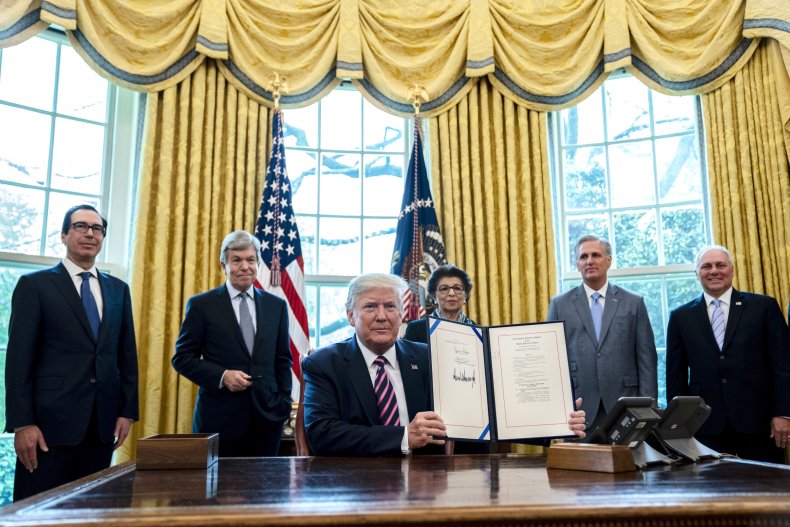 Foremost Group, a shipping company owned by the family of Transportation Secretary Elaine Chao, who is the wife of Senate Majority Leader Mitch McConnell (R-Ky.), received between $350,000 and $1 million for 20 employees.
JRW Corporation, owned by Representative Roger Williams (R-Texas), one of the wealthiest members of Congress who has several car dealerships in the Lone Star State, got $1 million to $2 million for 122 jobs.
Three car dealerships owned by Representative Mike Kelly (R-Pa.) each obtained loans worth $150,000 to $350,000 for a total potential range of $450,000 to $1,050,000. The aid went toward a total of 95 employees.
Construction company R.W. Allen Construction, owned by Representative Rick Allen (R-Ga.), received a loan for between $350,000 and $1 million for 64 jobs.
Four companies owned by Representative Marywayne Mullin (R-Okla.) were awarded PPP loans. One was for $350,000 to $1 million, while three were each for $150,000 to $350,000. In total, the loans ranged from $800,000 to $2,050,000 for 140 employees.
KTAK Corporation, a management company for McDonald's restaurants owned by Representative Kevin Hern (R-Okla.), got $1 million to $2 million for 220 employees.
Alpha Omega Winery and Phase 2 Cellars, California wineries where Representative Devin Nunes (R-Calif.) is a limited partner, according to his financial disclosure filing, each received a loan for $1 million to $2 million.
Lowey Dannenberg P.C., a law firm where the husband of House Appropriations Chairwoman Nita Lowey (D-N.Y.), Stephen Lowey, was once part of but has since retired, was awarded between $1 million to $2 million for 54 positions.
The Congressional Black Caucus Foundation (CBCF) and the Congressional Hispanic Caucus Institute (CHCI) each received between $350,000 and $1 million for 18 and 45 employees, respectively.
The Congressional Sportsmen's Foundation, a bipartisan group whose mission is to "protect and advance hunting, angling, recreational shooting and trapping," also received between $350,000 to $1 million for 21 employees.
Williams, Kelly, Allen, Mullin, Hern and Nunes all voted against a Democratic bill in May to require the Small Business Administration to publicly disclose the recipients of loans worth upwards of $2 million. Democrats demanded the Trump administration release the names of the millions of PPP borrowers after Treasury Secretary Steven Mnuchin changed course to say such information would not be revealed. But in yet another change, the SBA on Monday released a trove of PPP loan data, offering the public the first detailed glimpse into who received the forgivable relief and how much. Some information, including actual amounts and the date they were dispersed, was not available.
The offices of the public figures tied to the federal aid that responded to Newsweek's inquiries denied there was any malfeasance or prior knowledge loans were applied for and received, noting that the money was used to help save jobs and keep employees paid.
A spokesperson for the Transportation Department emphasized that Chao "has no connection to the business and she had no idea a loan was obtained."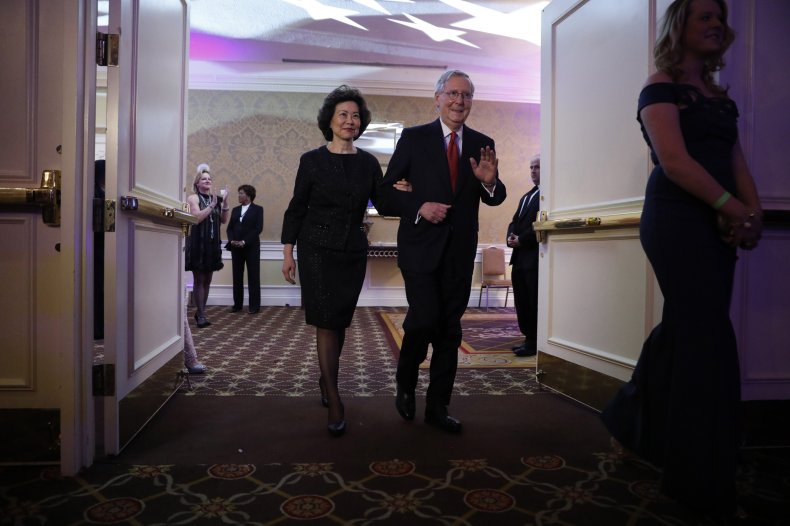 Kelly's communications director, Andrew Eisenberger, said in a statement that Kelly is not involved in the day-to-day business of the car dealerships and "was not part of the discussions between the business and the PPP lender."
"Moreover, Kelly's small family business employs more than 200 western Pennsylvanians whose jobs were at risk because of Governor [Tom] Wolf's business shut down order," Eisenberger continued. "The Paycheck Protection Program was designed to sustain the income of workers who would otherwise have been without pay or employment at no fault of their own during the coronavirus pandemic, and organizations in which members of Congress have an ownership stake were not prohibited from receiving PPP loans to help their employees during this difficult time."
Andrea Porwoll, the communications director for Allen, said the congressman relinquished majority stake of his construction company before taking office, and that neither he nor his wife hold decision-making authority.
"I can confirm our office has consulted with the U.S. House of Representatives Office of General Counsel and is confident the company, like businesses around the country impacted by COVID-19, is eligible to receive a loan under the Paycheck Protection Program after doing their due diligence and applying in good faith," Porwoll said.
A spokesperson for Mullin, Meredith Blanford, said in a statement that the lawmaker is "not involved in the day-to-day operations of the companies."
Spokespersons for Williams, Herd, the CBCF and the CHCI did not respond to Newsweek's requests for comment.
In a May 5 statement after it was first reported one of his auto dealerships received a loan, Williams said that his business followed all rules and regulations and that his more than 100 employees were "grateful" to receive the aid.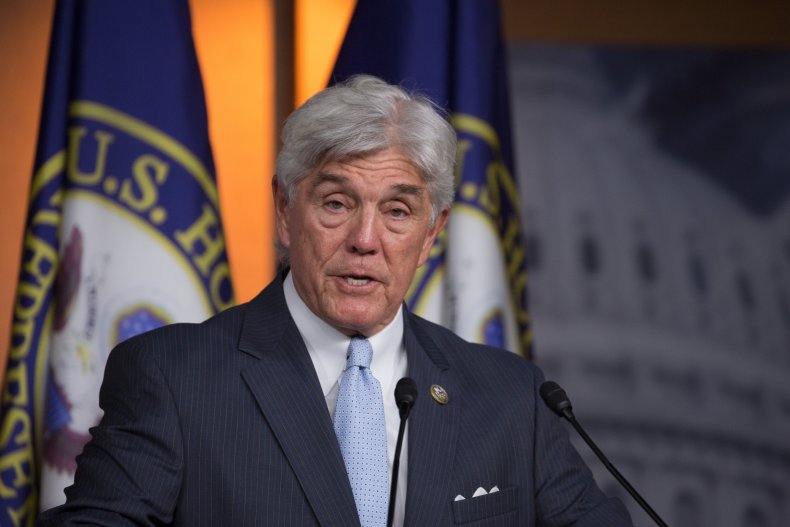 "Putting our employees in the unemployment line is not an option for us, no matter how politically expedient that might be," Williams said.
Before Monday's release of information, businesses connected to four members of Congress were revealed through various media outlets to have received PPP money: Williams; Representative Vicky Hartzler (R-Mo.), whose family owns farms in the Midwest; Representative Susie Lee (D-Nev.), whose husband runs regional casino developer Full House Resorts; and Representative Debbie Mucarsel Powell (R-Fla.), whose husband operates Fiesta Restaurant Group restaurant chain.
Fiesta returned its $15 million loan. Full House Resorts received $5.6 million. It remains unclear how much the businesses received that are tied to Hartzler's family.
This story was updated to include information about companies Rep. Nunes has invested in and to include comment from a Mullin spokesperson.
This story was further updated to include a PPP loan to the Congressional Sportsmen's Foundation and to the law firm Lowey Dannenberg P.C., where Rep. Lowey's husband is now chairman emeritus.