At Least One Dead in Oklahoma Storm Flooding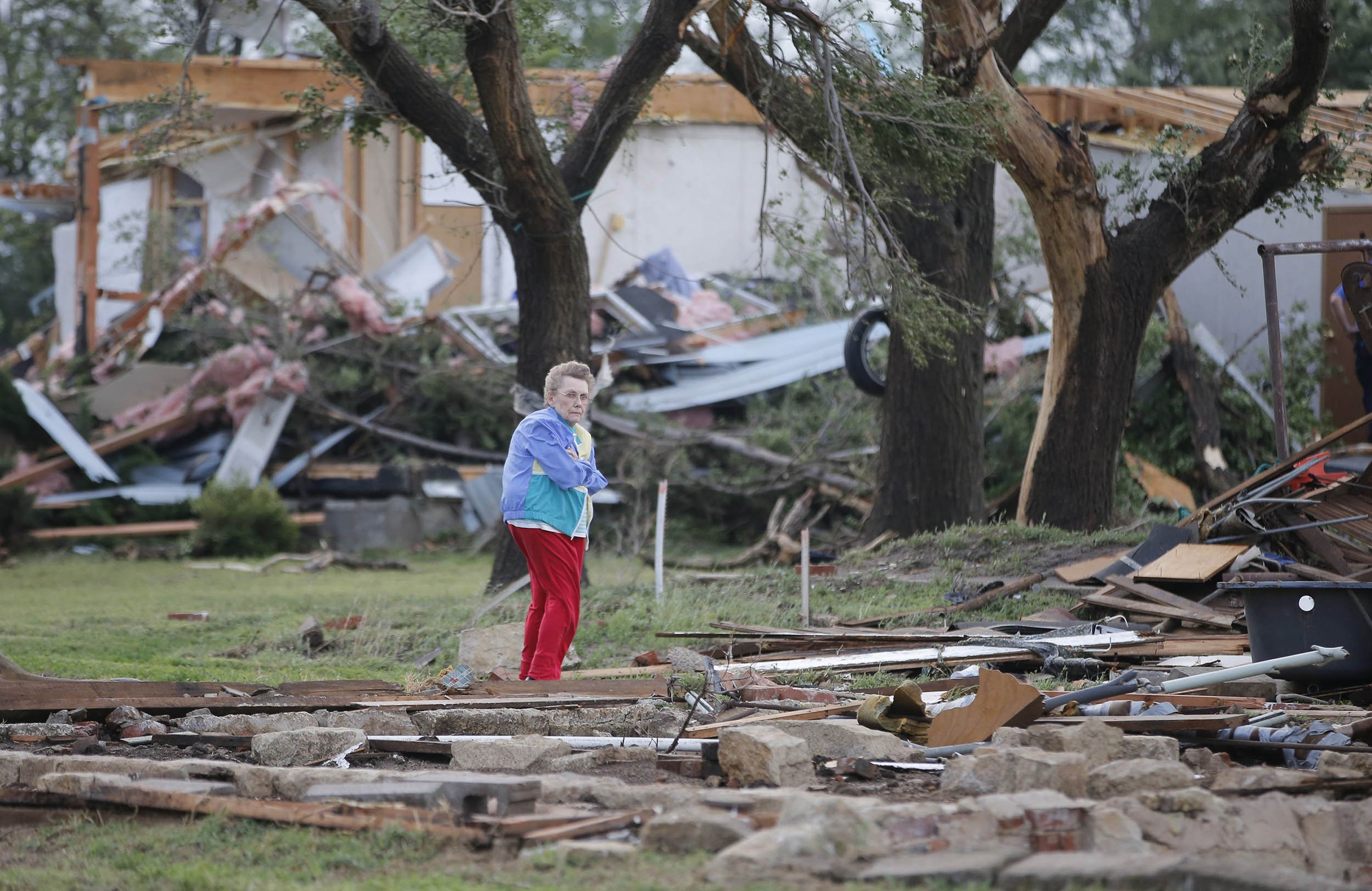 Updated | A series of tornadoes tore across the Great Plains Wednesday night, killing one person, leaving at least 12 people injured—several critically—and prompting Oklahoma City to declare a flash flood emergency for the first time in its history.
A 42-year-old Oklahoma woman died in her home's shelter when it flooded after Wednesday night's storms, Oklahoma City Police Department Sergeant Gary Knight tells Newsweek. During the storm, she took refuge in an inground shelter unattached from her house. She became trapped and later drowned after torrential rain poured into the area, Knight says. Police have not yet released the woman's name.
Local meteorologists on Thursday began investigating the number of tornadoes that touched down in at least four states. About 50 eyewitness reports were documented, but some of those are most likely duplicates, says Bill Bunting, operations branch chief of the National Weather Service Storm Prediction Center.
May is peak tornado season, Bunting says, and "it's not unusual this time of the year to have many parts of the country at risk."
More than 8 inches of rain has fallen in Oklahoma in the past two days. Much of that precipitation occurred during a two- to three-hour span. Firefighters performed 13 water rescues and 160 high-water assists Wednesday and early Thursday, according to Oklahoma City authorities.
Severe storms intensified in the early afternoon and later caused dozens of suspected twisters to rip across south-central Nebraska, through central Kansas and central Oklahoma, into northwest Texas through Wednesday night, Bunting says. There also were a few tornadoes reported in South Dakota.
Oklahoma City appeared to be hit the hardest, with city officials reporting "deadly and dangerous conditions" and urging residents not to drive.
The spring twisters caused flash flooding and power outages, and forced Oklahoma City's Will Rogers World Airport to be evacuated temporarily, though all flights were canceled Wednesday night. Local media reported that the tornadoes left destroyed homes and flipped cars in their wake.
Oklahoma Governor Mary Fallin signed a state of emergency and will tour the most damaged areas on Thursday. Many of the major interstates and highways had reopened by Thursday morning, but some roads remained inundated with water.
Meteorologists at The Weather Channel expect more severe weather Thursday through Saturday for the same areas hit Wednesday night. Bunting says the trend probably will continue with storms picking up in the afternoon and increasing intensity into the night.
"Unfortunately, it's just one day in at least the next three or fours days potentially that will continue to be very active. This event is far from over," Bunting tells Newsweek. He cautioned residents to be aware of the possibility of severe storms happening in the late-night hours when they typically are asleep.
The American Red Cross set up two shelters in Oklahoma, where 50 homes initially were reported either destroyed or severely damaged. By mid-morning on Thursday, about 70 people were inside the shelter in Oklahoma City, and no one was at the location in Tuttle, Brigette Williams, communications director for the American Red Cross in Oklahoma and Arkansas, tells Newsweek. The organization will assess the need for additional shelters as the clean-up efforts continue over the next few days.
Mobile trucks traveled through the affected areas on Thursday to assess the damage and provide recovery kits to people. Eight damaged homes were reported in Nebraska, and there was isolated building destruction in Kansas.
It was difficult to get residents to the shelters on Wednesday night because of power outages and debris blocking the roads, Williams says.
"We need to be sensitive of residents who have already been hit being in additional harm's way by going into an area that's unsafe," she adds.
Several wild animals escaped when one tornado hit the Tiger Safari, a zoological park in Tuttle. They were accounted for by 11 p.m. on Wednesday.
Hail and strong winds affected areas in Wisconsin, and from Pennsylvania to northern Virginia, Bunting says.
The storms came almost two years after a massive tornado touched down in Moore, Oklahoma, on May 20, 2013. More than two dozen people were killed and at least 200 were injured. In March, one person was killed and several were injured when three tornadoes swept through Arkansas and Oklahoma.
"It's safe to say everyone here will be watching the developments this afternoon and hoping the areas that were hammered with storms last night will have another day to clean up," Bunting says. "But with the threat of more storms, we just can't be sure."