At Least Two Dozen Dead After Suspected Migrant Boat Sinks Off Turkish Coast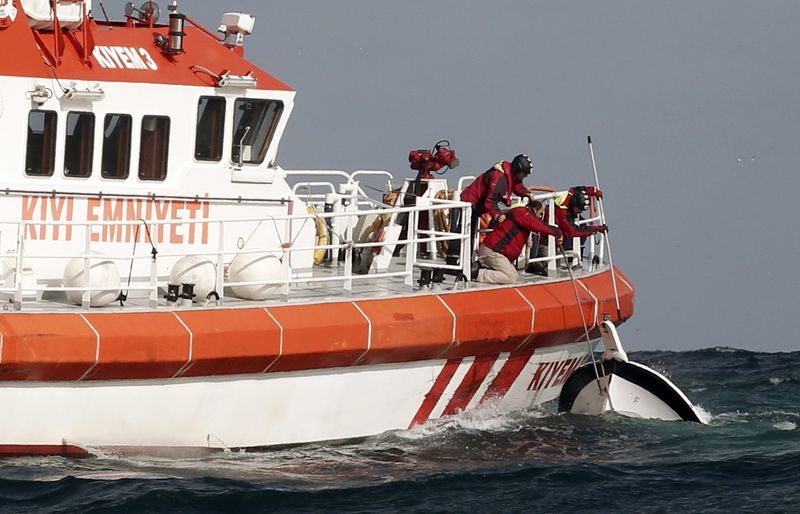 At least 24 people have died after a boat believed to be carrying migrants sank off the northern coast of Istanbul early Monday morning. Six people were rescued and around a dozen are still missing as of Monday afternoon, the Associated Press reports.
Turkish Coast Guard officials said the boat was carrying 40 refugees believed to be from Afghanistan and Syria, including 12 children and seven women, according to Turkish news outlet Hurriyet. The boat sank at the mouth of the Bosporus, where it meets the Black Sea, near the small village of Rumeli Feneri.
The boat was believed to be bound for Romania, but it is unusual for a boat carrying migrants to operate near Turkey, the BBC reported.
The route taken by the boat led some to suspect that human traffickers are testing new ways to get across the Black Sea in response to coastal patrols on other well-traveled routes, The Washington Post reports.
A search-and-rescue operation involving seven coast guard boats and a helicopter was under way Monday, scanning an area three miles north of Boshorus. It was not immediately clear what caused the boat to sink.
Fishermen who spoke with Hurriyet reported seeing bodies floating in the water, including those of small children and babies. One fisherman who helped pull bodies from the water said none of them were wearing life jackets.
"The wind is making our task very difficult. The boat is a very small one.… But they were carrying 40 people in it. We are seeing bodies of children floating in the sea," Ali Saruhan, a rescuer, told Hurriyet.
In September, another boat carrying mainly Syrian and Afghan migrants was rescued off the northern coast of Turkey.
Hundreds of migrants have drowned trying to get to Europe this year, including 17 who died when a boat carrying dozens of them sank off the coast of the southern Italian island of Lampedusa in May. More than 360 people drowned off the coast of Lampedusa in October 2013.
The Italian government announced on Friday it will end its Mare Nostrum ("Our Sea") rescue mission that had saved more than 100,000 migrants from Africa and the Middle East, Reuters reports. It will be replaced by a smaller scheme, Operation Triton, which will be run by Frontex, the European Union border agency. The announcement prompted fears that the drop in resources for the rescue of migrants fleeing ongoing conflict in Syria and Iraq will result in more deaths.
The United Kingdom says it opposes the European Union rescue mission and that it believes the rescue operations have an "unintended pull factor" for illegal migration, Deutsche-Welle reports.
Amnesty International said last month that the European Union's Triton operation is not broad enough in scope, and the end of Italy's national search-and-rescue operation "would put lives of thousands of migrants and refugees attempting to reach Europe at risk."
The International Organization for Migration reports more than 3,000 have died crossing the Mediterranean from January to September 2014. Most migrants originate from Eritrea and Syria, the U.N. says.