The Least Vaccinated Groups in America
Republicans, white evangelical Christians and people living in rural areas are among the demographic groups most likely to say they will "definitely not" get the COVID vaccine, a survey has found.
The latest study from the Kaiser Family Foundation's COVID Vaccine Monitor reported that uninsured people under the age of 65 were the most reluctant to get the vaccine, with just 54 percent of those surveyed saying they had had at least one dose. In this group, 18 percent said they would "definitely not" and 11 percent said they would only have the shot if required to do so.
Nearly a quarter of Republicans (23 percent) also said they definitely would not be vaccinated, with 8 percent saying they would do so if required by their employer. The study found that 58 percent of Republicans have had at least one shot overall.
One in five (20 percent) of white evangelical Christians and rural residents also answered "definitely not" when asked if they would be taking the vaccine now that it has been approved by the Food and Drug Administration.
The survey also found that 66 percent of adults aged between 30-49 have already had at least one shot, with 12 percent saying they definitely would not be getting one. Adults without a college degree came next on the list, with 67 percent having had at least one shot and 14 percent saying they would not.
Fifteen percent of men said they would not be getting the vaccine, compared to 10 percent of women.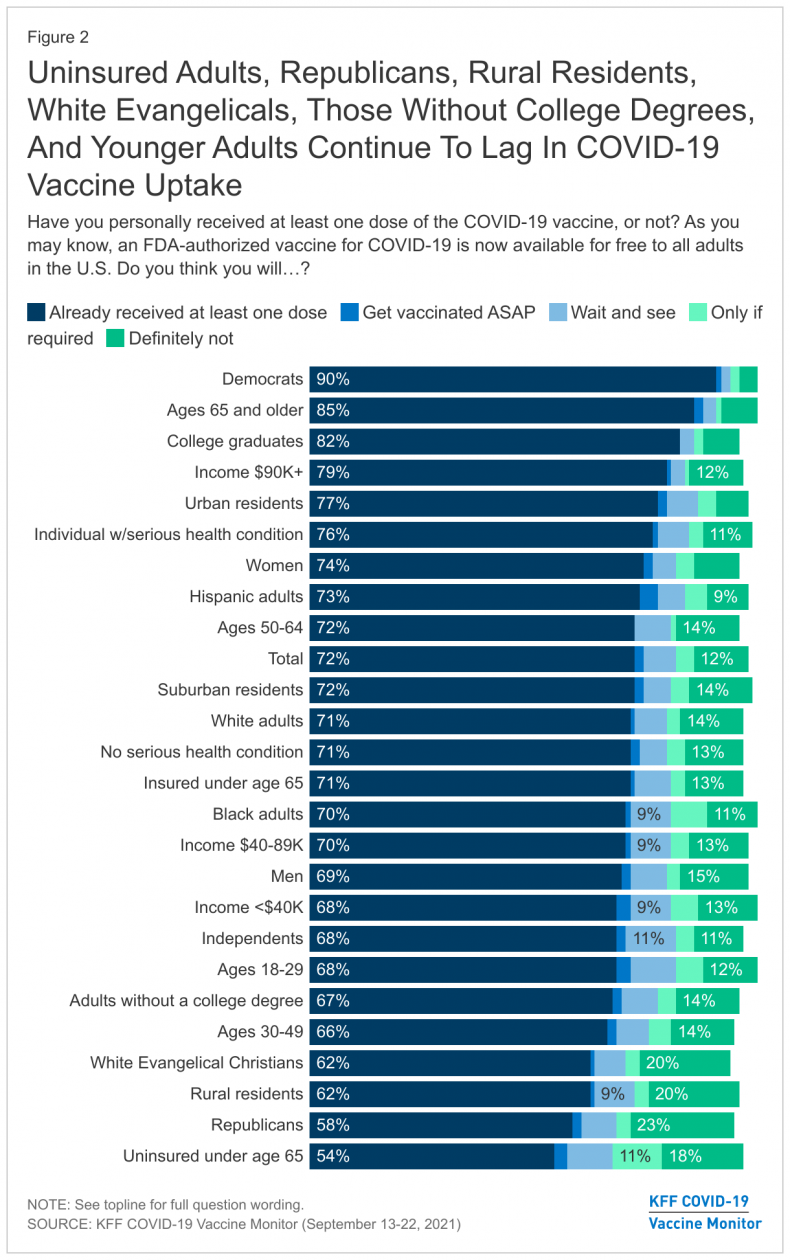 The poll found that Democrats were the group with the highest vaccination rate, with 90 percent saying they had already received at least one dose.
Those aged 65 and older (85 percent), college graduates (82 percent), people with incomes of more than $90,000 (79 percent), and urban residents (77 percent) rounded out the top five for the groups with the highest vaccine uptake.
The survey reported that Hispanic adults are the demographic with the largest increase in vaccination rates since the last poll in July, after recording a rise of 12 percentage points. Next came people aged 18-29, with an increase of 11 percentage points.
The poll also found that the racial gap in vaccination rates is closing. The survey states that 71 percent of white adults, 70 percent of Black adults and 73 percent of Hispanic adults have now received at least one shot.
The same survey in May found that 56 percent of Black adults and 57 percent of Hispanic adults had received at least one dose, compared to 65 percent of white adults.
"KFF's analysis of state data on vaccination rates by race and ethnicity suggests that, when looking at people of all ages (including children who are not yet eligible to be vaccinated), White people continue to be vaccinated at higher rates than either Black or Hispanic people, although those gaps have narrowed over time," said the Kaiser Family Foundation.
When asked their reasons for getting vaccinated, more than one-third of respondents (39 percent) pointed to the increase in cases due to the Delta variant. Another 38 percent said reports of local hospitals filling with COVID-19 patients had helped them to decide.
A total of 35 percent said knowing someone who got seriously ill or died from COVID was their main reason.
The survey was conducted by phone between September 13 and 22 and consisted of 1,519 adults.