As Lebanese Crowd Chants 'Revolution,' France's President Macron Sets September 1 Deadline for 'New Political Pact'
France's President Emmanuel Macron was greeted by a swarm of Lebanese calling for "revolution" and for the "fall of the regime" that has been governing their country for decades, as he arrived in Beirut on Thursday following the Tuesday port explosion that left more than 140 dead.
"I will propose a new political pact [in Lebanon] this afternoon," Macron said in remarks from the streets of Lebanon's capital as he was swarmed by crowds of locals. "I will return on the first of September, and if they [the Lebanese leaders] can't do it, I'll take my political responsibility," he said.
"But what is also needed here is political change. This explosion should be the start of a new era," the French president said.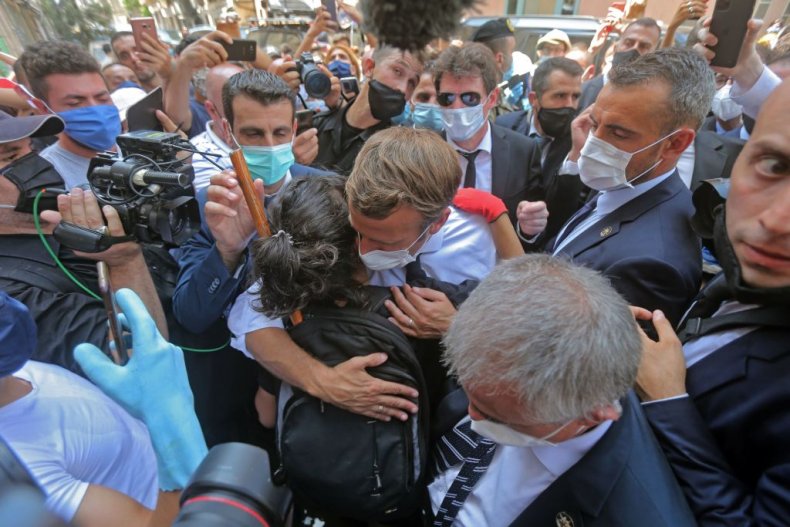 People in the crowd could be heard calling on Macron to "free" them from the "current authorities" ruling the country. Others raised concerns that any aid from France could be taken by corrupt Lebanese politicians.
Beirut's port exploded on Tuesday, in a devastating blast that could be heard over 160 miles away across the Mediterranean in Cyprus. The explosion, which was as powerful as a 3.3-magnitude earthquake, leveled the port and shattered glass across the Lebanese capital. Many buildings crumbled, and in addition to the more than 140 fatalities, thousands were injured while hundreds remain unaccounted for.
Government officials have said that the blast was caused by over 2,700 tons of ammonium nitrate exploding in the port. The highly explosive material had been stored improperly for six years, which many Lebanese quickly saw as another example of ineptitude by their ruling elite. The explosion came amid economic collapse in the country, which was exacerbated by the lockdowns and curfews implemented to curb the spread of the novel coronavirus pandemic.
"Since 2011/2012, the government has not responded adequately to any call for improving public and social services," Dr. Tamirace Fakhoury, an associate professor of political science and international affairs at the Lebanese American University told Newsweek.
"The same elite cartels are governing as if there is no tomorrow, and they have transformed the so-called system of power-sharing into an oligarchic cartel which lacks any accountability, rotation of power or strategic policy-making," she explained.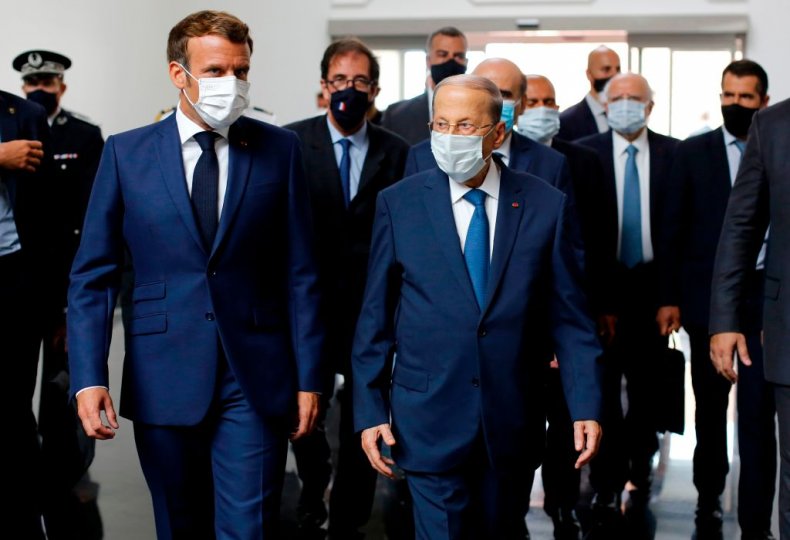 Macron was pictured hugging Lebanese citizens on the street, while he also shed tears. "I see the emotion on your face, the sadness, the pain. This is why I'm here," he said, Reuters reported.
Lebanon and Syria fell under French mandate following World War I, as the former regions of the Ottoman Empire were partitioned by the United Kingdom, France and Italy. The mandate lasted from 1922 to 1943, when Lebanon gained independence. But French culture and influence has remained a prominent part of Lebanese life until the present day, with a large number of Lebanese citizens holding dual-nationality with France.
Newsweek reached out to France's Foreign Ministry for further comment, but did not receive a response by the time of publication.