Spain Attack: National Flag Flies on Captured ISIS Territory As Lebanese Military Show Solidarity with Barcelona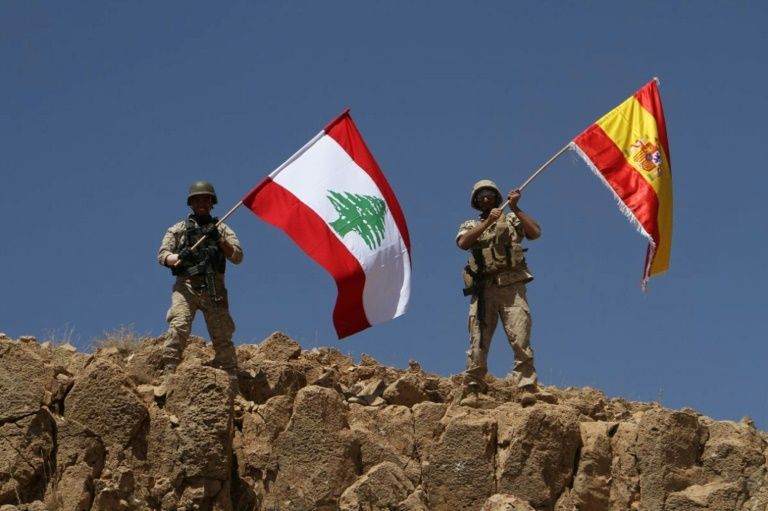 In a display of solidarity after Thursday's Barcelona attack, Lebanese soldiers raised a Spanish flag alongside their own on a Syrian-Lebanese border hill seized from the Islamic State militant group (ISIS).
Lebanese military launched its operation in the Jurud Ras Baalbek and Jurud al-Qaa region early on Saturday on the country's eastern border with Syria, AFP reported.
They seized around 11 square miles of territory, around a third of the area formerly controlled by the militant group, a military spokesman told the agency.
Pictures released by the Lebanese military show soldiers raising a Spanish flag alongside a Lebanese flag, in solidarity with Spain, after ISIS claimed responsibility for attacks in Barcelona and Cambrils in which 14 people were killed.
The Lebanese military said that 20 ISIS militants were killed in the military operation, and 10 of their own soldiers were wounded.
Lebanese media reported that the military operation was continuing Sunday, with artillery bombarding ISIS positions in Jurud Ras Baalbek.
Earlier on Saturday, Lebanese Shia militia Hezbollah launched its own campaign against ISIS positions south of the area. The group has fought alongside the military forces of Syrian president Bashar al-Assad against ISIS and rebel groups in Syria.
In recent month ISIS has lost significant amounts of territory in Iraq and Syria, including its Iraqi base of operations Mosul following a U.S. backed operation by Iraqi government forces.
Lebanese forces have sought to bolster security along their eastern border following the ISIS attack on the town on Arsal in 2014, in which five soldiers and police were killed or executed and 30 kidnapped.
Sixteen were released in a prisoner swap deal in 2015, with an estimated nine thought to remain in captivity.