Lebanon Battles New Beirut Port Fire, Downs Israel Drone As Crises Continue
Lebanon battled yet another fire Thursday at the same port at which a massive explosion devastated large parts of Beirut a month earlier, as the military also announced it had downed an Israeli drone flying across their southern border.
The Lebanese Armed Forces announced Thursday that its military police had opened an investigation into a towering blaze that broke out at an oil and tire storage site at Beirut port.
Caretaker Transportation Minister Michel Najjar placed the location "far from" Warehouse No. 12, where nearly 3,000 tons of ammonium nitrate caught fire and detonated last month, causing a blast that killed at least 190 people, injured thousands more and caused widespread destruction.
Najjar said early indications suggested the inferno began with routine maintenance work, the same prevailing theory provided for the last disaster.
While he said the latest fire appeared to be under control, a city still reeling from the August explosion remained on edge, as citizens who still had windows after the last blast wondered whether to shut them to avoid toxic-smelling fumes from invading their residences, or open them to prevent a potential shockwave from once again spraying shards of glass that caused untold harm.
Just last week, the Lebanese Armed Forces announced the discovery of 4.35 metric tonnes, or nearly 4.8 tons, of ammonium nitrate during an inspection of four containers at entrance No. 9 of Beirut port.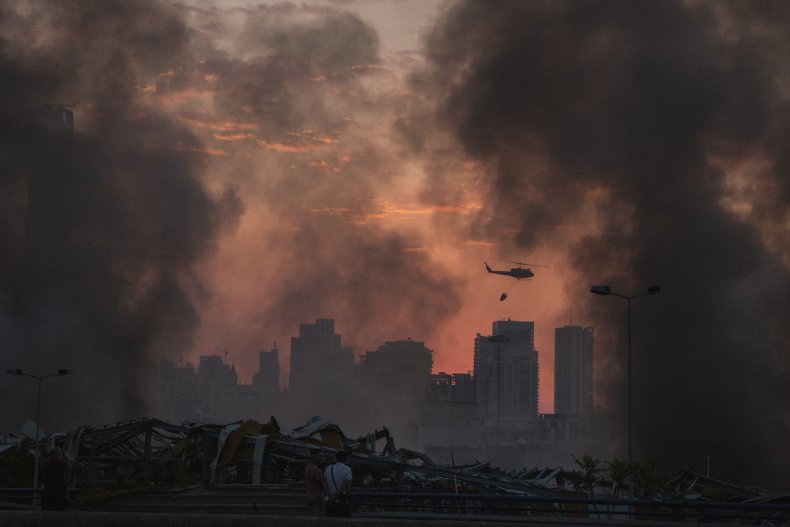 The latest frustrations only compounded a deepening lack of public trust in officials who have failed to improve long-failing infrastructure or resurrect a quickly-collapsing economy that has been further contracted by the fallout of the novel coronavirus pandemic.
And yet another threat persists, this one from outside the country.
As emergency services struggled to extinguish the flames at Beirut port, the Lebanese military announced that it had downed an Israeli drone flying over the southern village of Aita Shaab, also spelled Ayta ash-Shaab. The Israel Defense Forces confirmed the incident shortly afterward.
"Recently, during an IDF operation on the Lebanese border, an IDF glider fell in Lebanese territory," the IDF said in a statement. "There is no fear of information leaking."
The Lebanese military also reported additional incursions by "two warplanes belong to the Israeli enemy" carrying out flights across the entirety of the country, including the village of Alma al-Shaab and the town of Chekka in the north and the southern towns of Rmeish and Kfar Kila near the border.
The Lebanese military said personnel from the United Nations Interim Force in Lebanon (UNIFIL) had been notified and were following up on the reports.
In a statement later sent to Newsweek, UNIFIL spokesperson Andrea Tenenti confirmed receipt of the incident reports, saying that "at around 5:20 p.m. yesterday, the Lebanese Armed Force (LAF) informed us that it had shot down a drone coming from Israel that had violated the Blue Line in the general area of Ayta ash-Shaab in southern Lebanon."
"A UNIFIL team visited the site and inspected the drone that the LAF had claimed to have downed," he added. "UNIFIL is following up with the IDF to confirm the identity of the drone in question and has launched an investigation into the incident."
As for Israeli warplanes overhead, Tenenti said UNIFIL reports these "almost daily" flights to the U.N. secretary-general due to their disregard for international law.
"The continued violations of Lebanese airspace by Israeli aircraft constitute a violation of resolution 1701 (2006) and of Lebanese sovereignty. Such violations escalate tensions and could potentially trigger incidents endangering the cessation of hostilities between Lebanon and Israel," he told Newsweek.
"They are in contravention of our objectives and efforts to reduce tensions and establish a stable security environment in southern Lebanon. The Secretary-General has on numerous occasions condemned all violations of Lebanese sovereignty, while calling on Israel to cease its violations of Lebanese airspace in accordance with resolution 1701," he added.
The disputed boundary between Israel and Lebanon has been the venue for several wars and recurring clashes over the decades, most recently between Israel and the Lebanese Iran-backed Shiite Muslim Hezbollah movement.
Hezbollah commands a powerful militia with an extensive arsenal and activities that stretch into neighboring Syria, where Israel has conducted strikes against positions suspected of being linked to Iran. Its leader, Secretary-General Hassan Nasrallah, has vowed to avenge the death of a Hezbollah fighter during an Israeli raid near Damascus in July.
In the following weeks, Israel twice accused Hezbollah of attempting to infiltrate the disputed Blue Line that separates the two countries still technically at war.
The United States announced sanctions Tuesday against two former Lebanese ministers Yusuf Finyanus and Ali Hassan Khalil due to their associates with Hezbollah, which Washington considers a terrorist organization. Hezbollah's prominent role in the Lebanese government and has contributed to U.S. reluctancy to offer long-term assistance to the crisis-stricken country.
This is a developing news story. More information will be added as it becomes available.