Lebanon Army Finds Tons More of Explosive Ammonium at Beirut Port
The Lebanese military has discovered several more tons of highly explosive ammonium nitrate at Beirut's port, the epicenter of last month's devastating blast that was linked to the compound.
The Lebanese Armed Forces announced Thursday that its army engineering regiment discovered 4.35 metric tons, nearly 4.8 tons, of ammonium nitrate during an inspection of four containers conducted at the request of Beirut port's customs authorities at entrance number nine. The military units "are working to handle" the issue, the statement said.
It is believed that more than 2,900 tons of ammonium nitrate ignited during a fire on August 4, sparking a massive explosion that engulfed Beirut's capital, killing at least 190 people, injuring thousands and causing billions of dollars in untold destruction that has left hundreds of thousands homeless.
The substance was brought to Lebanon in November 2013 when Moldovan-flagged cargo ship MV Rhosus docked in Beirut amid maintenance issues. The vessel was ultimately abandoned and Lebanese authorities left its cargo to decay at the port's warehouse 12, where the explosion is understood to have originated.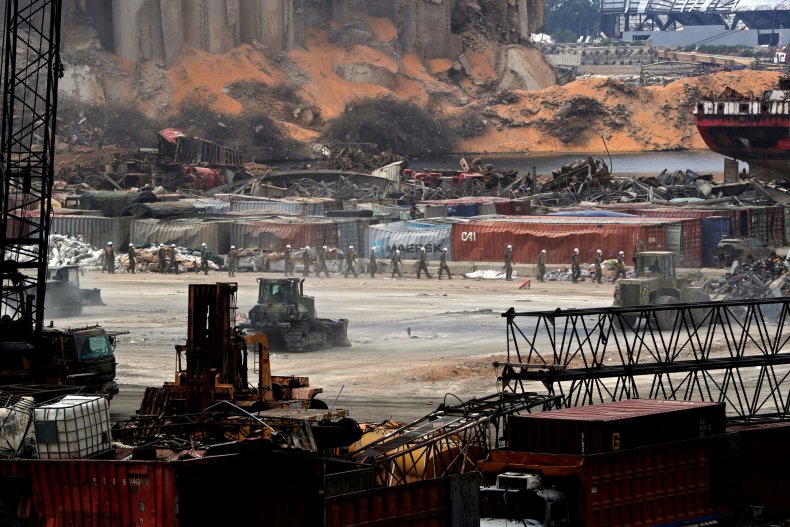 In addition to the blast's humanitarian and economic woes that compound Lebanon's existing financial crisis, the tragedy has fueled new calls for political upheaval. Protests have returned to the streets of Beirut, resulting in the resignation of Prime Minister Hassan Diab.
His successor, Mustapha Adib, promised on Monday to "heal our nation and to restore people's hope in a better tomorrow."
The latest discovery comes amid an influx of international aid workers and a series of high-profile visits of officials from across the globe. French President Emmanuel Macron has visited twice in the past month, having just concluded his most recent trip Tuesday following meetings with various Lebanese leaders.
Other major visits include those by representatives of rivals Iran and the United States. Iranian Foreign Mohammad Javid Zarif pledged his country's support last month, while U.S. officials have offered their assistance in investigating the causes of the explosion but were withholding widescale support packages until certain political reforms were enacted.
Ismail Haniyeh and Ziyad al-Nakhalah, leaders of Palestinian Sunni Islamist movements Hamas and Islamic Jihad Movement, were also in town to discuss unifying their stances against Israel, with which Lebanon shares a disputed border. Here, Iran-backed Lebanese Shiite Muslim movement Hezbollah operates and has been accused by Israel of attempting to infiltrate and attack along the boundary.
Macron met with Hezbollah representatives during his latest visit, which coincided with the centennial of the establishment of Lebanon under French rule. He has sought to rally the country's sectarian, oft-deadlocked government to pursue major changes, though no commitments have yet emerged from this process.
Parties across Lebanon's political spectrum have called for answers and accountability for the August explosion. Judges have issued 25 arrest warrants in connection to the event but none tied senior leaders to the blast.
In the first major court appearance link to the case, Diab appeared Thursday before a judiciary to testify about his foreknowledge of the ammonium nitrate collection, the dangers of which were reportedly made known to both him and Lebanese President Michel Aoun as recently as two weeks before the explosion.
This is a developing news story. More information will be added as it becomes available.