Lebanon on Brink of Crisis As Resigning Cabinet Leaves Power Vacuum After Blast
Lebanon's rival political factions face a slow negotiation process to find the best compromise candidates to fill the power vacuum left by the resigning cabinet as the country tips further into social and financial collapse following a massive blast in Beirut that triggered violent protests across the country.
Lebanese Health Minister Hamad Hassan first informed reporters that the country's ministers had collectively resigned in a decision formally announced later Monday in a speech by Prime Minister Hassan Diab, who himself was to forfeit his position. The departure of Diab, backed by technocrats and the Hezbollah party, would reopen a vacuum for the premiership in a country whose leaders are carefully chosen based on a sectarian power-sharing system.
In his speech, Diab blamed the explosion and his administration's failure to address some of the country's most pressing issues on a "corrupt" class of politicians. He said his decision to leave was a response to the will of protesters, who had gathered Monday at Martyrs' Square, located just blocks from where the site that erupted days earlier, rocking the capital.
"In the face of this reality, we take a step back, to stand with the people, in order to wage the battle of change with them. We want to open the door to a national salvation that the Lebanese participate in creating," he said.
"Therefore, I announce today the resignation of this government," he added. "God protect Lebanon. God protect Lebanon. God protect Lebanon. Long live Lebanon."
Diab, who began his tenure in January, replaced veteran leader Saad al-Hariri, who also resigned amid demonstrations late last year. The past few months, however, have been marked by a significant worsening in Lebanon's already precarious financial and infrastructural standing, with a currency collapse and a lack of fuel contributing to the country's misfortune amid a global pandemic.
In the latest development to the beleaguered nation, a cataclysmic explosion rocked the capital on Tuesday, killing at least 160 people, wounding thousands and wrecking Lebanon's crucial main port. An investigation remains ongoing as to the exact cause of the blast but initial reports pointing to an aging supply of ammonium nitrate left to rot in a waterside warehouse have frustrated a population that had already taken to the streets to call for change.
Months ago protesters yelled that the people want the fall of the regime. Now they scream, "Hang the nooses."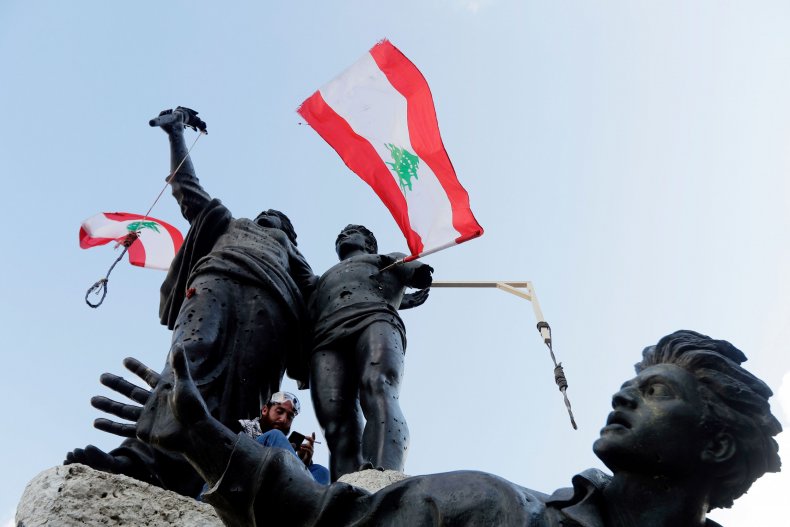 Lebanon's nationwide outrage is at least partially directed at what many see as an antiquated system of government unlikely to be changed by Diab's exit. His position as prime minister is designated to be filled by a member of the Sunni Muslim community, while the presidency is occupied by a Christian—currently Michel Aoun, who was elected in 2016 after a 29-month deadlock. The speaker of parliament is represented by a Shiite Muslim, Nabih Berri, who has held the seat since 1992.
The choice of Diab was seen as particularly controversial by supporters of the opposition because he did not ascend with the backing of the March 14 alliance, in which Hariri's Future Movement is the largest party. Rather, most of Diab's backing came from the rival March bloc, with which Aoun's Free Patriotic Movement and Berri's Amal Movement are aligned.
Hezbollah, a powerful Shiite Muslim political and paramilitary force feuding with neighboring Israel and deployed to Syria, is also part of the March 8 coalition. The Iran-backed group's influence has also distanced support from the United States and Arabian Peninsula countries such as Saudi Arabia.
All of Lebanon's political forces will likely now need to gather to somehow agree on how to rearrange the government under the scrutiny of global headlines over the recent explosion and its ramifications, many of which are just beginning to be understood. Nancy Ezzeddine, a research assistant at Clingendael's Conflict Research Unit, told Newsweek that "Lebanon's political elite are in crisis."
"They are, therefore, continuously seeking to salvage their position and use their standard technique of distracting attention from priority matters," she said. "The political stalemate produced by Diab's resignation will give them ample space to do that. The political bickering to come will emphasize sectarian divisions in Lebanon and allow each party to reestablish its relevance within its sectarian community."
"New voices (such as civil society actors, new political parties and protestors) will be diluted throughout the process as they become less relevant to the majority of the population," she added. "Some violence and limited freedom of expression will also be used to continuously silence new voices. The economic crisis won't help as citizens will seek support from sectarian leaders and seek the 'easy way out'."
Also testing Lebanon's resolve is the looming verdict of a United Nations tribunal regarding four Hezbollah-affiliated individuals suspected of involvement in the 2005 assassination of Hariri's father, former Prime Minister Rafic Hariri, whose death and its surrounding controversy sparked the rival political movements that now govern the country. Hezbollah has repeatedly denied any involvement and has warned it would not accept being implicated in the historic event, now again in the spotlight as Lebanon's political elite sets out to select a new prime minister.
Despite the task ahead, Lebanon's ambassador to the United States Gabriel Issa told Newsweek his country plans to maintain robust ties with Washington, especially given the difficult circumstances of the past week.
"The Lebanon-US relationship is unwavering, one that is deeply rooted in history between our two people," Issa said in a statement sent to Newsweek. "The relationship between our two countries remains strong and is highly-coordinated on several fronts, with the US greatly stepping up its efforts to assist Lebanon in the face of this humanitarian tragedy in addition to sending several envoys to assess the situation in the coming days."
This is a developing story and will be updated as more information becomes available.