Why Lebanon's Power Struggle Is Fueled By A Loss of Saudi Support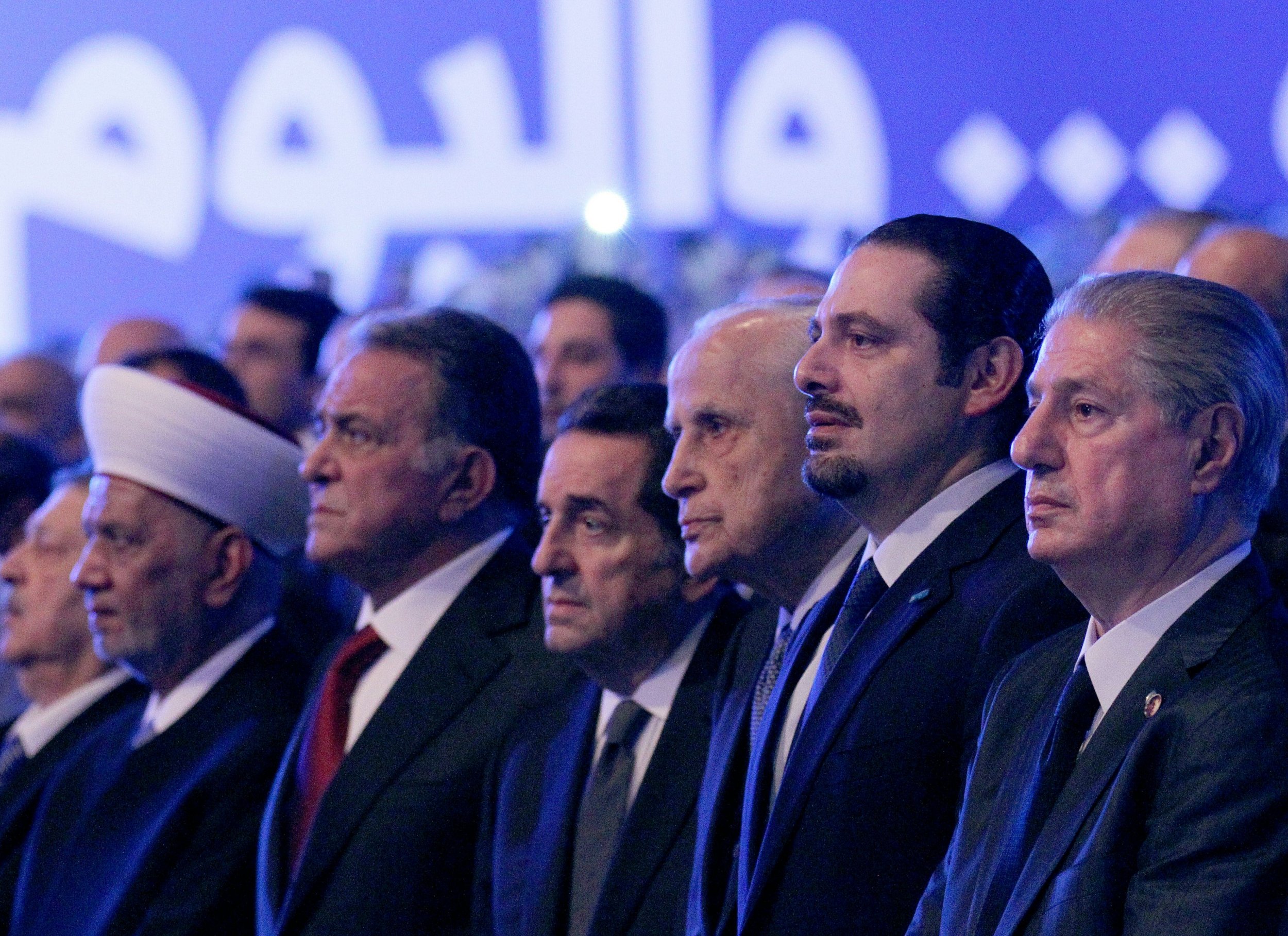 The Al Hariri family's quarter-of-a-century-long dominance of the political leadership of Lebanon's Sunni community is coming under threat because of waning support from the dynasty's principal external sponsor, Saudi Arabia—a development that might lead to a new round of Lebanese political strife.
The growing financial problems and diminishing political influence of former Prime Minister Saad Al Hariri, the leader of the Future Movement (FM) party, which draws most of its support from Sunni Muslims, have left him struggling to deliver on Saudi interests in Lebanon, namely curbing the influence of Hezbollah and its patron Iran over the country.
His perceived weakness has made his authority vulnerable to a challenge from former Justice Minister Ashraf Rifi, who is vying to be a more viable local partner for Riyadh. If Rifi's bid for power is successful, the Saudis, who have recently reduced their involvement in Lebanon, may alter their calculations and re-engage with the country more assertively.
The Hariri family rose to prominence through a long-standing alliance with Saudi Arabia and its royal family. Saad's late father Rafiq Al Hariri made billions as a contractor in the Kingdom through his construction company Saudi Oger. After returning to Lebanon in the 1990s, he served two terms as prime minister.
In February 2005, Rafiq was assassinated in a bomb attack in central Beirut. Bashar Al Assad's Syrian government and its Lebanese ally Hezbollah are widely accepted to have been behind the incident. The assassination prompted widespread anti-Syria protests, which led to the withdrawal of Syrian troops from the country.
Following the death of his father, Saad became the leader of the FM, which carried the banner of Rafiq's legacy. Saad led his party to an election victory in 2009 and went on to serve as prime minister. But in January 2011, his government was outmaneuvered by a Hezbollah-led alliance, which left his coalition and forced him to resign.
In addition to his political difficulties, Saad is facing mounting financial problems. Saudi Oger's status in Saudi Arabia has been declining for years and appears to have never recovered from the loss of Rafiq and his vast political contacts in the Kingdom. Since the accession of the current King Salman to the throne in January 2015, and the meteoric rise of his 31-year-old son Mohammed bin Salman, Saudi Oger's business decline has accelerated.
The young prince appears to have disapproved of Saudi Oger's former dominance of the Kingdom's construction sector, and has given preference to new local and international players. To make matters worse, last month it was reported that the Saudi government had cut off talks with Saudi Oger over the payment of $8 billion owed to the company for completed work. It is said to have plunged the company into a severe liquidity crisis.
This has all had a negative impact on the FM, specifically Saad's ability to finance its political activities. Notably, in October 2015 it was reported that FM members affiliated with the party's mouthpiece, Future TV, had not paid its staff for six to eight months.
These problems appear to have prompted Saad to adopt a more conciliatory line towards Hezbollah and pro-Syria forces in Lebanon, reflecting what he calls "domestic dialogue." In a significant move, in December 2015 Saad nominated pro-Syrian leader Suleiman Franjieh as the FM's candidate for president, a position that has been vacant since April 2014 due to the ongoing political deadlock in the country.
The weakness of its principal Lebanese ally has resulted in growing Saudi frustration with the Lebanese authorities. In February, Riyadh reportedly halted a $3 billion funding package to the national army after the Beirut government failed to condemn attacks on Saudi diplomatic missions in Iran. Riyadh officials were widely quoted in local media stating that Saudi Arabia was "reassessing" its relationship with Lebanon. This appeared to be a major shift in Saudi foreign policy, as it had previously viewed its presence in Lebanon as key to countering Iran's regional influence.
Saad's reluctance to stand up to Hezbollah and the deterioration in relations with his one-time Saudi patrons has prompted a challenge from within his own political camp. Rifi, a popular Sunni politician, has become increasingly critical of Saad's leadership. A long-time ally of Rafiq, Rifi has publicly stated that he is the true champion of the latter's legacy.
Vehemently opposed to Hezbollah and the Assad government, in February Rifi resigned from the cabinet in protest over Saad's nomination of Franjieh for the presidency. And in May's local elections, Rifi ran against the FM, heading a municipal list that won the majority of seats on Tripoli City Council. Some have speculated that he is now preparing to run against the FM in the 2017 parliamentary elections, in a bid to become prime minister, which under Lebanon's constitutional arrangements is required to be a Sunni.
But any such plans are still in their infancy. Rifi has not set up a new national political party, and Hariri still enjoys widespread support among his constituency of moderate secular-leaning Sunnis. This is largely due to his late father's standing in the community. But if Rifi's challenge was to be successful, it may significantly impact both, domestic and regional politics.
The rise of an anti-Hezbollah hardliner like Rifi will likely disturb an extremely sensitive status quo between Lebanon's various factions. While in recent years the FM has been maintaining a delicate political balance, Rifi has refused to compromise with Hezbollah, particularly over the future president.
At a regional level, Saudi Arabia and its allies are believed to be on the back foot in their struggle against a resurgent Iran-led axis, most notably in Yemen and Syria. A new and potentially more robust Lebanese ally may tempt the Saudis to re-engage with Lebanon more enthusiastically, thereby repositioning the country as a focal point of its efforts to counter Iran's regional influence. The risk, however, is that this, in turn, would invite further intervention from Tehran in the country's politics, increasing tensions in what is already one of the most volatile countries in the Middle East.
Yakir Gillis is a senior analyst at business intelligence consultancy Alaco.