LeBron 'Is Garbage': James Cops Criticism Despite Lakers' Narrow Win
LeBron James might have inspired the Los Angeles Lakers to a narrow win against the Atlanta Hawks on Sunday night, but that did not stop the three-time NBA champion from describing himself as "garbage."
A quick glance at the box score might tell a different story, given LeBron was the Lakers' top scorer with 26 points in 34 minutes and a more than respectable 10-of-20 from the field, to which he added seven rebounds and four assists.
Speaking after the Lakers' 107-106 win, LeBron sounded particularly unhappy with one aspect of his performance. "I'm garbage. I suck from the free throw line right now," he said, as per NBA TV.
"I'll get my rhythm back. But I gotta thank Kuz [Kyle Kuzma] for giving me another opportunity, giving us another opportunity."
With 19.9 seconds left in the game and the Lakers trailing by one point, LeBron missed both his attempts from the charity stripe but Kuzma secured the offensive rebound. After being stripped of the ball, the Lakers' big man recovered it and put up a floater which missed the target, before LeBron's put-back slam dunk eventually gave the Lakers the lead.
The four-time MVP made just three of his seven free throws and he's shooting 73.6 percent from the free throw line this season.
The figure drops to 44 percent and 38 percent in games where the Lakers are within five points of their opponents in the last minute and the last 30 seconds of the game respectively.
Last month, the Lakers lost 143-142 to San Antonio in overtime after LeBron had missed two free throws that would have extended his team's lead to three points, instead allowing Patty Mills the chance to steal the game for the Spurs.
The mistake sparked a major backlash on social media, where a number of Lakers fans criticized LeBron for the kind of mistake Kobe Bryant would have never made.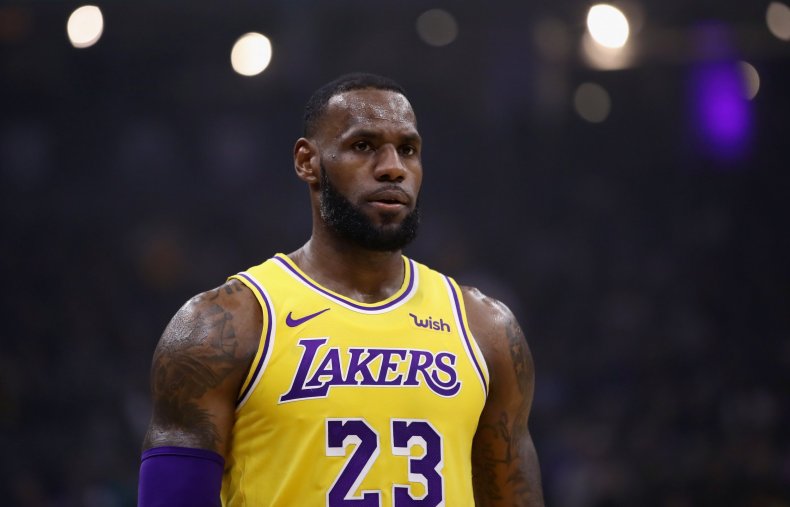 Despite LeBron's woes at the charity stripe, the Lakers picked up a third consecutive win and moved over .500 for the first time this season. The 16-time NBA champions are now 7-6 and eight in the Western Conference, half a game behind the Los Angeles Clippers and the Oklahoma City Thunder.
Sunday night's win, however, might have never materialized had it not been for Tyson Chandler. The 36-year-old blocked Trae Young's driving layup with 0.7 seconds left in the game to preserve a 107-106 win for the Lakers, who have won all their three games since signing Chandler last week.