How Long Is LeBron Out For? James Expected to Miss a Number of Games with Groin Injury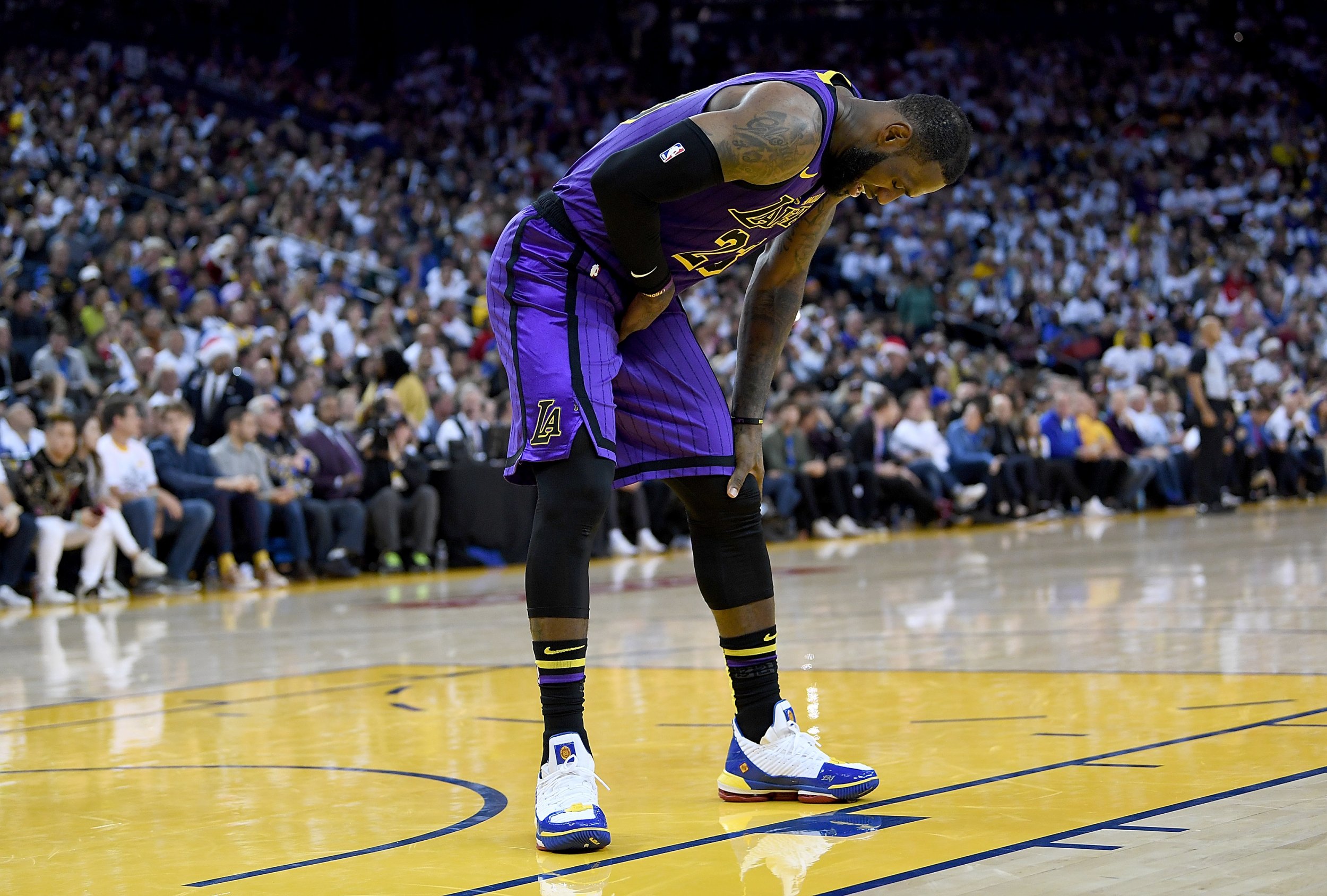 LeBron James is expected to miss "several games" after suffering a groin strain on Christmas Day.
The three-time NBA champion hobbled off the court in the third quarter of the Los Angeles Lakers' 127-101 win against the Golden State Warriors in Oakland on December 25, as he slipped while attempting to recover his dribble.
Read more: LeBron James injured against Golden State on Christmas Day
James attempted to stretch during a timeout but appeared to tell Lakers trainer Marco Nunez that he felt a "pop," before heading straight to the locker room and not returning to the court for the remainder of the game.
The 33-year-old underwent an MRI scan which confirmed he avoided any major complications but a timeline for his return appears uncertain. The Lakers ruled James out of Thursday game against Sacramento and it is almost guaranteed he will also miss the matchup against the Clippers on Friday night.
However, while the 16-time NBA champions have listed James as "day-to-day", sources quoted by ESPN have suggested he might be sidelined for the foreseeable future.
According to Brian Windhorst and Adrian Wojnarowski, "there is a healing process that needs to occur before James can return to the lineup".
Suggesting a precise timeline for James's return is further complicated by the fact the four-time MVP has never suffered a groin injury as serious as this. ESPN indicated the Lakers are understood to be willing to give James all the time he needs to ensure he comes back fully fit, rather than running the risk of rushing him back too soon.
The injury marks the end of a remarkable run of games for LeBron, who had played 116 consecutive regular-season games up until Christmas Day, a number which rises to 156 when playoff games are taken into consideration.
The 14-time All-Star, who turns 34 on Sunday, is averaging 27.3 points, 8.3 rebounds and 7.1 assists per game this season.
The Lakers lost their first game without their talisman, falling to a 117-116 defeat in Sacramento on Thursday night, as they slipped to 20-15.
Kyle Kuzma, Brandon Ingram and Lonzo Ball combined for 75 points but the Lakers fell short, despite entering the fourth quarter with an 11-point lead, which they stretched to 15 points with only 6:44 remaining.
The Kings surged back inspired by Bogdan Bogdanovic, who scored 12 of his 23 points in the final period and hit the crucial three-pointer at the buzzer.
"This is the first close game we've been in that he's not there," Lakers head coach Luke Walton was quoted as saying by ESPN.
"If LeBron James is playing in that game it probably finishes a little differently. When you get the best closer in the game on your team, then you rely on him to do that. All that said, we made enough plays to win."
Following their game against the Clippers on Friday, the Lakers take on the Kings on Sunday and the Oklahoma City Thunder on January 2.