LeBron James: Anthony Davis, Lakers Acquisition Would Be 'Amazing'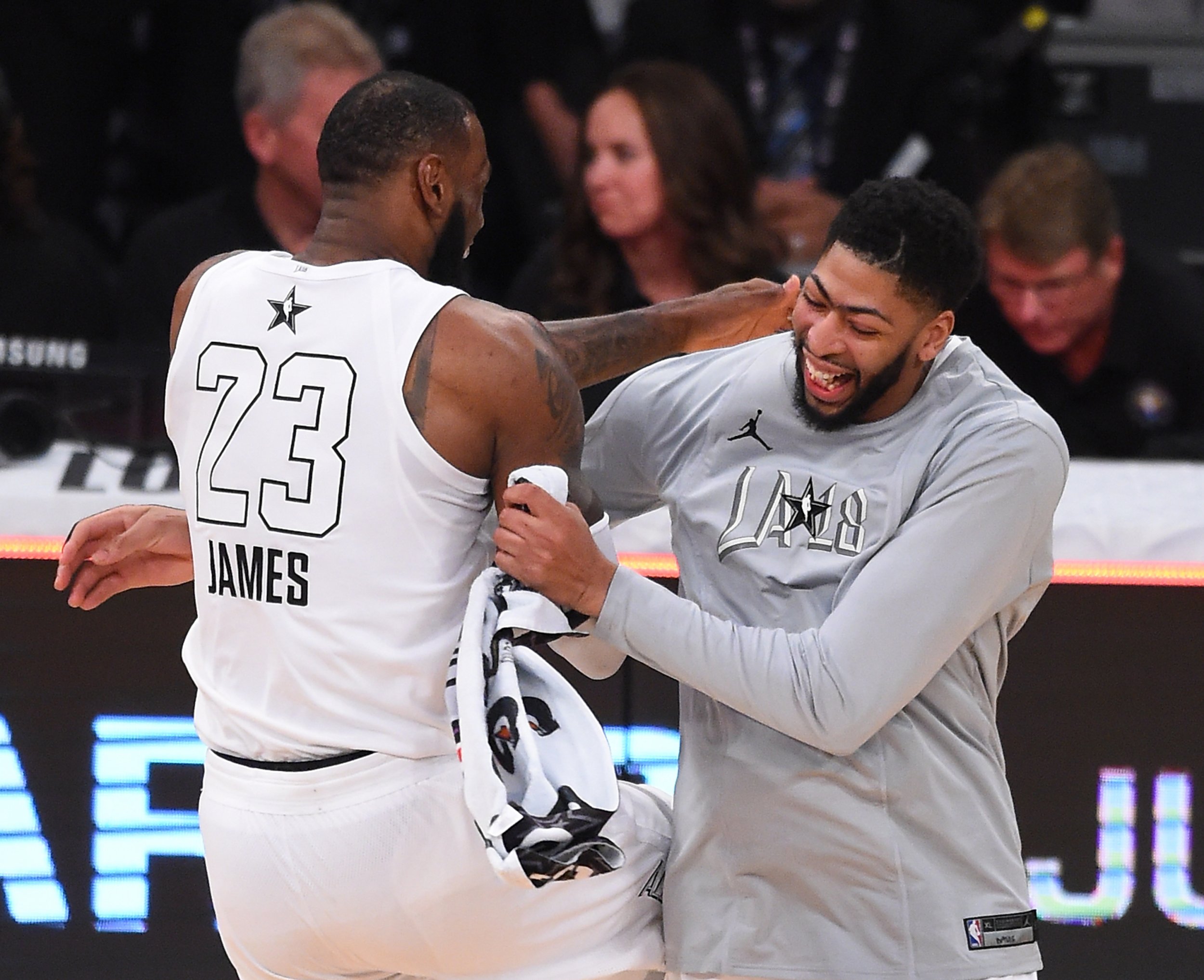 Los Angeles Lakers forward LeBron James said a potential acquisition of New Orleans Pelicans center Anthony Davis "would be amazing" ahead of their respective teams' matchup at Staples Center on Friday night.
"That would be amazing," James told ESPN on Tuesday when asked about possibly trading for Davis. "That would be amazing, like, duh. That would be incredible."
The 25-year-old center is averaging 28 points, 12.4 rebounds, 4.7 assists, 2.8 blocks and 1.7 steals, despite the Pelicans' disappointing 15-16 start to the 2018-19 season. New Orleans currently ranks 12th in the Western Conference with more than a third of the season completed.
Davis is set to make $27.1 million next season and has a player option for 2020-21 worth $28.8 million, which means the Los Angeles would need to trade for he five-time All-Star or wait an additional season for him to opt out of his current deal.
It's worth noting that Davis recently parted ways with the Wasserman agency and has been represented by Rich Paul of Klutch Sports since September who is also James' agent.
James brought up Davis to reporters after watching ESPN's Adrian Wojnarowski list the Lakers' trade priorities during a segment on Tuesday's edition of SportsCenter.
"They're not going to give away picks and their top young players in some deal that makes them incrementally better this season because they've got to save all those assets for Anthony Davis, a big trade this summer pre- or post-free agency," Wojnarowski said. "That's why they've looked at players who are on one-year deals who don't have money going forward."
Los Angeles made several attempts to acquire veteran forward Trevor Ariza from the Phoenix Suns last week. However, the Suns instead opted to send Ariza to Washington after the Wizards included 23-year-old forward Kelly Oubre Jr. as compensation. The Lakers reportedly weren't willing to part ways with any of their young core -- Brandon Ingram, Lonzo Ball, Kyle Kuzma and Josh Hart -- as part of a potential deal.
However, Los Angeles may be swayed by Davis, who is undoubtedly one of the best active big men in the NBA.
"If you can trade him for anybody, then he is the most valuable guy in the league. Not that we would ever consider that," Pelicans coach Alvin Gentry said in October. "There's no one in the league that we would trade him for, and there's no one out of the league -- not even Beyonce. If we wouldn't trade him for her, he's probably untouchable."
New Orleans could benefit by a financial incentive that allows teams to offer more money as part of a supermax extension than potential suitors. The Pelicans can offer Davis a five-year, $239 million deal, while other franchises with cap space are limited to a four-year, $152 million deal.
If Davis is traded, however, his new team -- such as the Lakers or Boston Celtics, who have numerous trade assets available -- would be able to offer a five-year, $205 million extension in the summer of 2020.