LeBron James Wore a Beto O'Rourke Hat at Lakers Game Against San Antonio Spurs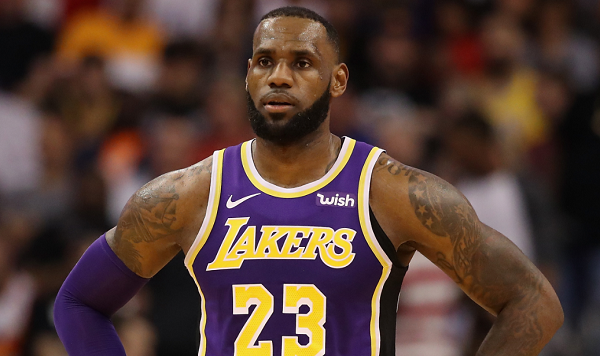 LeBron James won't be voting in the Texas primaries, but that hasn't stopped the NBA star from lending his support to US Senate candidate Beto O'Rourke, a Democrat, who is running against current Republican Senate seat holder Ted Cruz.
James, who plays for the Los Angeles Lakers, arrived in San Antonio ahead of his match against the Spurs wearing a hat endorsing O'Rourke on Saturday. The black and white hat read, "Beto for Senate."
The hat wasn't the first endorsement James has given O'Rourke since he launched his campaign. The 33-year-old athlete praised O'Rourke on Twitter over the summer after watching a video clip of O'Rourke sharing his perspective on NFL players protesting the national anthem. O'Rourke said players kneeling during the National Anthem in protest of police brutality against people of color wasn't disrespectful in his opinion, which prompted a response from James.
"A Must Watch!!! Salute @BetoORourke for the candid thoughtful words!" James wrote in August.
James' support for O'Rourke comes following the politician's endorsement from a second major newspaper in Texas. The Dallas Morning News published its decision to rally behind O'Rourke on Thursday.
"When, in the course of human events, a people become so divided among themselves that they can no longer engage in meaningful political discourse or even remain civil to one another, it is time to take bold steps forward," the paper's board wrote. "For this reason more than any other, we favor U.S. Representative Beto O'Rourke for U.S. Senate. The pivotal issue before our country is public leadership, and here we believe O'Rourke's tone aligns with what is required now. This inclusive and hopeful tone, along with O'Rourke's approach of starting with shared principles and working toward solutions, offset any policy differences we have with him."
The right-leaning Houston Chronicle "enthusiastically" endorsed O'Rourke the week before.
Cruz was in the lead over O'Rourke 51 percent to 45 percent in a University of Texas/Texas Tribune Poll released Friday.