Getty Fire: LeBron James Forced to Evacuate House as Devastating California Wildfire Burns Through Los Angeles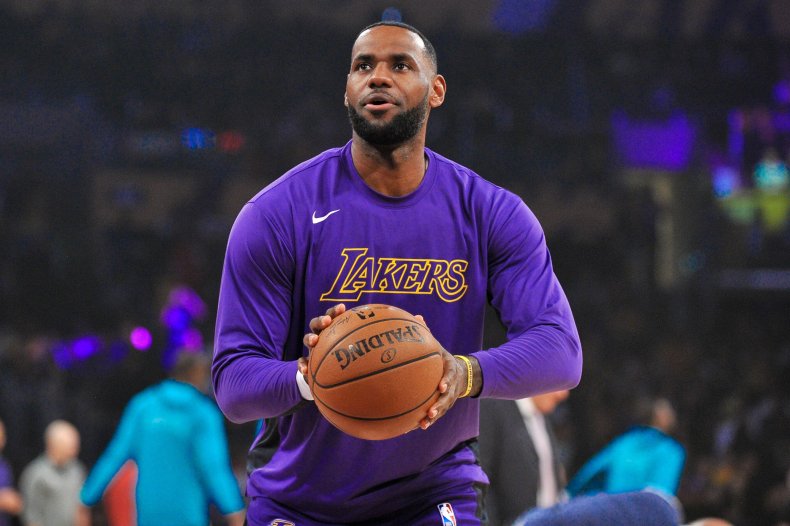 LeBron James has had to evacuate his family home because of the fires that have engulfed Southern California.
The four-time NBA MVP has two homes Los Angeles' Brentwood neighborhood, which lays at the southern end of the area the Los Angeles Police Department issued a mandatory evacuation for.
The three-time NBA champion took to Twitter to share an update on the situation, indicating he had moved his family out of their home and was looking for accommodation elsewhere.
"Man these LA fires aren't no joke," LeBron tweeted early on Monday.
"Had to evacuate my house and I've been driving around with my family trying to get rooms. No luck so far."
The Los Angeles Lakers star then tweeted he had found a place to stay with his family and offered prayers to those affected, urging them to flee to safety as quickly as possible.
On Monday morning, the LAPD issued a mandatory evacuation order for a large area on the west side of the 405 freeway in L.A., as fire near the Getty Center museum continued to grow.
"We have an active and growing brush fire in the on the west side of the 405 Freeway, north of Sunset Blvd," LAPD said in a statement.
"For those living in this area, you must be prepared to evacuate from Mulholland down to Sunset and from the 405 to the PCH."
Southern California isn't the only part of The Golden State to be scorched by fires, with several other blazes currently ongoing across the state.
Over the weekend, over 90,000 people in Northern California were ordered to evacuate their homes as the Kincade fire in Sonoma County raged on.
As of Saturday evening, the fire had destroyed almost 26,000 acres of land and 77 structures.
A combination of strong winds with gusts reaching up to 80 miles per hour contributed to the rapid spread of the blaze and the fire ranks as the worst in the state since the Wine Country Fires two years ago.
"This event looks to be the strongest since the 2017 Wine Country fires and potentially a historic event given the strength and duration of the winds," the National Weather Service said in a warning issued on Sunday.
"Any fires that develop will likely spread rapidly. Any active fires such as the Kincade fire will also spread rapidly."
California Governor Gavin Newsom declared a state of emergency in response to the natural disasters, which have already forced the evacuation of nearly 200,000 people.
"We are deploying every resource available, and are coordinating with numerous agencies as we continue to respond to these fires," he said in a statement.
"It is critical that people in evacuation zones heed the warnings from officials and first responders, and have the local and state resources they need as we fight these fires."